Food & Drink
An Epicurean Epiphany
The Surprisingly Sensational Joys of Pairing Wine With Chocolate
I'm a purist. I'll admit it. Though many folks consider the combination of chocolate and wine to be the ultimate indulgence, I've always preferred to keep my epicurean extravagances separate. Don't get me wrong, I like chocolate and love wine, but the sugar in chocolate sometimes reacts with the acidity of wine, creating an unpleasant convergence. So I resolved long ago that, for me, chocolate and wine were two very individual indulgences.
That is, of course, until the fateful afternoon tasting at Vino Divino when a white chocolate rose-infused truffle created by Jessica Foster Confections coated my palate after a sip of Vogelzang sauvignon blanc. The result was astonishing-epicurean nirvana. "Perhaps the two can co-exist," I sighed.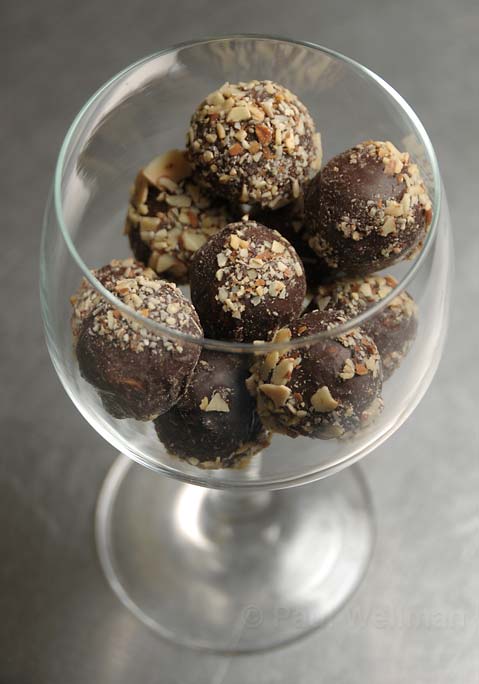 Inspired by culinary curiosity and the prospect that these delicacies could form some divine symbiotic partnership on the palate, I set out with esteemed chocolatier Jessica Foster to discover the principals of pairing wine and chocolate. Together we tasted our way through countless confections and more bottles of wine than I should really divulge all for the purpose of expanding our collective chocolate consciousness and sharing that knowledge with you.
Jessica Foster knows chocolate. For the past six years, she has lovingly hand-rolled each cocoa-buttery bonbon by hand in her Mission Street kitchen. Made with high quality ingredients and no added sugar, her truffles are a very grown up indulgence-complex, exotic, and perfectly balanced. She infuses the creamy centers with delicious natural flavors like Meyer lemon, passion fruit, and pomegranate molasses; essences like lavender, rosemary, rich chai tea, coffee; and savory spices like curry, chipotle, and Ras al Hanout, a zesty Moroccan spice blend. These intriguing flavors, while delicious on their own, are ideal accents to the nuances of wine.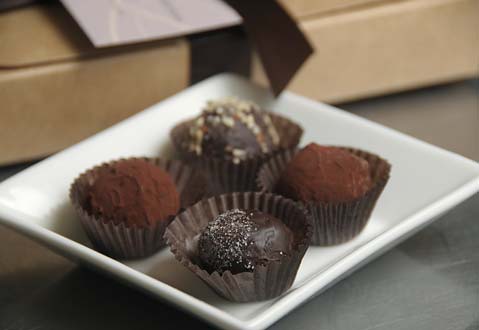 While pure chocolate can curtail a wine's flavor, Foster explained during our first foray that the fat in a truffle's cream-based center actually does the opposite, helping distribute flavors evenly across the palate. "Wine, by nature, is acidic," she explained. "The creaminess of a truffle balances that acidity, while conveying flavors and contributing depth." To that effect, she explained, it is important that the body of the wine reflect the richness of the chocolate: light white wines are best coupled with more delicately flavored white chocolate truffles, bold reds with deeper milk or dark chocolate truffles.
So we journeyed to Palmina Winery in the heart of Lompoc's Wine Ghetto to experiment with their food-friendly Italian-style wines. Winery owners Steve and Chrystal Clifton are passionate about crafting well-balanced wines that compliment and actually enhance food, making them an ideal counterpart for Foster's truffles.
"It's important to begin by taking note of the aromatics," explained tasting room manager Alicia Valenzuela as she poured the first glass, a 2008 Traminer from Alisos Vineyard. As we inhaled, hints of citrus blossoms and garden herbs floated up from the glass. "Picking up notes from the initial bouquet can enhance them and weave them throughout," continued Valenzuela while suggesting the white chocolate rose truffle. Sure enough, the delicious morsel elevated the green floral essence of the wine's bouquet, creating a lovely synergy and extending the melodic top note well beyond the wine's finish.
Collectively we determined that the flavor of the truffle should compliment – not match – the predominant flavor of a wine. In fact, picking up on one of the wine's more subtle nuances – a thread of minerality or a whisper of smokiness – creates the most dynamic harmonies. Palmina's Tocai Friulano, a crisp white wine from Honea Vineyard, offers a remarkable salt air perfume, followed by snappy citrus flavors, and hints of stone fruit, pineapple, and limestone. Rather than pair it with the obvious lemon confection, Foster suggested the white chocolate passion fruit truffle, whose delicate fruitiness provided the perfect counterpoint to the citrine acidity, enhancing and enriching the flavors of the wine.
Pairing wine and chocolate is largely experiential, making it important to leave things up to your palate and stay open to various possibilities. "Your brain can think one thing is going to work," explained Foster, "but your taste buds are really the determining factor." Palmina's Malvasia Bianca proved a challenge to pair. Its aromatics are reminiscent of the south of France with orange blossom and honey so we assumed that the white chocolate lavender truffle would contribute to the Provencal harmony. However, the lavender overpowered the delicate citrus and fruit essences. We tasted the Malvasia Bianca with the coconut truffle which, to our surprise, enhanced the tropical top notes and extended the silky feminine finish of this sensual white wine.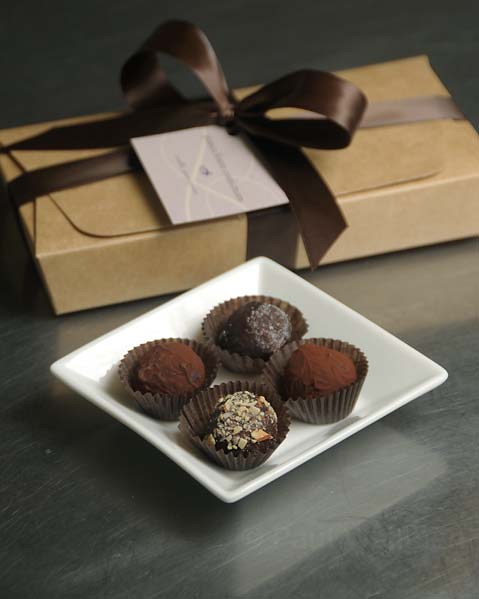 As it spreads across the palate, the cream at the center of a truffle can add both richness and depth to a wine. Palmina's 2007 Barbera is a powerful crimson wine with rich fruit and spice, balanced by lively acidity and tannic structure. We were amazed at how deliciously it paired with a milk chocolate salt and pepper truffle. The truffle not only accented the wine's smoky, spicy undertones but also added deep roundness to the flavor and a rich, silky mouth feel.
On several occasions we found that the truffles were able to actually heighten the complexity of the wines we paired them with, increasing their liquid allure. The dark chocolate hazelnut truffle proved the perfect match for Palmina's 2008 Dolcetto, a light, food-friendly red. The hazelnuts created a savory counterpoint to the wine's lively fruit, hitting the palate in wonderfully unexpected places. "It's interesting to take note of a wine's complexity and observe the changes that happen when the truffle hits your palate," said Valenzuela. The 2005 Tritono, a robust Malbec from Mendoza Argentina. In this case, Foster's "Rockin' Moroccan," a Ras al Hannout-caramel truffle, drew out the cinnamon and allspice essence of the bouquet and made the wine's spicy complexity and earthiness come to life.
By the end of our indulgent afternoon, my fingers were coated with a dusting of cocoa, cheeks flushed from wine and the thrill of discovery, and I recognized that I had become a full-fledged convert. We owe it to our palates to maintain our culinary curiosity and an open mind because, from an unlikely pairing or a fortuitous food foible, one never knows when the next epicurean epiphany will strike. And I, for one, can't wait.
4•1•1
Jessica Foster Confections (jessicafosterconfections.com) will pair chocolates with wine as part of epicure.sb on Wednesday, October 14, 5-9 p.m., at Reds Wine and Tapas Bar. Palmina Winery (palminawines.com) will be pouring along with most every Santa Barbara County winery at the annual Celebration of Harvest, October 10, 1-4 p.m., at Rancho Sisquoc. See sbcountywines.com or call 688-0881 for tickets.