Living
Stunt Motorcyclist Entertains Troops
Santa Barbaran Clint Ewing Goes to Camp Pendleton
Marines returning from Iraq a week ago Friday hardly had time to settle back into the United States before being treated to a dynamic and exciting Southern California Riders Military Appreciation Barbeque, at Camp Pendleton the following day. Clint Ewing, Santa Barbaran and professional stunt motorcyclist, made the trip to San Diego September 25, to show his appreciation by way of three performances with cyclist Jared Smith.
"We had 50×150 feet of performance area and we used every bit of it with burn-outs, wheelies, and stoppies," said Ewing. "The spectators were eating it up while [Smith] and I rode."
Between performances, troops perused the booth set up by Ewing's sponsor, Speed & Strength, where free posters, stickers, and autographs were available. They also enjoyed free haircuts, pictures with the Speed & Strength girls, free steak sandwiches, drinks, and music compliments of a deejay.
The third and final performance, according to Ewing, was climactic. The crowd was excited and, despite the hot, powerful late-afternoon sun, Ewing and Smith succeeded in wowing them with some of their most impressive tricks. "Even my shoe flew off during a huge sideways drift under the caution tape," Ewing said. "This just made the troops yell even louder."
Ewing, 29 years old and holder of the world record for going through the longest tunnel of fire ever on a motorcycle (200 feet), has completed more than 80 performances throughout his professional career. The one at Camp Pendleton on September 26 was his second charity event for United States Military troops. Ewing says he tries to do at least one charity event a year, and this one was special because the troops had just arrived home the previous evening. Ewing thought, "Why not go down [to San Diego] and just entertain these guys, especially because they just got home?"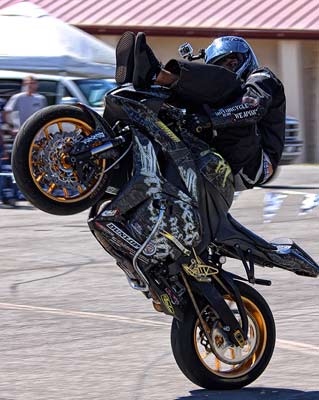 Ewing, who grew up in California, finds it difficult to practice here in Santa Barbara, where the motorcyclist scene isn't exactly thriving. But he likes the beach, has a private practice spot in Goleta, and has support from sponsors Dunlop Tires, Tucker Rocky, Speed & Strength, RG3 Suspension, Lethal Threat, and Luimoto seats. He is always on the lookout for new sponsors and opportunities.
Ewing already remembers the performance for returning troops on September 26 fondly. "It was another beautiful day in San Diego and this was one day not soon to forget." He exclaims, "I can't wait until next year!"