Living
Home for the Chinese Holidays
Association Unites Chinese-American Community in Santa Barbara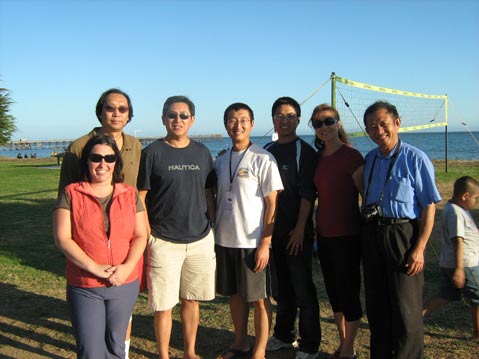 On the beach, waiting for the full moon to rise, members of the Santa Barbara Chinese American Association joyously celebrated their common heritage at this year's Mid-Autumn Festival. Among the most important of the Chinese holidays, the Mid-Autumn or Moon Festival celebrates the harvest during an autumn full moon.
Above all, it is a time for family reunion, said Jinxue Wang, president of the board of the SBCAA. He and 15-year-old Association's mission is to unite the city's Chinese-American community and provide a home-like environment for the community, and others interested in Chinese culture, to celebrate its traditions. This year's celebration was held at Goleta Beach Park with barbeque, beach volleyball, and singing as the sun went down.
While the beach setting was quintessentially Californian, families at the Mid-Autumn Festival also very much enjoyed authentically Chinese traditional elements. For example, each person received a moon cake, a dessert unique to the holiday. A moon cake is a pastry with a heavy filling of red bean or lotus paste and egg yolk at the center, the top ornately decorated with Chinese characters and sometimes images.
The festival also prompted members of the SBCAA to recount a popular story from Chinese mythology, and favorite subject of poets, which goes something like this: Chang'e was the beautiful wife of the archer Houyi, who, after shooting down nine burning suns, was rewarded with a remedy giving eternal life to him and his wife. Chang'e consumed it all herself and this caused her to float away to the moon, where she lives with only a jade rabbit to keep her company.
The Moon Festival is a time to remember Chang'e, who continues to enjoy her prominence in Chinese culture, including the commemoration of a lunar-orbiting spacecraft named for her. The board members' memories and enthusiasm during this family event well represent the association members' goal of "strengthening and perpetuating" Chinese culture even while joining American culture.
Henry Tai, a founder of the SBCAA along with his daughter, Susan Tai, recalled his motivation for starting the organization. Henry Tai served as librarian of the Oriental Collections at UCSB, becoming known on campus as a point of contact for new Chinese students, helping them with their homesickness and transition to life in Santa Barbara. Tai rallied his contacts to help start SBCAA in order to provide opportunities for Chinese-Americans to connect, particularly at holiday times. Today the association's members are mostly professionals, not students (there is now an on-campus counterpart, the Chinese Students and Scholars Association) but its goal of bringing people together in a warm environment is the same.
Current Board President Jinxue Wang explained that the Association also has serves as a platform for interaction between American and Chinese people. One important manifestation of this role is demonstrated by the members who join because they have adopted children from China. Other multicultural families, with one American-born and one Chinese-born parent, also find cultural information and camaraderie via SBCAA.
The SBCAA also publishes a bilingual newsletter highlighting activities relevant to the Chinese-American community. The most recent issue featured articles about a Chinese art exhibit at Santa Barbara Museum of Art, and community-based English tutoring at Isla Vista School. The Association's approximately 380 members communicate primarily through the newsletters and email, holding large gatherings just twice a year. The Mid-Autumn Festival is celebrated with the informal, outdoor event, while Chinese New Year is celebrated with a formal affair, which usually takes place at the Goleta Valley Community Center.