ELECTRONIC HUB: This autumn, there has been a good local harvest in the subterranean realm of computer/electronic music. While still generally constrained to off-the-pop-radar quarters such as academia, special festivals, and hard-to-find spaces, computer music of the abstract, exploratory, and artistic sort (i.e., electronic music without dance beats, easy harmonic lingo, and assorted other accessible shtick) is one of the more fascinating underground frontiers in contemporary music. For those uninitiated into the necessarily nontraditional sonic character of this music, it may take some work to adjust one's musical perceptions, but once inducted, this music can be cathartic and illuminating in brand new worldly ways.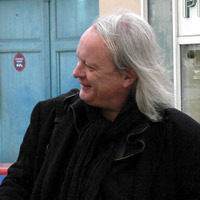 A few events and important figures in the field have passed through the UCSB campus already, including a visit from French composer Philippe Manoury, now teaching at UC San Diego. Manoury demonstrated the inner workings of his piece "Partita 1," in which he revealed the strategy of creating a live-virtual relationship between violist Christophe Desjardins and sound engineer Christophe Lebreton.
This Friday at Lotte Lehmann Concert Hall (7pm), the onstage human factor increases and takes distinctive turns with the arrival of the six-person group known as The Hub. Bucking the static notion of "tape music" or live laptop tinkering, the group-John Bischoff, Chris Brown, Tim Perkis, Mark Trayle (who teaches at Cal Arts and now hails from Ventura), Phil Stone, and Scot Gresham-Lancaster-create music on the spot and with a constantly interactive flow of data.
Formed in the Bay Area in 1985, and operating with a fresh resolve during the past several years, this band of merry networking computer pranksters always has been dedicated to the core idea of interacting with ideas and programming through a central "hub" computer. Naturally, the equipment and programming has changed radically in the past nearly 25 years, as we can hear on the retrospective three-disc album Boundary Layer, on John Zorn's Tzadik label. Intriguing history and technology lessons can be gleaned from the package, with discs alternately recorded in 1988, 1992, and 2006. While the sonic textures and technical means change noticeably from disc to disc, year to year, the method and ensemble-like musical madness remain true to form. It's not the machinery, per se, it's the meat and the motion.
HIGH TIMES IN THE TAVERN: Six years into the adventure, the singer/songwriter series Tales from the Tavern is thriving, entrenched in the vibe-alicious venue of Santa Ynez's Maverick Saloon. Next Wednesday's double-bill of the great Shelby Lynne and country maverick Carlene Carter, the finale of the series' current season, undoubtedly is one of the hottest Tales tickets yet. While refusing to play by anybody's rules, Lynne is one of the most subtle and commanding singers around, whose bold yet enigmatic country-soul-pop charisma is captured beautifully on her latest album, Just a Little Lovin', a tribute to Dusty Springfield.
As thrilling as it is to hear Lynne's take on Burt Bacharach (i.e., she reveals a new "Look of Love") and other covers, some of us remain addicted to her original songwriting, beginning with her career-reinventing masterpiece, I Am Shelby Lynne. Released 10 years ago, the album came as a liberating shock for an artist who had already put in time in Nashville as a young singer molded by male producers and the usual country music machinery. She moved to Palm Springs and discovered the real Shelby Lynne, which still is a work in progress, and one whose every move is worth following.
TO-DOINGS: For some sounds off the beaten track, but right on the beaten path of State Street, check out the Seattle-based progressive, gonzo jazz band Reptet, stopping at Live Culture on Sunday night. A cool mixture of four horns on the front line (including tuba), and bass and drums-no chord instruments needed. Elements of Frank Zappa and Sun Ra figure into their act, and don't let the funny hats fool you: These players can play, and they have a new notion of ensemble eclecticism (check out reptet.com).