Outdoors
Goleta Trails Workshop Scheduled
Santa Barbara Trails Council Sponsors Public Workshop; Community Input Is Desired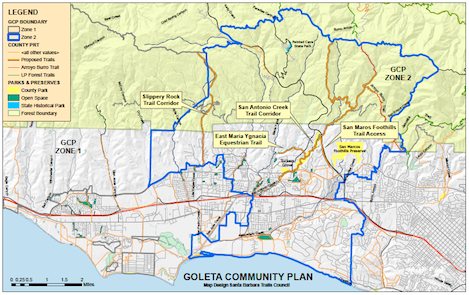 This coming Tuesday, November 10, the Santa Barbara County Trails Council is sponsoring a public workshop at the Goleta Valley Community Center from 7 to 9 p.m. The Trails Council is a nonprofit, broad-based trails advocacy group that has worked cooperatively since 1969 with local, state, and federal agencies for planning, maintenance, and construction of existing and new trails.
According to Trails Council Executive Director Ray Ford, the intent is to discuss existing, proposed, and possible future trail concepts as they relate to the county's effort at updating the Goleta Valley Community Plan. "It has been a sore point with many Goleta residents that they have no access to the Santa Ynez Mountains while nearby Santa Barbarans have plenty of access," Ford stated. "The community planning process provides the perfect opportunity to begin advocating for new trail access."
In addition to discussing trails within the Goleta Valley Community Plan area, part of the focus will be on updating the community on trail improvement efforts in the City of Goleta and receiving input from interested citizens on revised trail recommendations for the county. Thanks to grants from the City of Goleta, UCSB's Coastal Fund, and the Goleta Valley Land Trust, the Trails Council is taking an active interest in supporting Goleta's urban trails as well as working to develop trail access to Los Padres Forest. "This is a major effort," Ford added, "and we not only want to make the community aware of the work we are doing but to gain feedback on how we should prioritize our efforts."
Ford also noted that it is the Trails Council's hope that by gathering information from public workshops that the county can utilize this information to expand and improve the current trails system available to the Goleta community. The Trails Council also wishes to facilitate coordination between the City of Goleta and the county on trails planning, construction, and maintenance.
The meeting will be informative and provide trail history, maps, and status updates of major trail planning proposals. Please plan on attending and providing the Trails Council with your input for trails on November 10, 7 p.m. at the Goleta Valley Community Center, 5679 Hollister Avenue, Goleta.
——————-
In the interest of full disclosure, along with his duties as executive director of the Trails Council, Ray Ford is the Outdoor Editor for The Independent.