Courts & Crime
17 Arrested in Drug Trafficking Investigation
Marijuana Field in Los Padres National Forest
The Santa Barbara County Sheriff's Department announced today the conclusion of a six-month-long investigation into an illegal marijuana garden in the Los Padres National Forest. The coordinated, multi-agency effort resulted in the arrests of 15 adults and two juveniles on charges of drug trafficking and weapons possession in several different counties.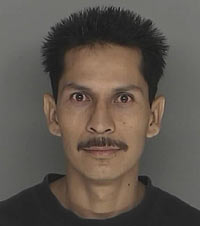 The grow, found off West Camino Cielo Road when authorities were made aware of a marijuana scent in the general area, consisted of approximately 5,000 plants, valued by law enforcement officials at $15 million. Surveillance of the area began in late August. Deputies arrested the first five suspects, all Mexican nationals, on September 11, after they observed and followed two vehicles leaving the grow area, bound for Ventura County. Coordinated traffic stops were conducted with the Ventura County Sheriff's Department, and the suspects were found to be in possession of 41 pounds of processed marijuana and a loaded handgun. The remaining 200 plants in the garden were eradicated by authorities the following day.
A search-and-rescue team failed to find Jesus Omar Villa of Fresno, a missing person believed to be dead and buried in the mountains nearby.
The investigation continued over the next several weeks, involving law enforcement officials from Santa Barbara, Fresno, Tulare, San Luis Obispo, and Los Angeles counties. Search warrants were issued, and the remaining suspects were arrested without much incident – save a teenager who, driving a car away from one of the addresses linked to the case, rammed police vehicles with his car while attempting to flee the scene. In all, authorities seized 11 firearms, $39,000 in cash, a kilogram of cocaine valued at $105,000, and 350 pounds of marijuana – with a street value the Santa Barbara Sheriff's Department estimated to be $1 million.
Four suspects are still at large, each with a $250,000 warrant for his arrest. Detectives, confident that Villa's death was a homicide, believe his killer may be among the suspects who were already arrested. Anyone with further information is encouraged to call the Sheriff's Department at (805) 681-4171.