Food & Drink
Thanks for More than Turkey
Six Santa Barbara Chefs Offer Up an Alt-Thanksgiving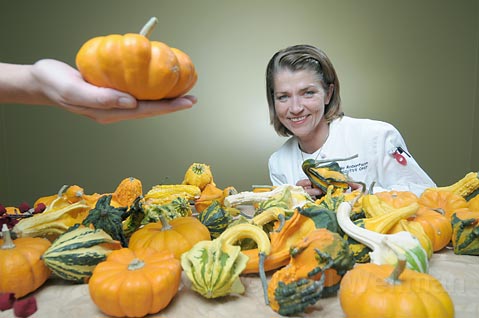 Perhaps, just this one year, you don't want to pass the turkey, you want to pass on the turkey. You're not sure you can cram in one more cranberry, or don't feel so sweet about sweet potatoes. You might even be thinking it should be called pecan't pie. Luckily for you, The Independent is here to help, aided and abetted by six of the area's best chefs. Each was asked to come up with a non-traditional yet still properly seasonal, festive, and scrumptious option for a Thanksgiving feast. You can read all their recipes and wine-pairing suggestions online at independent.com/food, but here you'll learn some feast-making secrets and why these dishes are delicious.
For a substantial first course, Brenda Simon of the Santa Barbara Museum of Art Cafe (1130 State St., 884-6487) and the owner of The Secret Ingredient catering (637-9523, secretingredientsb.com) created persimmon-glazed diver scallops. That's followed by a leek and Stilton soup from Pascale Beale-Groom, one of the recipes from her recently published Autumn: A Montecito Country Kitchen Cookbook (965-5112, mckcuisine.com). Two mains are suggested, one for pescatarians and one for vegans. John Pettitt of Seagrass Restaurant (30 E. Ortega St., 963-1012, seagrassrestaurant.com) offers local white seabass with Brussels sprouts, chestnuts, bacon, and chardonnay, while Edie Robertson, former chef at Sojourner Cafe and now a caterer/private chef (884-1182, chefedie.com), creates baked acorn squash with quinoa and Asian pear stuffing with cranberry citrus sauce. For sides, James Sly of Sly's in Carp (686 Linden Ave., Carpinteria, 684-6666, slysonline.com) offers up three: pan-fried Brussels sprout leaves "our way," Sly's potato gratin with Gruyre, and Great Aunt Helen's refrigerated rolls. And to finish, Eileen Randall Cook of the just opened Bella Dolce (113 W. De la Guerra St., 962-CAKE, belladolce.com) provides pumpkin flan with praline pepita garnish. Loosening your belt a notch or two sounds required.
Not surprisingly, all the chefs were excited about reinventing part of this food-friendly day. Even Beale-Groom, who is English and French and celebrates with fellow Europeans, said, "We all laugh about that, but we unanimously really like this holiday. The entire country grinds to a halt and stops to gather around the table." Sly focused on a different piece of furniture, claiming, "How great is it to sit on a couch exhausted from too much cooking and from eating too much?"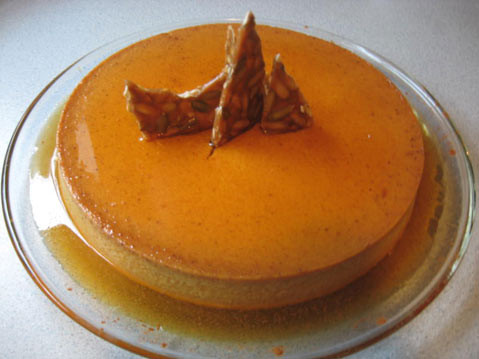 The chefs also had numerous surprising memories from the Thanksgivings of their childhood. Robertson recalled being raised on the Pritikin Diet, which meant eating no processed foods. "The rest of our family was very traditional in what they brought to our house," she said. "So my sister and I would scrape off the top layer of the casseroles to get all the marshmallows off the yams or the canned French-fried onions off the green beans." Thanksgiving also proved a time of unusual joy for Randall Cook, who explained, "We didn't have holidays as a kid, since I was brought up a Jehovah's Witness. But there was nothing in the Bible about Thanksgiving, so we'd get some of that great food."
As for the great recipes, each chef tended to kick things up a notch, as is fitting for a super-sized American holiday. Simon, for instance, often makes persimmon-glazed chicken, so her choice of scallops is a bit more festive. Beale-Groom "wanted a soup that's unctuous and rich and has a great aroma. Leek soup is leek soup, but leek soup with Stilton is special." Pettitt felt he had to go with fish given Seagrass's focus, and seabass is in season. It's a dish similar to one he prepares at the restaurant, although, he said, "I didn't want to make it too complicated for the home cook. At Seagrass, I'll probably use a fish fume-throw some truffle in there and make it a little more elegant."
Robertson was pleased to feature quinoa, as it's "picking up in popularity. Unlike other grains, it's considered a complete protein, and it also tastes really good." Sly took familiar dishes not necessarily typical of the Thanksgiving palette. But he also stressed-as did all the chefs-how crucial the raw ingredients were, warning, for instance, about how grocery stores now refrigerate potatoes. "The starches turn to sugars and that makes them gummy," he said. "That's why at any given time we have 600 pounds of potatoes out at room temperature in our kitchen."
Such a hint was just one of many the chefs offered for home cooks who often melt down in the heat of the demanding Thanksgiving kitchen. "I would really emphasize keeping it simple," Pettitt said. "Use seasonal ingredients-that's what's going to taste best, even if it doesn't quite come out the way you want it." The chefs also insisted on good planning. Said Robertson, "Get your mise en place set up and clean up as you go. Make sure you have all your ingredients. And have fun with it-either put wine in the food or drink it as you cook. And if there's family around, give them something to do so it feels inclusive. It's not rocket science, cooking a turkey-just baste it. And if you have any questions, just Google it."
Cook also offered a brilliant suggestion for the sure amount of excess food. "I read it in a magazine, but they suggested throwing a leftover party the next day," she said. "Everybody has to bring something and you make a meal out of that." For what could we be more thankful for than a feast that keeps on giving?
4•1•1
See the all the recipes in this article here.