Living
Hit-and-Run Kills Two Pedestrians
Parolee Driver Apprehended by Police
A hit-and-run collision Saturday left two pedestrians dead and police looking for the driver responsible. Witnesses of the accident, which occurred on Las Positas Road near the Earl Warren Showgrounds, were able to provide authorities with a license plate number, which was then linked to John Steffen Peters, 46, a convicted sex offender. Although Peters had ditched the van he was driving, police used a global positioning satellite device he is required to wear by his sex offender status to locate him.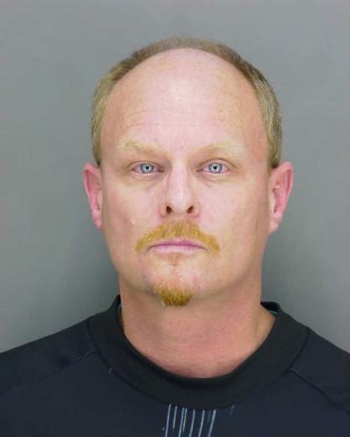 Peters, who officials say is homeless, was arrested shortly thereafter and questioned by law enforcement. He admitted to fleeing the scene of a fatal traffic collision, but apparently no evidence was found indicating that Peters was under the influence of drugs or alcohol at the time of the accident.
The two victims, a man and a woman, were pronounced dead at the scene. Authorities are waiting until their next of kin are notified before divulging further information about them.
Peters, who is in police custody, is currently on parole, and is listed on the sex offender registry for oral copulation with a person under 16 years of age.
[UPDATE:The names of the two accident fatalities were released by authorities Monday morning. Elisabeth Contreras, 36, of Santa Barbara, and Alan Garcia, 38 of Goleta, were both pronounced dead at the scene on Saturday after they were struck while crossing Las Positas Road.
The driver of the van, 46-year-old John Steffan Peters, is being held at the Santa Barbara County Jail, facing charges of parole violation, vehicular manslaughter, and felony hit-and-run. Santa Barbara Police Department Traffic/Motors Supervisor Noel Rivas said Monday that although the department is not sure when exactly Peters was released from state prison, he had recently completed an orientation for new releases. This was the first time the department had used the satellite tracking device.
On Saturday, Peters's van had crossed the intersection of Las Positas and Tallant roads in the direction of Santa Barbara. Police reported that the intersection had 26 traffic collisions last year resulting in six injuries, but no fatalities. Both accident victims were wearing dark clothing when they were struck.]