Wedding
Kate and Adam's Presidio Wedding
Couple Throws Quintessential Downtown Wedding
When Santa Barbara native Kate Kochendorfer first started planning her September wedding to fiancé Adam Smith, she had just one thing in mind. "She wanted a downtown Santa Barbara wedding, with a mariachi and Mexican food, where everybody could walk everywhere," recalled mother-of-the-bride Cathy recently. "And we wanted it to go late." A graduate of Ojai's Thatcher School, Kate currently resides in Manhattan with her new husband, where she works as a lawyer. The distance between the bride and her hometown wedding meant a lot of cross-country communication (and commuting) for mom, who ended up taking on the majority of the event planning in Kate's absence. "She was so awesome in terms of keeping track of details," recalled Kate. "She's really good at planning parties, and we wanted our wedding to be a huge party for all our friends, so it was perfect."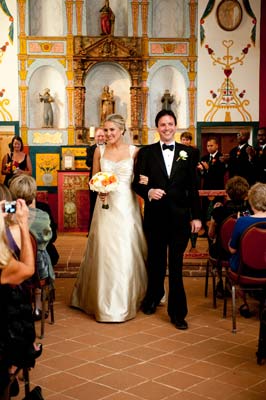 After ruling out an N.Y.C. nuptial, which both bride and groom decided would be "too stressful," Santa Barbara seemed like the most logical wedding destination alternative. "It was nice to have my mom so involved in the wedding planning," said Kate. "And, of course, the New York people wanted to travel to California for a big celebration in S.B. I'd organized two big Fiesta trips for my New York friends in the past and they thought it was the biggest, best party they'd ever seen. So much so, we even thought about getting married during Fiesta, but just thought that would be too difficult."
Both mother and daughter now reflect back and agree that they made the right decision choosing the time and location of the wedding and reception, which took place last September at the historic Presidio Chapel on Canon Perdido Street and then at downtown eatery-cum-Santa Barbara institution, El Paseo.
"I originally wanted to get married at the Courthouse," Kate recalled. "But you can't reserve the lawn there, and it was going to be too much work for us on the day of — setting up chairs and taking stuff down. … Once we ruled out the Courthouse, we decided on the Presidio, which is where my brother almost got married."
Located in the heart of downtown Santa Barbara, the Presidio Chapel arguably is one of S.B.'s most popular historic landmarks. Founded in 1782, the onetime Spanish military fortress and first Santa Barbara church is now a designated and protected state historic park, boasting red-tile roofing, Mexican-period adobe, and Spanish Colonial architecture. The chapel itself easily is one of the more ornate and unique spots in all of downtown, thanks to authentic reproductions of paintings, sconces, statues, and candlesticks that once adorned the church's walls.
"No one could believe the chapel," said Kate. "With the candles lit and the simple, pure white walls running down the whole length [of the aisle] — it was breathtaking and really emotional. And the chapel was just the right size for the number of people we had there. I remember coming down that aisle with my dad, and it was overwhelming. It felt like such a community of friends and family."
Kate and Adam's ceremony, which was preceded by two days of signature Santa Barbara festivities (wine tasting in Santa Ynez, a croquet game on the Mission lawn, a rehearsal dinner at the historic Perkins Residence in Montecito), relied mostly on the Presidio's inherent charm and character. "We had no flowers in the church," said Cathy. "There's so much beauty in that building. Anything more would have been a distraction from the ceremony." Similarly, Kate and Adam's reception took place in El Paseo's picturesque, pre-decorated, and often overlooked atrium-style dining room, just a short, mariachi-led, cascarone-filled walk from the chapel.
"If you live in Santa Barbara, you think of [El Paseo] as this drunk margarita bar," laughed Kate, "but it's so beautiful in there." It also provided a fully equipped location for all of the Smiths' post-wedding festivities, including food, seating, a bar, and an ample dance floor. "We didn't use a planner," Cathy explained. "We had one of my friends from work — the most organized person I know — come in and help keep things in order on the day of. … And the restaurant took care of so much." Both mother and daughter also pointed out that El Paseo was one of the few downtown reception locations willing to stay open past 10 p.m. "There were still people going strong at 1:30 when Adam and I left," recalled Kate.
Looking back on it all, Kate and Kathy both agreed that it was their relaxed, don't-sweat-the-small-stuff mentality that kept the big day running smoothly. "It was all very personal, but we weren't very fussy," explained Kathy, recalling the numerous personal touches that Kate retained throughout her wedding (i.e., homemade signs for the pre-wedding croquet match, hand-assembled flower arrangements supplied by vendors from the downtown Farmers Market, and handmade invitations, crafted by the bride's sister-in-law). "I feel so lucky that everything came together so easily," said Kate. "People get so hung up on the details, and brides tend to freak out about the tiniest things that, in the end, only they're going to notice. I think if you keep it all in perspective, everything else will just fall into place."