Sports
Gaucho's Baseball
UCSB Pitcher Mario Hollands Strikes 'Em Out Like Sandy Koufax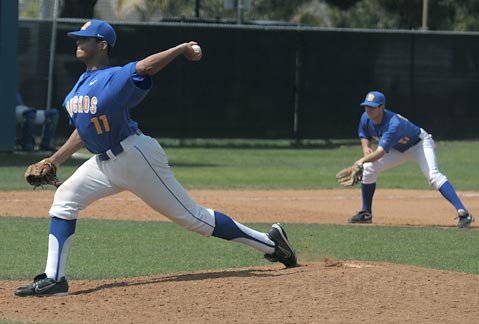 In his last 15 innings on the mound, Mario Hollands has decorated the scorebooks with a certain symbol. To wit: KKK-KK-KK-K-K-K-KK-KK-KK and K-KKK-KKK-KK-KK-KK.
UCSB's junior left-hander amassed a school-record 16 strikeouts in a complete game against Northern Illinois, an 8-1 Gaucho victory, and he struck out 13 batters in six innings of work last Saturday against New Mexico State. The Gauchos were leading 7-1 when Hollands came out of the latter game. They ended up winning 10-9 after the bullpen almost blew it.
Hollands is 2-0 in four starts this year. In 28 innings, he has allowed six runs (an earned run average of 1.93), limited opponents to a batting average of .186, and rung up 36 strikeouts.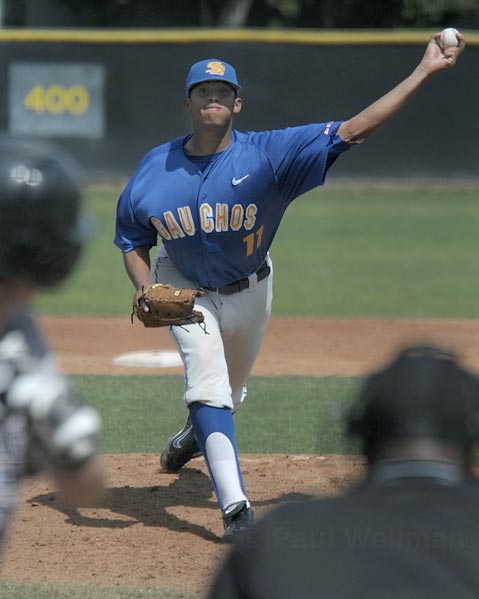 Although the numbers make Hollands look like the second coming of Sandy Koufax, that is not his intention. "I'd rather get groundouts because it saves my arm," he said, "but I'll take the outs whatever way they come." It is telling that his favorite pitcher is Tom Glavine, a 300-game winner who lasted for 22 seasons in the majors. Burnout is not in his game plan. "We have to take care of his arm," said Gaucho pitching coach Tom Myers.
Hollands' next outing will be Friday, March 26, when UCSB begins a three-game series against the visiting University of San Francisco. His starts have brought professional scouts, armed with radar guns, to Caesar Uyesaka Stadium. "His fastball has been hitting 90 to 92 mph," Myers said. "It's deceptive. It's jumping out of the strike zone."
Hollands was chosen in the 24th round of the major league draft by Minnesota last June. He chose not to sign and spent the summer pitching in the Cape Cod League. "There are no easy outs there," he said. "Every team has about five first-rounders."
He entered his junior baseball year with more bulk on his 6′5″ frame. He now puts about 220 pounds of force behind his pitches. "Also, his delivery is more in sync," Myers said. "He's made subtle adjustments that have allowed him to have better command of his fastball. He used to throw hard early and lose it. Now his last pitch is as hard as his first."
After Hollands handcuffed New Mexico State's heavy-hitting lineup, the extent of his mastery became evident. Against 10 subsequent UCSB pitchers, the Aggies racked up 32 runs in 21 innings. The visitors posted a couple dozen runs to win the last two games of the series, 12-7 and 12-5. Head coach Bob Brontsema and Myers have two weeks to whip the pitching staff into shape before the Gauchos slam into the brutal Big West Conference.
The rest of the staff gets no criticism from their ace. Myers describes Hollands, who hails from the Northern California East Bay town of El Cerrito, as "kind of a laid-back guy. He's got no ego. His teammates love him. You get sometimes those No. 1 starters who can't be with their teammates. They ostracize themselves because of their attitude. That's not Mario. Mario's well liked, well respected. He's a complete kid. He's a great kid. He's become a man."
MARCH SICKNESS: Beware of basketball players afflicted with the flu. In the most famous case, a feverish Michael Jordan burned the Utah Jazz with 38 points, leading the Chicago Bulls to a pivotal victory during the 1997 NBA finals. Ohio State's Jon Diebler was unable to practice because of illness before the Buckeyes faced UCSB last Friday in the opening round of the NCAA tournament at Milwaukee. The Gaucho defense keyed on Evan Turner, touted as the likely college player of the year, and held him to nine points. But the ailing Diebler destroyed UCSB's zone from long range. He buried seven three-pointers and scored 23 points in Ohio State's 68-51 victory. With Georgetown and Kansas no longer standing in their way, the Buckeyes have a good shot at reaching the Final Four.
UCSB sophomore Orlando Johnson (20 points) proved he's a big-time player. With four other starters returning, and 7′3″ Greg Somogyi hopefully coming back stronger (hit the weights, big fella), the Gauchos should strive for a higher seeding and a longer run in next year's NCAA tournament.
It would help if they get a better show of support from both the students and the community. The average attendance at the Thunderdome this season was a rather feeble 2,419. Maybe everybody realized too late where the Gauchos were heading. Be ready to climb aboard for their 2010-11 journey next November.
MEETS OF THE WEEK: Don't forget the sunscreen if you head down to La Playa Stadium for the 72nd annual Santa Barbara Easter Relays, two full days of track and field competition by the sea (community colleges Friday and high schools Saturday). Also on Saturday, Westmont College will hold the inaugural meet on its new all-weather track. Participating with the Warriors will be George Fox University, Biola, and Fresno Pacific.