Capitol Letters
Political Horror Show
S.B.-Based Media Consultant Wins Raves for Weird Online Attack Ad on Barbara Boxer
The buzz at the Republican state convention was a bizarre web video ad that portrays Senator Barbara Boxer as a talking giant balloon head, piloting an ominous alien dirigible flying above the landscape of California and terrifying man and beast alike.
For Santa Barbara's Fred Davis, the political consultant behind the roughly seven-and-a-half-minute ad, it was just another day at the office.
"I thought of Boxer's head inflating, getting bigger and bigger, until it burst through the top of the Capitol," Davis said at the just-completed convention, by way of explanation about "Hot Air: The Movie," the online video he made on behalf of GOP Senate wannabe Carly Fiorina.
While he still speaks with the drawl of his native Oklahoma, the slight and soft-spoken Davis splits time between his home here and his office in the Hollywood Hills, while spending weeks on the road, creating and managing media advertising for 15 candidates in states across the nation.
Known to insiders as a mad genius of political ad-making, Davis was responsible for the most memorable ad of the 2008 presidential race, the "Celebrity" spot run by John McCain's campaign, which mocked Barack Obama's rock star status by comparing him to Paris Hilton and Britney Spears. He's also behind a host of other notorious political ads, including a current one boosting businessman Rick Snyder for governor of Michigan as "One Tough Nerd"; another that portrayed the former governor of Georgia as a giant rat wearing a gold crown; and a spot aimed at former Illinois governor Rod Blagojevich, which pictured the disgraced politician's infamous brown hairdo covering the state capitol building.
Davis's professional take is that traditional political advertising is just more background noise in a culture in which people are bombarded 24/7 with marketing pitches and that breaking through requires something a little … off: "My whole deal in life is," he recently told Time, "if nobody sees it and nobody talks about it, you have wasted your money."
A few weeks before Davis's latest ad, quickly dubbed the "Hindenboxer," the campaign of former Hewlett-Packard CEO Fiorina rolled out another example of his work, which quickly went viral in the blogosphere. Known as the "Demon Sheep" spot, it presented former congressman Tom Campbell, Fiorina's chief rival for the GOP Senate nomination, as a fiery-eyed wolf in sheep's clothing silently stalking a herd of baa-baaing innocents unaware of his lust for taxes.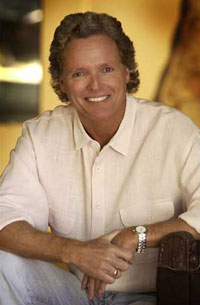 The tactic reflected the increasingly bitter and personal tone of the Fiorina-Campbell clash. Both are within striking distance of Boxer, according to a new set of independent polls that show the Democratic incumbent's seat, once considered very safe, now in play; this week's passage of health care reform legislation, which Boxer supports, is likely to make the campaign even more intense.
One measure of the state of the play in the race is a third Republican candidate, Orange County Assemblyman Chuck DeVore, running just a few points behind Boxer in a simulated match-up in both the Field Poll and a new Public Policy Institute of California (PPIC) survey — even though less than 10 percent of voters polled say they have ever heard of him.
The right-wing DeVore, who dismisses both Fiorina and Campbell as wannabe conservatives, predicted in a convention interview that as the Fiorina-Campbell match gets more and more nasty, the two are headed for a political murder-suicide outcome that will leave him the last man standing. Pointing his thumb to his chest with a smile, he asked rhetorically: "What happens when the rubble clears?"
WHAT MONEY CAN BUY: Two-and-a-half months before the June 8 primary, Meg Whitman, the front-runner for the GOP nomination for governor, is obliterating all previous records for campaign spending. And so far, at least, she's got plenty to show for it: She not only is trouncing Republican opponent Steve Poizner but also has edged ahead of presumptive Democratic nominee Jerry Brown.
The latest spending reports show the former eBay CEO has spent more than $46 million to date — $39 million of it her own money — already surpassing the $40 million mark established by airline executive Al Checchi in his failed 1998 bid for governor. With most of the money having gone to TV ads, Whitman for months has had the political airwaves to herself and now leads Brown by three points in the Field Poll and by 10 points in the PPIC survey.