Cover Story
Selma Rubin Turns 95
Celebrates 55 Years of Uninterrupted Grassroots Involvement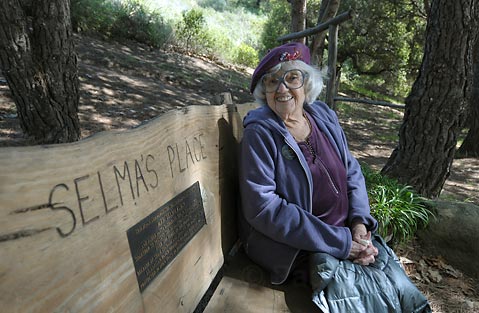 This past weekend, a group of environmental activists gathered to plot out their strategy for preserving the Gaviota Coast, famous for its explosive bio-diversity and jaw-dropping views. But without the interventions of Selma Rubin 40 years ago, chances are slim there'd be much of a Gaviota Coast left to save. That's when Rubin — who is about to celebrate her 95th birthday with a political bash — helped lead the successful initiative campaign that cold-cocked a developer's plans to build 1,535 new homes at El Capitán.
It was before a California Coastal Commission existed, before California environmental law had yet been drafted. Land-use conflicts were not the ritualized kabuki theater that they are now; back then, it was the wild, wild West. For her efforts, Rubin — and her coconspirator, Anna Laura Myers — was charged by Santa Barbara District Attorney David Minier with forgery and election fraud, serious felony offenses. After a two-week-long preliminary hearing, judge Jack Rickard ordered the charges dismissed for lack of evidence. Rickard issued his ruling in such a manner to effectively stymie the DA from filing new charges against Rubin.
For many activists, that would have been accomplishment enough. But Rubin — who grew up in Toledo, Ohio, and served in the Navy from 1943-45 — hasn't stopped moving since. Since relocating to Santa Barbara in 1964, Rubin has embodied the Jewish socialist traditions of the Old Left with Santa Barbara's unique blend of '60s radicalism and home-grown environmentalism. Where others activists have grown disillusioned, cynical, or just plain worn out, Rubin has remained astonishingly active. During 46 years of uninterrupted nuts-and-bolts grassroots involvement, Rubin — a bookkeeper by trade — has helped spawn or guide at least 42 groups and organizations. She remains active on the boards of six.
Naturally, her birthday party — this Saturday, March 27 — will be a benefit for Santa Barbara County Action Network (SB CAN). Pretty much any organization that's part of the progressive left owes a major debt of gratitude to Rubin: the Environmental Defense Center (EDC), the Community Environmental Council (CEC), PUEBLO, the League of Conservation Voters, the Santa Barbara Women's Political Committee, the Fund for Santa Barbara, and the Homeless Coalition. Rubin's public energies have also focused on opera, theater, and Alzheimer's, which claimed the life and mind of her second husband, Bill Rubin.
Although Rubin has donated freely of her money, she's never been in the same financial league as other left-leaning philanthropists like Maryanne Mott or Kit Tremaine. What Rubin has delivered in spades is time and energy, focus and passion. Opinionated and practical, she's used her professional experience to ensure that her organizations achieved sound fiscal footing. She's also strived to get them staffed with smart, competent people who know when to draw their lines in the sand. Throughout the years, Rubin has routinely opened her home to countless political operatives, environmental interns, writers without benefactors, and a host of other strays in need. When displeased, Rubin is famous for speaking her mind, bluntly and unequivocally. But when happy, she's equally demonstrative.
Rubin's interest, appetite, and intellect remain undimmed by the years. Her spirits, if anything, seem lighter. "She's always lived and breathed politics," noted longtime political partner Dick Flacks, "but always in a way that made things fun." Rubin still maintains an exceptionally active calendar, showing up — sporting one of her many signature hats — at a wide range of concerts, plays, movies, speeches, and public forums.
Independent writer Nick Welsh sat down with Rubin recently for an hour-long interview at the Java Station coffeehouse. The following is an edited version of what was said.
So, what's with the hats? [My] grampa Sam Newman manufactured caps and hats for the Russian Army. So I have it in my genes. I really love hats. I only have 68 now, and they're getting worn out.
You and your late husband Bill moved to Santa Barbara in 1964 from Los Angeles. What was your impression? It was just beautiful. We took a ride on Friday night at 10. We started at the pier, and we drove down State Street. Maybe we might have passed five people.
That wasn't too small for you? No. In all the things I've done in 95 years, moving here was one of the best.
What was Santa Barbara like back then politically? Before we came here we were always busy — with the ACLU and all these Democratic, left-wing kind of organizations. When we came here, we said we need to not get involved with anything for a while. Just relax, pretend we're on vacation. Three weeks after those words left my lips, Bill got a call from a former colleague who was stuck in Santa Maria with car trouble. He asked would it be possible for him and his wife to stay with us. They happened to be a black couple. Bill said sure. As they were unpacking in front of our house, a pickup truck drives by very slowly. This guy sticks his face out the window and really looks us over. A few days later, we had eight tires slashed in front of our house. Bill and I looked at each other and said, "Vacation's over." That was 1964.
So what did you do? Bill discovered the ACLU chapter. There was an active chapter of CORE [Congress of Racial Equality] here. We joined CORE. We joined Friends of the Farm Worker. You show some aptitude, and all of a sudden you go from a plain member to someone on a committee to someone on the executive committee. Bill was a plumbing engineer; he had a lot of talent with a pencil. So if you needed a sign or something, he could do it. And I was the bookkeeper. So between Bill and me, all our organizational work was double-headed.
You've worked with at least 42 different organizations at one time or another and been with the Community Environmental Council 40 years. Any favorites? CEC came right after the oil spill. People were really anxious to do things. We met a lot of good people, and we organized an event on January 29, 1970 [first anniversary of the spill], and there were 1,100 people there. There was so much energy we just couldn't do nothing. That's how CEC was born. It was a bunch of young people, and everybody wanted to do things. It was a birthing kind of time. We didn't have any money. It's been a really interesting ride.
For years, CEC was best known for its recycling program, which they've since sold. How did that program start? In 1974, Mr. [Bob] Klausner came to us. He moved here from New York, and he was going to retire. But he found he couldn't play tennis every day and do nothing. So he went around for a year meeting with different people in different organizations. He'd take you out for a bowl of soup and talk to you about what Santa Barbara really needs. What he found is that all the little groups that had nothing but bake sales and rummage sales needed funding. So Klausner goes down to Los Angeles — it was the beginning of recycling newspapers — and he makes a contract with some people down there to buy our recycled newspapers for $38.50 a ton. We had 200 organizations going after old newspapers. We had people running for office collecting old newspapers. Every child was instructed to pick up paper from every place you could think of and bring it to the recycling center. And the city provided the space for the recycling center for $1 a year. Once a month, people would get a check. In the first year, we gave back $125,000 into the community.
You're given a lot of credit for stopping a massive development up at El Capitán back in 1970. What was being proposed? One thousand, five hundred thirty-five houses. The supervisors approved it by a 4-1 vote. First it was approved by the planning department. The developer, Jules Berman, came in for the zoning change, and they said okay. Then it went to the planning commission; they gave their approval. Then it came to the board of supervisors, and they gave their approval. When we saw that, we said, "Uh-oh."
So you started collecting signatures to put the matter on the ballot and stop it? We got them collected in the 30 days. We needed 9,000; I think we got around 12,000. When it went to a vote, it wasn't even close. We beat 'em by 2-1.
You were brought up on felony charges for election fraud and forgery for how you collected the signatures. That was a very scary time for me. If I had been judged guilty, I would have spent 28 years in prison. The developer, Berman, was interviewed on the radio and accused us of being a criminal element. Us! At the time I was 55, and [codefendant] Anna Laura [Myers] was 79.
I heard District Attorney David Minier had investigators from his office infiltrate your group. I was in charge of the office. I'd give out the petitions; people would get them signed and bring them back. Anyone in the community who had an hour or two would help me. This woman comes in, "My name is Mary Jones, I want to help." Okay, fine. Here, sit down. She said, "I find it difficult to work in a public place. Can I have a private room?" I said sure. Who knows what she did with those petitions? The only thing we did when we couldn't read the signatures or address, we'd write the address above it in red pencil to make it legible.
The attorney who prosecuted you, Steve Balash, told me even at the time he thought it was "a chicken-shit" case. He left the department and went into private practice because of it. Balash told me later that case taught him never to take a case he didn't believe in. He also told me that the day of the final decision, he was having breakfast with his daughter, and she said to him, "Daddy, I hope you lose this case today." And he said, "Honey, I do, too."
What difference do you think all this melodrama has made for the Gaviota Coast? What do you think? It would have been home-to-home-to-home-to-home. We didn't truly realize at the time how important it was in terms of the coast to win that election. But we look back on it now; if we had lost that initiative, it would have been good-bye all the way up the coast. It's more important today than it was back then.
El Capitán is now an upscale campground where you can get a yurt for $400 a night. What do you think of that? There are people in this world with money, and if they're going to spend $400 a night to sleep in a cherry[wood] cabin, then that's what they're going to do. I don't have a complaint. I just want the space to be available if you only have a sleeping bag. And it is. The developer has done his very best to be as economical and as green as he can be.
And he named a bench and a trail after you up there. Yes, we had a very nice dedication ceremony. Maybe 75 people who were around back then [came], and I gave a little talk. I said there's nothing I can do alone. I am only one of many. That's what drives me crazy about people who run for office: "I did this, I did that," … the whole thing is "I, I, I, I." No city council does "I." No group can do "I." You need to have support. You have to have colleagues. You have to have other people helping you. It's too much; it's not possible to be an "I."
So what do you bring to the boards you serve on to connect the dots of all those "I"s? I work. I've been a treasurer for a number of organizations. I mentor people. I volunteer to do things. Anything I'm capable of doing. You know the expression "Jimmy Higgins." It's the worker. It's the person in the group that's the worker. Whenever something needed to be done, you called on Jimmy Higgins. He filled the needs as they came up. And at one time, I had a lot of money. I don't have it anymore. I've given it all away.
You're on the board of the Environmental Defense Center and Citizens Planning Association, two groups that have supported oil company PXP's proposal to expand drilling from its federal platforms into state waters off the coast. EDC's taking a lot of heat right now; some people are accusing it of selling out. I am fully in support of the deal. There are 32 organizations that are solidly in our corner. I think it's the most divisive thing that's hit Santa Barbara ever. It's certainly the issue in the race for the Assembly seat.
In hindsight, is there another way the EDC could have handled this? The fact that the agreement between EDC and PXP was confidential for so long left you guys wide open to attack that you'd struck a "private deal in a back room." Up to that time, we had an understanding that all three of the people on the State Lands Commission [who have to approve any new oil operations in state waters] were in agreement. They weren't finding issues with it. This was a [John] Garamendi thing [former Lieutenant Governor, now a California congressman]. He was on that committee. Just before that, Garamendi was honored by the EDC. But even in this so-called "secret agreement," there's nothing all that secret about it. But somehow it got that title.
Pedro Nava has come out hard against the PXP deal. You two were founding boardmembers of SB CAN at one time. Did you ever talk directly with Pedro about PXP? Pedro and I were cochairs for a barbecue at Tuckers Grove for Cruz Bustamante when he was running for Lieutenant Governor. When Pedro was on the Coastal Commission, he was really good. But when he ran for Assembly, he was terrible. He lied. When he ran against [school boardmember Bob] Pohl, Pedro had TV ads showing broken-down schools with the tiles peeling off the walls. We don't have schools like that here. A lot of teachers were really upset. I told Pedro you've got to stop that. People won't vote for you. He said, "Selma, tomorrow morning there will be an article in the News-Press exposing Robert Pohl, and then you'll understand why I do that." I wait for the morning. I get a News-Press. What was in it? Nothing. Not one single word. I lost all confidence.
Your husband Bill had Alzheimer's, and you wound up working closely with Reagan's people over that disease. How was that for a lefty like you to work with that crowd? Politics didn't enter into it at all. …The last two years of his presidency, he had Alzheimer's. I knew it. We all knew it. Believe me, it's the worst disease you can have. Right now, I'm very upset with the organization nationally. The work that they're doing is all about research on pharmaceuticals that treat the symptoms. We need to find the cause. Once we do that, we can find the cure.
So how did you manage not to get burned out after nearly 50 years of activism? I don't do what other people do. I have had no children in my life. When I was 15, I decided no kids. I decided I could not be a good mother. I'm not athletic, I don't sew, I don't smoke, I don't drink, I don't play cards. I do spend two hours a day on the internet. I try to keep up with things. I don't know what I'd do with myself if I didn't have this. I really love talking with young people. They always have a friend in me. I'm never judgmental, at least not with them. I get my main pleasure from people. Basically, I'm a happy person.