Living
Legendary Landscaper
Horticulturist Ralph Tallant Stevens Devoted Himself to Beautifying Santa Barbara
Stevens Park, up in San Roque Canyon, is named in honor of Ralph Tallant Stevens. In a distinguished career of almost 40 years, this horticulturist and landscape architect devoted himself to beautifying the South Coast. The fruits of his labor may still be enjoyed today.
Stevens's botanical gift was in the genes, for his father, Ralph Kinton Stevens, was also a noted horticulturalist. Beginning in the early 1880s, Kinton Stevens began to buy property in Montecito, and within 10 years, his holdings had grown to almost 200 acres. Given the large number of oak trees on the property, Stevens's wife, the former Lucy Tallant (Tallant Road is named after the family), christened the estate Tanglewood. Stevens planted his land in a variety of fruit trees, and he had one of the largest collections of palm trees in the state. The estate later became Lotusland.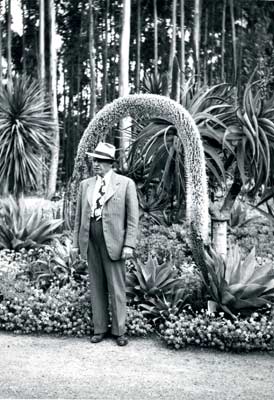 Stevens was a founding member of the Santa Barbara Horticultural Society, and he worked closely with other local horticulturalists such as A. Boyd Doremus and Francesco Franceschi. His achievements earned him an appointment as a commissioner for San Francisco's Golden Gate Park.
Ralph, the first child of the Stevens, was born in 1882. Early on, he absorbed his father's interest in things horticultural. One of his favorite childhood memories was of his father constructing a pond and filling it with lotus plants. The pond became home to the family's pet alligators, and later it served as the centerpiece of the Japanese garden at Lotusland.
Ralph enrolled in the Michigan Agricultural College (today's Michigan State University) in 1900 and emerged five years later with a horticultural degree. He worked for a landscape designer in Chicago, joined another firm in San Francisco, furthered his studies in Europe, and worked for a time in the Southern California Acclimatizing Association, owned by Santa Barbara horticulturist Peter Riedel. After teaching landscape gardening at UC Berkeley, he returned to Santa Barbara for good in 1917.
Two years later, Stevens was appointed the first salaried city park superintendent, succeeding Doremus in the job. This began a 37-year association with the city's Parks Department in a number of capacities. Among his designs of public spaces were the public library grounds, parts of Franceschi Park, Alameda Park, Oak Park, the Bird Refuge, Plaza del Mar, and plantings along Cabrillo Boulevard. He later landscaped grounds of the Mesa campus of Santa Barbara State College (now the site of Santa Barbara City College).
Some of his commercial work included the grounds of the Biltmore Hotel and, farther afield, the gardens of the Royal Hawaiian Hotel in Honolulu. Stevens worked closely with landscape designer Lockwood de Forest Jr. on a number of projects, including the grounds of Warren Tremaine's home, designed by architect Richard Neutra. He also did work at Golden Gate Park.
He returned to his boyhood home, now Lotusland, and designed the blue garden, outdoor theater, and the large ground clock. Stevens also drew up the initial plans for the gardens at Casa del Hererro. Stevens designed a landscape with a southward-facing primary axis, graced by a number of fountains, with smaller gardens branching out to either side. At the end is a cactus garden, while many of the other plantings are tropical in nature. Stevens's original concepts were altered somewhat by Riedel, de Forest, and Francis T. Underhill. The ultimate result was a bit of Spain in California.
In 1957, the City of Santa Barbara changed the name of San Roque Canyon Park to Stevens Park in recognition of the achievements of the 75-year-old horticulturist. Stevens died one year after the park was dedicated.
In a 1930 interview, Stevens predicted that Santa Barbara would become "the city of the world's most famous gardens." He then dedicated himself to making that prediction a reality.