Outdoors
Nature's Mighty Yaup!
Springtime Musings on the Foothills of our Delight
At this point, there is no excuse. If you have not yet disappeared down a trail in the Santa Barbara foothills this spring, you are missing out on one of nature's most exquisite displays of the sublime. A winter's worth of perfectly paced El Niño rains and sunny days have given way to a cornucopia of delights. Streams burble into creeks, water tumbles into waterfalls, salamanders get frisky underfoot, snakes slither and swim as wildflowers explode in all directions. Be it Cold Spring, Tunnel, Jesusita, or San Ysidro, none of your senses are safe from the arresting roar of nature as you venture from the trailhead, each step you take delivering you deeper into the blissful undoing of these electronic times and, more importantly, the salvation of your soul.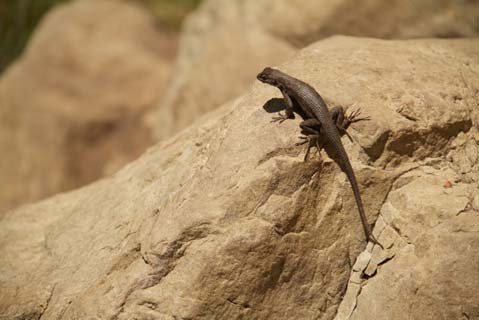 If you think I am off the deep end of hyperbole, then certainly you have yet to venture out into the current mood of Ray Ford Country. Popular places with well-healed paths like Seven Falls, Inspiration Point, and Rattlesnake Canyon seem like steroid-boosted, overly exaggerated versions of their typically beautiful selves. Not long removed from the hell fires of the past 18 months, these places are growing back with a vengeance, the green glow of new growth more vibrant and glowing than even the most wicked, chemical-fed lawn of Montecito.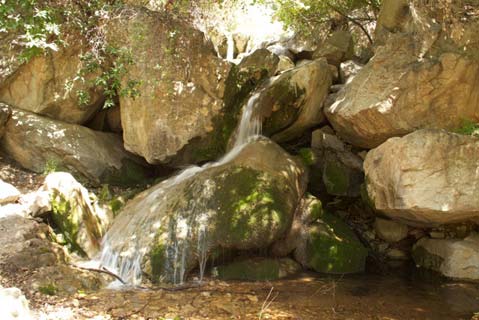 The twist of fire charred trees and backdrop of freshly exposed rock faces only double this effect, turning these familiar routes into new and impressively redone friends. Swaths of sun-soaked lupines and California poppies are but one part of the colorful symphony in full bloom — monkey flower, blue dick, Indian paintbrush, and the intoxicating hummingbird sage all are singing their hearts out, as well. If ever there were a case to be made for the renewing power of wildfire, it is now, and it is on full and undeniable display in our backyard.
Beyond the sights and sounds of the standard hikes lay even more rewarding semi-secret slices of nature. Give a bit more sweat to your adventure or rock scramble in a new direction and you will be rewarded with pristine pools, slippery water slides carved by the graceful hand of Mother Nature, and moments of long-lost serenity that last for hours.
Take off your clothes, let your pale bare feet dig into the warm rock, and lay your body down beside the rhythmic splash and sploosh of a waterfall. A lone manzanita tree cuts a particularly bonsai profile on a rock outcropping to the west, but for some reason you have not noticed it until now. Breathing deep, you sigh with exhilaration at this realization and let yourself melt deeper into the rock. The odd cirrus cloud blows across the infinite blue canvas above as you laze somewhere between sleep and meditation — your ears grooving to a menagerie of sound so rich and layered you are left with no choice but to surrender into it.
As the heat of the day builds, you stir from your post and slide — tentatively at first — into the water. It is cool and easily the most real thing you have felt in a while. Head-dipping into the falls, you feel your breath rush out of you. The hustle and bustle of Santa Babylon is only a few short miles away, though this fact is dead to you right now as you open your mouth wide and let out a mighty yaup in the name of nature, your voice echoing into the sea of chaparral, oak tress, and meandering creeks below.
Soon, the swelter of summer will suck dry the front country trails. Even now, as I write this, the lushness of this great spring of 2010 is beginning to feel the gravity of the turning seasons. After all, the dance of nature is endless and devoid of nostalgia. Luckily, though, schedules can be changed and cell phones turned off in the name of getting lost in your own backyard. Freedom and redemption are but one simple decision away — what are you going to do today?