Columns
UCSB Invading Isla Vista
Effort to Bring More Art and Culture to the College Town
In general, I shy away from experiments in which I'm the test subject, but UCSB representatives are conducting a community experiment that I wouldn't mind being part of.
Kim Yasuda, an art professor, and Seetha Raghupathy, designer-in-residence, are working on a plan to break down the barriers between the university and I.V. by holding community events that feature art, music, plays, etc. The first sally in this effort was the Home Show I.V. held on Thursday, May 20, which featured performance art and music on Ocean Road at the end of Del Playa.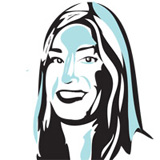 The effort is an outgrowth of recommendations from a UCSB commission. In 2003, after receiving complaints about the way it was handling the problems associated with university students in I.V. (think Halloween), UCSB put together this commission to evaluate how to improve their its track record.
The result is a thrust towards using UCSB resources, including student work and research, to improve conditions in I.V., Raghupathy said. She said the idea was to provide alternative entertainment, and provide it in easy-to-access locations. "We are moving it to where students live and work," she said. Instead of showing student art work on the UCSB campus, it might be displayed on balconies along Del Playa. "We want to take existing resources and channel them into the local community," Raghupathy said. "We want to reclaim the public space of the neighboring community."
If you were able to head down to Thursday's I.V. Home Show, you got a chance to listen to Boots Riley and his band The Coup. The music, described as political hip hop, was terrific, and delivered in a beautiful outdoor setting near the beach and campus.
Normally, the band would have played on campus, but Yasuda credited UCSB Multicultural Center directors Viviana Marsano and Zaveeni Marcus Khan for making an outdoor concert possible. "It's like a First Thursday in I.V.," Yasuda said. First Thursday is a monthly event held primarily in downtown Santa Barbara's art galleries.
If you're like me, you saw the Santa Barbara School District lunch truck parked on Del Playa and stopped to say "Huh?" But when Raghupathy explained it to me, it all started to make sense. She said that some I.V. businesses are not getting as many customers as they'd like. She said that students often eat, and spend their money, on campus during the day. Then, at night, when students are out and about in I.V., there aren't a lot of places open. Freebirds, one of the few places that is open for late night munching, does good business, she said.
With this problem in mind, Raghupathy said they wanted to experiment with the idea of bringing food to Del Playa residents, instead of the other way around. However, the permits and other requirements were prohibitive, so organizers decided to experiment using a pre-approved lunch truck run by the school district. During the first Home Show I.V., residents could buy hot chocolate, burgers, or other late night snacks. She said this was part of an experiment to see whether bringing late-night food to DP residents would be a viable option for local businesses. If so, downtown restaurants might also figure out a way to bring food to Del Playa.
The next Home Show I.V. is planned for June 4. This time art work will be displayed on the top floor of the former location of the I.V. Free Clinic, which is now empty; in storefronts in downtown I.V., and along Del Playa. The idea of using an empty building as a place to display art work is not a new idea. It is being done in buildings throughout the country left vacant due to the recession. Raghupathy said that this is a way to reactivate existing space that isn't being used. For Home Show I. V. organizers, the goal is not just to bring art to I.V., it's to make the community a better place, where resources are being used. "We want to foster more holistic connections," she said.
Yasuda said that organizers also want to tap into other UCSB resources. Organizers want to work with students doing research in the geography department to compile data and evaluate information about the local community. She said that this information can help organizers figure out how to make these types of community events regular occurrences, and point to ways that they can set up a social networking systems to keep this movement going.
With such data, organizers can begin to make decisions about what should be tried. "We begin to look at the community as a petri dish where exciting things can happen," Raghupathy said.