Film & TV
MacGruber
Will Forte, Kristin Wiig, and Ryan Phillippe star in a film written by Will Forte, John Solomon, and Jorma Taccone and directed by Taccone.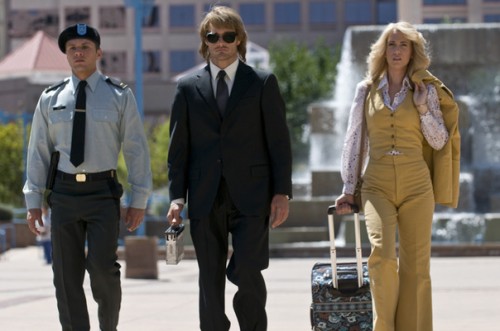 One of the implicitly funny gags surrounding the big screen MacGruber is the nutty time-scale math problem attached within. In its original Saturday Night Live sketch form, a parody of the vintage TV show MacGuyver, definitively time-controlled 90-second skits involve ticking time bombs, inevitably bungled by Will Forte's undeservedly cocky military operative MacGruber, thanks to his hopeless distractiblity.
At the movies, the dimensions zoom outward to a ludicrous degree, from 90 seconds to 90 minutes, with all the advantages of potty humor (i.e. an "upper decker") and sailor's language that an R-rating allows. The very thought boggles. The very product tickles, bores, and ultimately appeals as a guilty pleasure.
MacGruber has died countless deaths on the small screen, along with his lovely assistant Kristin Wiig and anyone else in the room — including Betty White — who tries to hand him the "household materials" to do his defusing handiwork. In the big screen model, explosions arrive at various junctures throughout the story, in which — true to standard brand heroic saga — MacGruber is lured out of retirement for one more job. This time, he's tracking down a stolen nuclear warhead, with Kristin Wiig and Ryan Phillippe at his side.
Much fun is had with the pop cultural timeframe of the story; from MacGruber's mullet and Wiig's Farah Fawcette-esque blonde coif to a witty use of vintage, cheeseball '80s pop songs. (Speaking of music, the great Wiig plays an aspiring singer, whose blandly quirky style feels like the making of another fine character in her SNL arsenal.)
In an audacious sex scene, the de rigeur romantic gloss of a love jam cuts sharply to a music-free shot of realistic bump 'n' grind, movie eroticism flung aside. The sight of Forte humping air in a cemetery is something you might not want to keep in your mental hard drive for long, but it's one of those jolts to the moviegoer system that triggers a laugh you may or may not want to confess to in a court of your peers.
As with SNL itself, the good parts of the big screen MacGruber are stronger than the sum of the whole.