Courts & Crime
Family Secrets
Relatives and Friends Testify Against Alleged Killer Ruben Mize
After just one week of testimony, it's been a rough start for Ruben Mize, on trial for the murder of 16-year-old Lorenzo Carachure.
First, his cousin, Christopher Diaz, took the stand to testify that Mize admitted to stabbing the victim. Then he listened to a tape from a secret wire Diaz — a confidential informant for authorities for some time — wore, on which Mize says he "stuck" the victim in the neck. Mize also seems to indicate on the recording that he participated in another stabbing, as well.
Then his friend Emilio Mora, also facing a murder charge in the same case but testifying because of a deal he made with the prosecution, said he saw Mize stab the victim in the stomach the night of July 16, 2007, during a fight on San Pascual Street on the city's Westside. In exchange for truthful testimony, Mora, 22, is now facing 19 years and eight months in prison, rather than a possible life sentence.
Following Mora, Mize's older brother, Robert Martinez — also facing charges related to this case, as well as attempted-murder charges unrelated to the case — took the stand to testify against his brother. In exchange for his testimony — much of which was focused on proving the defendants were members of the Eastside gang — the accessory-to-murder charge against Martinez is being dropped, and he will be pleading to an attempted-murder charge in the unconnected case. Martinez told the court he was sleeping when Mize (15 at the time of Carachure's death) and their friend Bryan Medinilla (also 15 at the time) woke him up. While he couldn't remember who said what, they told him they thought they killed somebody. Martinez said his brother asked him to take the two somewhere to get rid of knives. He did just that, he said, eventually driving them to Goleta Beach. He said he never actually saw knives, however, and never saw them actually throw the alleged weapons away because he was turning the car around at the time.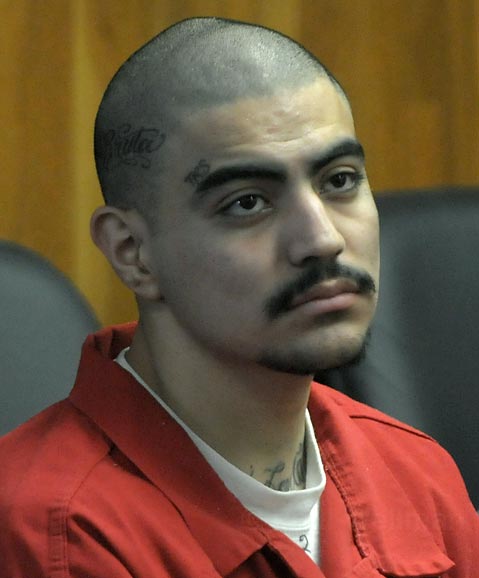 Tuesday, after his brother's testimony concluded, Mize saw two of his former girlfriends take the stand. One, who dated Mize for about a year, said Mize told her that to celebrate his release from Juvenile Hall, he and others went out gang banging and had called her that night because they were near her residence, which at the time was less than two blocks from the murder scene. Later, she said, he told her that if she were questioned at all about the case she should tell authorities that he was with her that day.
That woman was followed by another former girlfriend, Lucero Uribe, the sister of Carlos Diaz — the alleged driver of the group who also pleaded to charges and will testify later. She testified that she refrained from telling authorities about the murder because she "knew everyone that was involved." She said she was at Pennywise Market the night of the murder and told her brother, who she and others have testified was not a gang member, to give the group a ride to the Westside, but didn't explain to him why. "I didn't tell him or else he wouldn't have wanted to take them," she explained, telling the courtroom through tears that, now knowing the trouble he faced, she felt bad for asking him to drive the group.
The four defendants — Mize, Medinilla, Raul Diaz, and Ricardo Nava — are each facing a murder charge, two attempted-murder charges (all with gang enhancements), and a charge of being an active participant in a criminal street gang. Mize is also facing an additional attempted-murder charge in an unrelated assault.
Relatively unscathed thus far is Nava, now 19 but 16 at the time. While witnesses have put him at the scene of the murder — fighting with two others accompanying the murder victim — it appears, at least at this juncture, he was not armed at the scene and had a backseat role in the death of Carachure, if any. Mora did testify that he saw a knife in Nava's lap on the truck ride over to the Westside, but said he didn't see Nava with a knife at the scene. Mora had testified he witnessed Diaz hitting the victim in the head with a car jack just prior to Carachure being stabbed by both Mize and Medinilla.
Mora's testimony has been contradicted by two witnesses following him — Martinez and Uribe. While Mora said he rode with the defendants to the murder scene and participated in the fight, Uribe said she didn't see him get into the vehicle, and thought she saw him walk away from the scene. She also was positive Mora was not around when the group returned to the Eastside (allegedly after the assault) at Mize's home, remembering only Mize and Medinilla being dropped off by her brother. And while Mora said he went with Martinez, Mize, and Medinilla to Goleta — where the two defendants allegedly got rid of their weapons — Martinez didn't recall Mora being with them. However, Martinez admitted that he had been sleeping prior to the trip, and was undoubtedly high after smoking marijuana and methamphetamine, which he did daily for some time after enduring a stabbing in the months prior.