Living
Kitties Need Homes
Celebrate National Adopt-a-Shelter-Cat Month
"Kitten Season," a term coined by animal rescue groups, is happening right now. When warm weather and longer days overlap with un-spayed female cats' heat cycles, cats go into heat and unneutered male cats respond. The gestation period for cats is only 60 days, so thousands of kittens are born each year during the spring and summer months and unfortunately, many of them wind up in already overcrowded animal shelters.
The American Humane Association estimates that four million cats and kittens end up in shelters every year. Kitten season takes a toll on animal shelters as space and resources become limited. The hardest hit are the homeless adult cats, who are forced to compete with the abundance of kittens who also looking for permanent homes. This is why shelters across the nation are currently celebrating "Adopt-A-Shelter-Cat Month." Here are some ways you can help ease the burden on shelters this time of year:
• Spay or neuter your cat. The single most important thing you can do if you already own a cat is to make sure they are spayed or neutered and encourage others to do the same. Most veterinarians will spay or neuter a cat who is two months old and weighs two pounds. If you are having trouble affording the cost of the surgery, call your local humane society to see if there are discounts available. Beyond the obvious, there are many benefits to spaying and neutering. Check out a previous Pet Chat column for more information independent.com/news/2009/feb/17/february-national-spayneuter-month/
• Volunteer to become a foster parent. Many kittens that wind up at shelters are in need of fostering. Fostering entails taking care of homeless kittens that arrive at shelters too young to be adopted—typically those under eight weeks of age. Foster parents are also needed for kittens that are recently born and still nursing. To read more about becoming a foster parent for kittens in Santa Barbara, visit, asapcats.org/foster
• Care for the feral kittens in your neighborhood. In addition to the kittens that wind up at animal shelters this time of year, even more are born to strays, radically increasing the feral cat population. If you notice "wild" kittens in your backyard, look to see if there is a mother, who will most likely be hiding. You can try enticing the kittens with food to get them to come to you. Attempt to scoop them up and put them in a cat carrier to take them to an animal shelter. It's possible the kittens won't let you touch them, in which case you should contact animal control to rent a live trap. Once mom and babies are caught, they can be checked out for worms, fleas, and other illnesses. Then they can then be fostered and eventually spayed or neutered, helping to reduce the overpopulation of cats.
• Adopt a cat. Adopting a cat will enrich your life. Not only will their playful antics keep you entertained for hours, but owning a cat can reduce your blood pressure and help prevent heart disease. Another good feature about cats is that they are independent and can be left alone while you are at work—especially if you have multiple cats. Cats are very low maintenance: they litter-box train themselves and they stay clean since they bathe themselves (it also helps them stay clean if you keep them inside). Cats are also not picky about where they live; they are just as content in a one-bedroom apartment as they are in a four-bedroom house. Contrary to the opinion of some, cats are social and affectionate creatures. I've never owned a cat that didn't want to cuddle and sleep in bed with me.
Specials for Adopt-a-Shelter-Cat Month
Santa Barbara Humane Society is offering reduced adoption fees for cats during the month of June. During Adopt-a-Cat month, the adoption fee for cats is only $44 and includes the following:
• Spay/neuter surgery
• Current vaccinations
• Complete health screening
• Temperament evaluation
• Background/personality history
• Starter packet of food
• Booklet on cat care
• Cardboard cat carrier
To adopt a cat, visit the Santa Barbara Humane Society at 5399 Overpass Rd. For more information, call 964-4777. Shelter hours are Mon.-Sat., 10 a.m.-5p.m.
Santa Barbara Animal Services will offer a $20 discount for cat adoptions of cats over six months of age. To promote adoptions of these fun and affectionate animals the discount will be offered for the whole month of June.
While all three shelters currently are housing and fostering many kittens, the County wants to highlight the plight of the hundreds of adult cats in their care. Currently the three community shelters are home to more than 350 cats, with more coming in each day. "We encourage adopters to consider the adult cats who are seeking permanent responsible homes. While still playful, older cats are already litter-box trained and may be more settled than young kittens. We find that most cats adapt to a new home and are adjusted within a short time after arriving in their new environment. We are dedicated to saving lives and invite the public to join in this important effort," said Jan Glick, director of Animal Services.
Our area shelters are brimming with cats of every breed, age, and personality just waiting for a loving home. Whether you prefer young and frisky or mature and mellow, you're sure to find the perfect cat companion during Adopt-a-Cat Month.
All cats are have current vaccinations and are spayed or neutered. The County is also offering discounted microchips to encourage owners to permanently identify their animals. For more information or for directions to any of the shelters, visit sbcphd.org/as/locations.html.
The County's three animal shelters are:
Santa Barbara Shelter, 5473 Overpass Rd.; 681-5285
Lompoc Shelter,1501 W. Central Ave.; 737-7755
Santa Maria Animal Center, 548 W. Foster Rd.; 934-6119
Animal Shelter Assistance Program (ASAP) is part of Animal Services and will be participating in the month long $20 reduced adoption fee. Included in the adoption fee at ASAP is:
• Spay or neuter surgery
• Flea treatment
• Vaccinations
• Microchipping
• Health evaluation, including testing for Feline Leukemia (FeLV) and Feline Immunodeficiency Virus (FIV). Cats thought to be 10 years or older receive a full blood panel evaluation, thus assuring that the cat is indeed healthy and adoptable.
• Medical and drug coverage through ASAP's vet for two weeks beyond adoption, if necessary
• Temperament evaluation
• Cat carrier (you can save the County money by bringing your own)
Click on these links to view some of the adoptable kitties in action at ASAP
ASAP is located at the Santa Barbara County Animal Shelter, 5473 Overpass Rd. Adoption hours are Mon.-Fri., 9 a.m.-4:45 p.m.; Sat., 10 a.m.-4 p.m. For more information, visit asapcats.org.
Announcements
Book signing for C.A.R.E.4Paws' new children's book, Pawsitive Thinking: How to Be Your Pet's Best Pal, at Tecolote bookstore in Montecito, Sat., June 19, 2-4 p.m.
C.A.R.E.4Paws—short for Community Awareness, Responsibility, Education—started its spay/neuter program with the goal of reducing the large population of unwanted dogs and cats in Santa Barbara County. To learn more about C.A.R.E.4Paws and its different programs and upcoming events, visit care4paws.org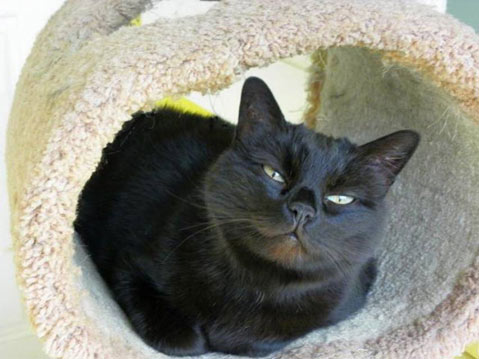 Adoptable Pet of the Week
Midnight is a favorite with shelter staff and volunteers. Perhaps that is why she is smiling in spite of the fact that homeless black cats typically have to wait longer to find their special person or family. Midnight is a quiet, loving, and gentle lap cat who especially responds to adults who are also loving and gentle. She gets along well with the other cats at the shelter, but a dog would probably be too much for her. We hope you will come for a visit with Midnight and fall in love with her as we have! June is a great time to look for your perfect feline companion as it is "Adopt-a-Cat Month" and our adoption fees have been reduced for the month. Midnight is five years young and has already been spayed.
Visit us at Santa Barbara Humane Society, 5399 Overpass Rd., Mon.-Sat., 10 a.m.-4:30 p.m. For more information, call 964-4777 or visit sbhumanesociety.org
Lisa Acho Remorenko is executive director of Animal Adoption Solutions