Food & Drink
And Then There Were Naan
Krishan Gupta's India House Offers Authentic, Delicious Cuisine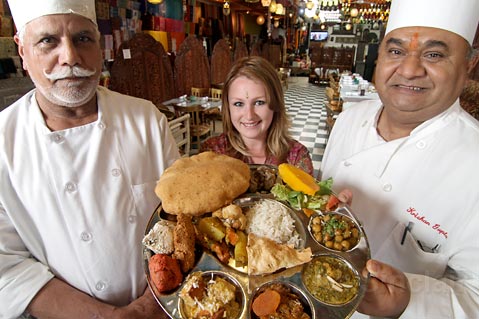 "Food is like… you have to have all the five senses," enthuses Krishan Gupta, owner of India House Restaurant and Bazaar. "If the food isn't appealing to me on the plate, if it doesn't attract me with its scent, the rest isn't enough." Of course, Gupta's establishment isn't just about the sense of smell; it's also about the sense of sell, as half of the location is a market of fashionware, furniture, and fabrics, which only adds to the fun—how often do you get a chance to buy the dining table at which you eat? For $2,600, one intricately ornate set can be yours, for as Gupta rationalizes, "What the heck, put it in the restaurant!"
In person, Gupta is as out-sized as his restaurant's lengthy menu and as the amazingly decorated India House itself, where every surface, from floor to wall to ceiling, is covered with elaborately patterned and colored fabrics. While I interviewed him one afternoon before the crowds came in, he took me into his kitchen twice, had me rub ghee (clarified butter) into the back of my hand to learn how to test its quality (the smell test), and jokingly berated his chef Sohan Singh that he should be wearing a toque, not a baseball cap. He also has grand plans for India Houses the country over, saying, "We want to be of national fame, and we'll prove it one day. Just like Kinko's got its start here. My dreams are to be listed on NASDAQ!" With that, he let out a laugh as hearty as one of the meals he sells—for instance, the Navrattan korma, featuring nine different vegetables in a luscious nut sauce.
"Nobody has Indian chefs in Indian restaurants anymore," said Gupta, who attended the Santa Barbara City College Culinary Arts Program. "The authentic, that's what you want to do. They have the know-how of spices; the combination of spices is the real test." At one point he runs through all the positive effects from typical Indian spices, from ground coriander for dizziness to cumin and anise seed for digestion, from clove oil for toothache to the yogurt-based drink lassi, which, when flavored with mango, is "for hangovers the best."
It all adds up to what Gupta billed as "the real authentic northern India Mugali and Tandoori cuisine." That means much of the cooking is done in a specially ordered-from-London Shahi Tandoori oven. That means different flavors than you might expect, for India House likes to feature cashew sauce, for instance, about which Gupta said, "Nobody makes it because it's too expensive and it takes the know-how to make it."
Gupta has had that know-how for years, as he's been in the restaurant business since 1982 when he opened establishments called Tandoory and The Ganges in Berlin, Germany. "It was so famous, we had stars from Hollywood and Bollywood," he said. "You could book a table for just 30 minutes—eat and go." He came to the U.S. in 1992, first to New York, then Santa Barbara, "as we were looking for a place between Los Angeles and San Francisco." While India House has sold decorative goods since 1995, the restaurant, housed in the old site of Scavenge, has only been open since April 3. "I became a professional businessman in a business family," said Gupta. "You don't teach a fish to learn swimming. I've been learning to do this since on my father's lap. But I have a passion for cooking, so here I do both—the family's business in the bazaar, and me in the kitchen."
Krishan also credits his wife, Yana, as a clever counterbalance and partner. "I'm married to an American," he explained, "so if I make a mistake, she'll correct it. She knows what Americans want. That's why I'm going to go 400 miles an hour in my dreams." Despite laughing, again, at his own ambition, Gupta does hope to open more India Houses, perhaps on Telegraph in Berkeley and in San Diego. "But slowly, in time," he added. "You want to be successful in one location before you open another."
In the meantime, it's clear Gupta has helped spice up State Street with India House and its keen attention to the authentic in as exotic a setting as one could hope for without having to buy a plane ticket.
4•1•1
Why curry favor when you can favor the curries at India House Restaurant and Bazaar, 418 State Street? Call 962-5070 or see indiahouseusa.com.