Announcement
Congressmember Lois Capps Receives National Award
National Marine Sanctuary Foundation Annual Leadership Honor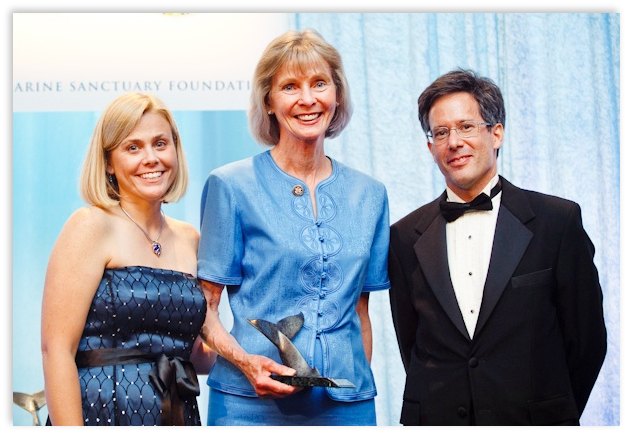 In appreciation of her lifelong support of the National Marine Sanctuaries and America's oceans, Congressmember Lois Capps (D-CA) was honored June 8 with a 2010 "Leadership Award" from the National Marine Sanctuary Foundation (NMSF) at its annual Leadership Awards Dinner held June 8 in Washington, D.C.
The event is part of the ninth Capitol Hill Ocean Week (CHOW), D.C.'s premier oceans-focused annual conference held in conjunction with U.N. World Oceans Day. Both CHOW and the awards dinner are hosted and produced by NMSF, a private non-profit organization supporting the network of 14 federal marine protected areas within the United States. In Rep. Capps's 23rd District of California, these include the Channel Islands and Monterey Bay National Marine Sanctuaries.
Rep. Capps received the award for her dedication to protecting the natural resources of California and its waters and the broader environmental health of the U.S. Among that work, she was involved in legislation to protect coastal and estuarine habitat, reform U.S. fisheries and aquaculture management, and develop an integrated coastal and ocean observation system. Through her leadership, education initiatives such as the California Bay-Watershed Education and Training (B-WET) and the Multicultural Education for Resource Issues Threatening Oceans (MERITO) programs will help create new generations of environmental stewards and ocean champions.
She was also recognized for joining with Congressmember Ileana Ros-Lehtinen (who received the other Leadership Award) in 2006 to establish the National Marine Sanctuary Caucus. This bipartisan, bi-coastal caucus is comprised of 26 members of Congress committed to increasing awareness of and strengthening commitment to America's national marine sanctuaries. As a cochair, Rep. Capps has helped secure increases in appropriations and elevated awareness and stature for the National Marine Sanctuary System.
"I'm honored the National Marine Sanctuary Foundation has presented me with its Leadership Award. I'm so proud to live on the South Central Coast and represent its interests in Congress. I know just how important the beauty and bounty of our ocean is to our quality of life, but I also know it faces significant challenges like global warming and acidification, overfishing and pollution, and, of course, oil spills. What we do together going forward will truly define our nation's commitment to protecting our oceans, and I pledge to continue working with the Foundation, my constituents, and my colleagues in Congress to develop and implement an agenda that will ensure the health and productivity of our marine environment for generations to come," said Capps.
Along with Rep. Ros-Lehtinen, the other honorees at the dinner were Monterey Bay Aquarium Executive Director Julie Packard and the NMSF Volunteer of the Year, Steve Kroll of Thunder Bay National Marine Sanctuary in Michigan.
About the National Marine Sanctuary Foundation and the National Marine Sanctuaries:
The National Marine Sanctuary System represents America's underwater national treasures: a coast-to-coast network of 13 federally designated sanctuaries and one marine national monument, encompassing more than 150,000 square miles in the Atlantic and Pacific Oceans and the Great Lakes. The foundation was created in 2000 to help preserve, protect, and promote these sanctuaries. Through public and private sector partnerships, it fosters conservation-based research and education and outreach programs designed to connect the American public with these unique marine environments.