Announcement
Fidelity Investments Help Fund Lawn Bowling in Santa Barbara
Utility and Maintence Bills Too Much for Club or Parks & Rec
Faced with severe cutbacks this year, the Santa Barbara Parks and Recreation department put MacKenzie Park Lawn Bowls Club on notice that they would no longer pay the club's utility and clubhouse maintenance expenses. "That would mean" said Victor Elsey, club President, "we would have to raise club dues quite substantially next year, unless we could attract many new members and a possible sponsor, fast."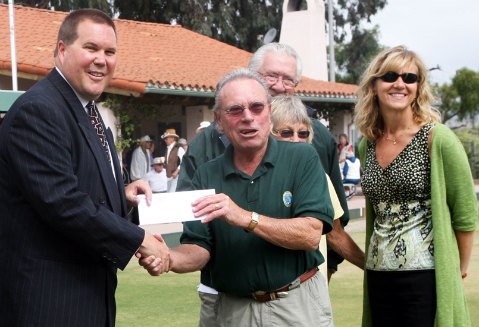 The first potential sponsor Victor called was his broker at Fidelity Investments, who was quite intrigued with the idea and said she'd talk with Branch Manager, Kai Bartschi. FI sent a small delegation to look over the club, and, with club members, discussed possible promotional possibilities such as an FI tournament trophy. A partnership was agreed to.
MacKenzie Park L.B.C. held an Open House in May that attracted 28 new members, with many younger people joining up. "Lawn Bowls is a lot like Bocce or Boules, played in Italy and France, but much more refined" said Victor, an ex-Brit, with a grin. "Like me, it originated from England a long time ago."
MacKenzie Park Lawn Bowls Club, located on the upper level of MacKenzie Park, at State and Las Positas in Santa Barbara, is a non-profit organization co-sponsored by the Santa Barbara City Parks and Recreation Department. The club provides outdoor recreation and competition to members of the community of all ages in a beautiful modern facility. Free introductory classes are offered to new bowlers at which all necessary equipment is provided. For further information on club activities and availability of classes, call (805) 563-5494, or check online.