Announcement
Henry Bergmann Court
Local Beach Volleyball Icon Gets Memorial Court July 10
This past October we lost a volleyball legend, Henry Bergmann. In November a memorial was held at Café Del Sol where hundreds of friends showed up to pay their respects to Henry. The emotions turned into generosity in the form of donations to create a memorial to Henry at East Beach.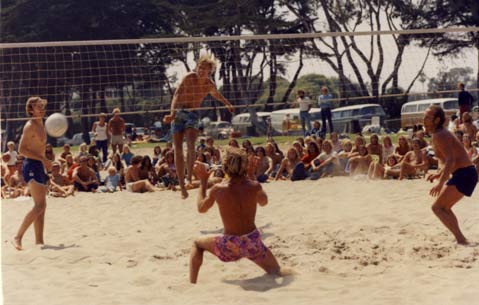 The ideas started with a plaque or a bench, and then a local artist came up with the suggestion of a dedicated court. This idea was presented and approved by the City of Santa Barbara. This couldn't have happened without the support of the director of City Parks & Rec, Nancy Rapp, her staff, the Board of Directors of the PARC Foundation, and Santa Barbara Beautiful. What has been accomplished in a few short months typically can take years to gain approval.
I am pleased to invite you to the dedication of phase one of this project on July 10 at 4 p.m., where we will unveil the Henry Bergmann Court on the East Beach courts
The official ceremony will be followed by a Legends game featuring, among others, Randy Stoklos and Sinjin Smith. For more information call (805) 680-6139
As a condition of the approval, the city required that all the courts at East Beach be updated so all the standards match. To meet this challenge a small group of local volleyball supporters assembled and formed the Friends of East Beach Association. The total cost of this project is expected to be between $35,000 and $40,000. We have started the process of writing grants to private foundations and expect that this will be how the majority of the funds are acquired. We also want to promote the same form of grassroots community funding that has allowed us to finance the manufacturing of the Bergmann Court.
There will be a post dedication reception at Reds Wine Bar, Yanonalli @ Helena.
If anyone is interested in playing a part in this effort, you can visit the Friends of East Beach Association Web site. And if you have anyone in mind who would want to participate, please forward this article on to them.