Announcement
100 for 100 on 100th
Local Author Dana E. Fisher Donates Books to Boy Scouts
Local author Dana E. Fisher, left, donated more than 100 copies of his book Santa Barbara Fun, for Ages 1 to 100 to the Los Padres Council, Boy Scouts of America on July 1, 2010 in Santa Barbara. Fisher said, "Family time spent together is learning, bonding, nurturing time – and this book shares with Scouting a focus on cherished memories witih families."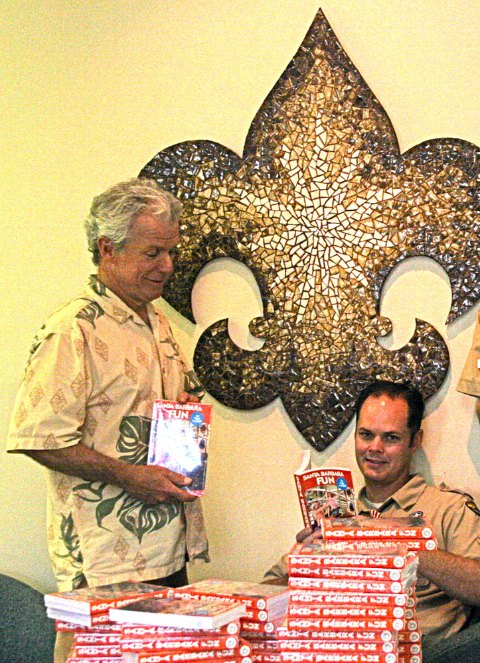 Justin Jepsen, Los Padres Council Field Director, accepted the donation, worth more than $2,000.00
Aimed at local residents, the book is a guide to adventures and activities in Santa Barbara, and was published by AAAKQ Press.
Fisher said, "Both our missions are to get youth away from video games and TV and actively enjoy the great outdoors. This might be called a birthday gift because it's the 100th anniversary of Boy Scouts of America, and it should be honored in some way for its commitment to youth over the past century."
Jepsen said he was grateful. "As we go into the next 100 years, we invite the next generation of youths to have wonderful memories with their parents. We've had 100 years of great memories, and we would like to see 100 more years of cherished memories. The next 100 boys that are recruited into Boy Scouts here will receive a free copy of this book for them and their families to have fun in Santa Barbara."
Fisher donates 100 books annually to a local non-profit organization; last year he donated to the Santa Barbara Boys & Girls Club. He said he made the donation to "give back" to the community and let others know about the "treasure trove" of local adventures for families that can deepen relationships.
"The development of self-esteem is intimately tied to the feeling that a child is attractive as a person to his or her parents," Fisher said. "Nothing promotes this feeling more than a parent saying, "Would you like to play? Scouting does that; it involves the parents in a youth-based organization"
Jepsen said, "This fits in with the Scouting trail that leads to new heights and horizons that you would otherwise never see. Adventures are a big part of Scouting, so this donation is very much appreciated."