Arts & Entertainment
Delta Spirit's History Lesson
San Diego Rockers Dig Deep for Sophomore Record
It's hard not to fall in love with the Delta Spirit. Between the band's catchy, blues-driven rock 'n' roll, ruggedly handsome players, and endearingly fated backstory (lead singer Matt Vasquez was recruited after his bandmates found him busking in a parking lot), they've managed to endear themselves to critics and fans alike. Their debut effort, 2008's Ode to Sunshine, earned the band a handful of stellar write-ups—not to mention touring gigs with big players like The Shins and the Cold War Kids. And rightfully so, as their breakneck touring schedule—and jangly rock-outs like "Trashcan" and "Children"—have turned Delta Spirit's live shows into truly can't-miss events.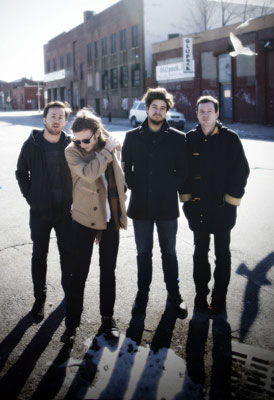 Now, following years' worth of touring and the departure of guitarist Sean Walker, the band has come out swinging yet again with History from Below, and lucky for us, it picks up right where Sunshine left off. Vasquez's gravelly Jeff Tweedy-meets-Neil Young vocals still lead the charge, and the instrumentation—which fluctuates between rootsy Southern rock and harmonica-fueled folk jams—is as intricate and epically building as ever. This Saturday, July 24, the band wraps up a whirlwind cross-country tour with a show at Velvet Jones. I recently spoke with bassist Jon Jameson about writing, recording, and the joys of a good old-fashioned murder ballad.
I'm curious how the writing process played out for this one, as you guys have basically been on the road for two years straight. Yeah, that kind of threw us for a loop. It's been a long process; we started writing some of these songs right at the end of Ode to Sunshine. "St. Francis" is probably just as old as that record. Then there were lots of songs that we would play on tour that we realized we didn't like as much, and those didn't end up on the record. Others were put together just a couple weeks before the album was. It was a long process. A lot of the songs were written as these acoustic folk songs because we would go on a month-and-a-half tour and come back for a week, then go on another, and most of us didn't really want to hang out with each other during that time off. So there wasn't that constant group jamming that was going on at first.
Do you feel like a lot of these songs were inspired by your travels, or did they kind of come from all over the place? I would say "yes" and "kind of." [Laughs.] The "kind of" is songs like "Ransom Man"; that's not a personal story. I think Matt had been listening to murder ballads and decided he wanted to write one, but with his own kind of twist on it. In that way, there's no correlation to touring, except that because of touring we have all this time to sit and really listen to music—and read a lot—because there's really nothing else you can do when you're stuck in a van for eight hours a day. The "yes" part is that a lot of the record is all so personal. Being on tour is a strange way of living; you're living in such close quarters with people, but it's very easy to slip into an isolated coexistence. I think there's definitely that element of loneliness that runs through the record. But then there are songs of joy, like "Golden State," which is just thinking back in a cheesy but true way about the fact that we love what we're doing and we're thankful for the people that helped make it happen.
At what point in the process did Sean decide he was out? Strangely enough, right as he was quitting the band, [multi-instrumentalist] Kelly [Winrich], Matt, and I all moved into this house in Long Beach together. Then [drummer] Brandon [Young] moved in next door, and as Sean was quitting, he moved in with Brandon. It was really kind of a strange irony. He quit, and from that day on we saw him every day. We'd be going to the back, because that's where our practice space is, and he'd just be sitting out there drinking coffee. It was kind of strange. But he left right at the beginning. He went up to the first demoing session, and then kind of realized it wasn't what he wanted to do anymore. It was a very peaceful split, even though it kind of took us by surprise, as well.
How is the tour going so far? It's been great. Some of the bigger cities are the biggest shows we've ever played, and some of the smaller cities are still really small, but even the little ones have been awesome. We played Chicago, and there were about 900 people at Metro, which is probably more people than we've ever drawn on our own. Then the next day, we were in St. Louis, which we've never played before, and there were probably 150 to 200 people—but it was a great show. We're more judging from the enthusiasm and the response from people than we are worrying about constantly selling everything out. We're kind of the workingman's band. We're not really counting on blog hype. We're kind of just trucking along and playing our songs to people and hoping they bring their friends back with 'em for the next show.
4•1•1
Delta Spirit play Velvet Jones (423 State St.) this Saturday, July 24. For tickets and info, call 965-8676 or visit clubmercy.com.