Announcement
California Art Revivalist Richard Rackus Rocks
Plein Air Painter Shows At Ojai Cafe
Iconic California painter Richard Rackus invites you to come on over to Ojai's Café Emporium and see the light, his that is.
It is somehow fitting that the internationally respected artist should have an exhibit in Ojai at a light-filled gathering place, where locals and tourists alike share a leisurely meal, instead of the rarefied atmosphere of most galleries.
Rackus likes to remind people "that light and color are romantic" and to be indulged in. He does it masterfully.
The plein aire landscape artist is one of the last working painters from the heyday of the California Revivalists, and his exhibition at the Emporium should not be missed.
"I just do what comes naturally," said Rackus, describing his rich subdued palette that reflects the California landscape so lovingly. "It's the way I've always painted."
Rackus began formal training at the Chouinard Art Institute and continued to study abroad with some of the most revered teachers of the time. Rackus has called Ojai home since 1988.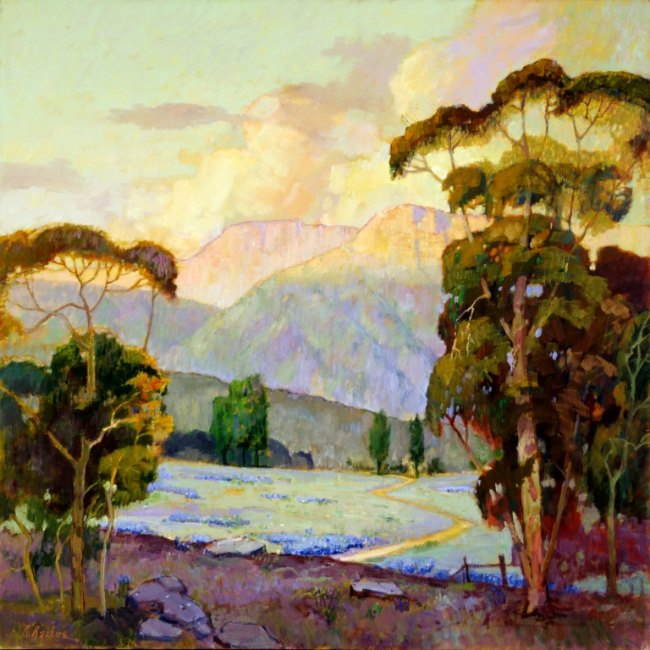 "You have to be crazy and wild while you're painting," said Rackus. "You have to be able to go into the unknown. Study design, color, anatomy, drawing, and painting, then forget all that stuff and just paint."
Claude Monet, with his loose and light filled canvases, is his favorite painter. It shows.
Rackus' skill level enhances his work, but the reason to come to the exhibition is his deep seated love of the landscapes he paints.
Rackus will also be exhibiting his work after September 18 at an upcoming City Gallery exhibition located in Ojai City Hall, 401 S. Ventura St. .
Exhibit runs August 2 –September 14. The restaurant is open seven days a week, 7:00 a.m. to 3:00 p.m., located at 108 S. Montgomery. More information is available at The Ojai Cafe or call 646-2723.