Travel
The American Tour
From Here to There and Back
Taking a cross-country trip may be boring for some. To do it alone, twice, without so much as a radio for diversion—most wouldn't consider it for a second. Meet Goleta resident Don Nason, who accomplished the feat last month by riding his 19-year-old Honda 750 motorcycle to the East Coast on one stretch of road.
U.S. Route 6, which stretches from Bishop, California, to Provincetown, Massachusetts, on the tip of Cape Cod, is the second-longest highway in the country. Until 1964, the highway continued south from Bishop to Long Beach, which made it the longest highway in the United States. When Route 6 was shortened to make its end in Bishop, U.S. Route 20, which stretches from Boston, Massachusetts, to Newport, Oregon, became the longest.
"I decided to ride it from its old historic west end at Long Beach and trace its route all the way to the end at Provincetown," Nason said.
Nason's wife, Judy, was less than thrilled with the idea of him doing the trip alone, but ultimately gave her blessing. "I was kind of fearful," Judy said. "I know a friend whose husband died on a motorcycle trip, but I didn't want to get in the way of what he really wanted to do."
Why was this trip such an important goal?
"Just because I like to ride, and I was curious to see the kind of cross-section of America that it represents," Nason, 71, said of his reasoning. "It goes through the Nevada deserts, it goes through South Central Los Angeles, it goes through the slums of Cleveland, it goes through all these pretty little Midwestern country towns, it goes through everything, and I wanted to see that. I just retired and I finally had a block of time to do it."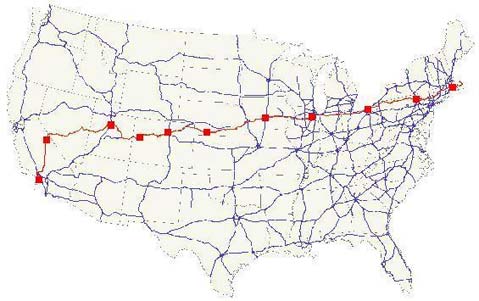 The trip to the East Coast took 12 days, Nason said, and when he arrived, Judy flew to meet him in West Virginia for a one-month vacation by car to Niagara Falls and back to West Virginia.
"And then when that was over, she would fly back and then I would ride the bike back or sell it or whatever I felt like doing. She was part of the month-long vacation, just not part of the ride, and that suited her fine," Nason said with a laugh.
Nason decided to ride the motorcycle home to California. He took eight days to get back. "Getting back was a different journey, different route," Nason said. "I took the interstates, and it was broken up by the layover time [for the vacation] and so forth. The total time on the bike was 20 days and 7,900 miles."
For the duration of the trip, Nason said, the weather influenced how far he would ride each day.
"It varied a lot because weather dictated my pace," Nason said. "I was trying to avoid lightning and heavy rain. I had days where I did 600 miles or 660 miles, and I had days where I did 300 miles and stopped early to get out of the weather."
Nason also said that he experienced some amount of rain every day of the ride and said he "underestimated how wet the rest of the country would be in June."
Nason said he spoke with other motorcyclists who didn't really mind the weather and picked up a bit of their "blasé-ness" and got more comfortable with riding in less-than-perfect weather.
"I met only nice people," Nason said of his trip. "I had only one scary bit on the roads when a truck decided to share my lane at one point, but mostly it was very pleasant and un-anxious riding. All other motorcyclists are friendly. I must have visited with 50 of them at the gas stops."
His Honda being 19 years old, one might expect it to have some difficulty with such a long trip, but Nason dispelled that notion, saying he had very few, if any, problems.
"None at all," Nason said. "I was aware that it might. Aside from running roughly at altitude, which I expected, I had no problems."
The highest altitude along U.S. Route 6 is 11,990 feet in Colorado at Loveland Pass, where it crosses the Continental Divide. "Sometimes I was tempted to depart from Highway 6 and just to take freeway bypasses around places, but I stuck to my plan," Nason said, "and that plan included going over the high pass in Colorado rather than through the tunnel that the interstate takes. I'm glad I did."
At the end of the ride, and after roughly $600 in gas, Nason was asked to pinpoint his favorite part of the ride. "That's really hard to say," he responded. "I enjoyed just about every day of it. I enjoyed the variety—I always liked the Nevada deserts, I loved the country towns in Iowa, I enjoyed pulling into Provincetown and realizing that I had done it, and I enjoyed the moment I got back home."
Nason heard fellow motorcyclists part ways with the saying, "Keep the shiny side up and the rubber side down," of course referring to the helmet and the tires. That's a key piece of advice for any motorcyclist, whether they're riding across town, or across the country. Twice.