Capitol Letters
Thunder on the Right
Conservative Republicans Take Aim at Party's Nomination for Governor
As Democrat Jerry Brown bides his time in the governor's race, Republican nominee Meg Whitman is taking fire from an unexpected quarter: unhappy members of her own party.
"If she's going to lie to us … then the hell with her," bellowed John Kobylt, one half of the dynamic duo that hosts the John and Ken Show on L.A.'s KFI-AM 640, the most popular conservative talk radio program in Southern California.
His comment was just one shot amid a weeks-long barrage Kobylt and broadcast partner Ken Chiampou launched against Whitman, outraged that the former eBay CEO has softened her stances on illegal immigration and the environment as she's pivoted from a hard-fought primary to the general election campaign.
More than mere loudmouth Limbaugh emulators, the pair have proven effective in spurring California's right-wing grassroots to action, as they did, for example, by raising tens of thousands of dollars on the air last year to support recall efforts against Republican legislators who went along with tax increases in the budget.
As a political matter, their on-air volleys are most notable as a measure of the uncertainty some elements of the GOP's right-wing base feel about political newcomer Whitman. In a mid-year election, when turnout is crucial and the party's statewide candidates scrape for every vote to overcome a big Democratic registration edge, it's significant that their attack line is being echoed by more mainstream Republicans, such as Ventura County Supervisor Peter Foy.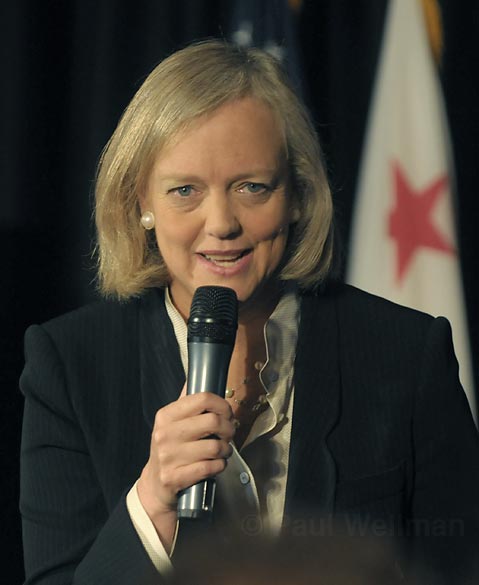 In a commentary posted on the widely read conservative Web site FlashReport, Foy noted his support of Whitman, and then promptly decried her post-primary moves to moderate positions on key issues as a "ham-handed" effort to "invite people to see what they want to see."
"If she stubbornly continues this aloof tactical venture, she will almost surely lose and won't deserve to win," wrote Foy, a popular figure among Tea Party types.
As a policy matter, Whitman's changes, in both tone and substance, have drawn criticism from some conservatives in at least three major areas:
• In her bitter primary, Whitman brawled with Insurance Commissioner Steve Poizner over who could take the hardest line on illegal immigration. She ran ads saying she would be "tough as nails" in cracking down on people in the country illegally, enlisting former governor Pete Wilson — the chief sponsor of Proposition 187, the landmark 1994 anti-immigration measure — to back her contention. Within days of winning the nomination, however, she launched a multimillion dollar, multimedia Spanish language campaign to court Latinos, saying that she opposed both Prop. 187 and Arizona's tough immigration law, and equating her views with those of Brown, her Democratic rival.
• Before and after winning the nomination, Whitman articulated a series of ever-shifting positions on the specific question of whether federal immigration-reform legislation should include a "path to citizenship" for millions of people now in the country illegally. Early in the primary, she said she favored "a path to legalization," but when Poizner hammered her for it, she backed off that position. After John and Ken attacked her after the primary for once again moderating her stance, she came to their studio last week and performed yet another flip-flop, declaring, "I am not for a path to citizenship."
• During her campaign against Poizner, Whitman harshly criticized AB 32, California's greenhouse gas emissions law, calling for its suspension and describing it as a "job killer." Now courting the votes of independents, who favor the climate-change measure, she has infuriated many conservatives by refusing to endorse Proposition 23, which would suspend AB 32 until unemployment substantially declines.
"Whitman is … now saying she 'supports the goals' of California's landmark global-warming legislation — even though she months ago decried it as a job killer the state 'simply cannot afford,'" Foy complained in his critique of her campaign.
Despite all her money, Whitman now faces the same tough challenge that every Republican statewide candidate confronts in the blue state of California: To capture the GOP nomination, she had to please the state's most conservative voters, whose political views are often at odds with the bloc of more moderate, nonpartisan voters, who now hold the balance of power in the general. It's a tough trick to pull off, as one of Kobylt's recent radio rants makes clear:
"She's saying one thing in Spanish and the exact opposite in English … She is going to lose white, black, and Asian votes, and she's going to lose a lot of conservative and independent votes, if she's acting as if she's two-faced. And she's acting like she's two-faced."