Film & TV
Nanny McPhee Returns
Emma Thompson, Maggie Gyllenhaal, and Ralph Fiennes star in a film written by Thompson, based on the book by Christiana Brand, and directed by Susanna White.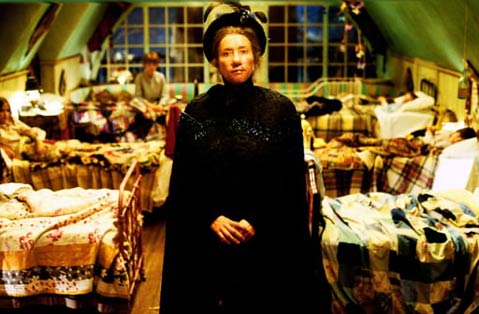 Five years after Nanny McPhee's appearance on the big screen, the bewitched do-gooding caretaker has returned to the multiplex, brokering peace and character-building for a family in duress, on an English farm during WWII. For that welcome return, we can thank and bless Emma Thompson—who stars in the lead role and wrote the script, based on the British "Nurse Matilda" character—for her work and goodwill, ushering intelligence and filmic flair into children's cinema. Nanny McPhee Returns appeals to the proverbial children of all ages, and not through the sneaky inclusions of winking adult-minded material but by the power vested in sparkling filmmaking and cheerful, but sure morality, tale-spinning.
This time out, the magic-endowed Nanny McPhee shows up at a farm and family in need of divine intervention in her playfully ghastly image, replete with warts, bulbous nose, and snaggletooth. Dandified cousins from London—"perfumed townies"—have been sent to the country to avoid the blitzkrieg (and their parents' divorce-bound path) and are shocked to find a "British Museum of poo" on the farm. The good Nanny proceeds to finagle five life lessons, to ease the cousins' fighting and to save the farm from a fire sale at the hands of the black-hat weasel (Rhys Ifans). (Ralph Fiennes, as the cold-hearted father "high up in the War Office," is another black-hatted character: Men don't fare or mean well in this women-rule story.)
Fantasy freely blends with historical fact in the film, moving from enchanting froufrou to elements of life during wartime, including a scene with piglets in a Busby Berkeley-esque synchronized swimming routine and Terry Gilliam-like shots of an imaginary '40s London mise-en-scène. And how about that Maggie Gyllenhaal? The skilled and versatile actress moves easily from American Southwestern everywoman in Crazy Heart to stressed farming mother with a good British accent in this film. There's just one more reason to put Nanny McPhee Returns on the list of movies worth catching this summer. The cultural cause of kids' cinema deserves this level of quality more often.