Announcement
Leslie Ridley-Tree Gives $5 Million to Goleta Valley Cottage Hospital
Gift is in Support of Wound Care Services
Lady Leslie Ridley-Tree, one of the community's most generous philanthropists, has pledged $5 million to support the Center for Wound Management at Goleta Valley Cottage Hospital. In acknowledgement of this exceptional gift, the Center will be named in Lady Ridley-Tree's honor.
The wound care program at Goleta Valley Cottage Hospital is the only comprehensive center of its kind between the Bay Area and Camarillo. A chronic or hard-to-heal wound is usually defined as one that does not respond to normal medical care within 30 days. The variety and complexity of chronic wounds require specialized care.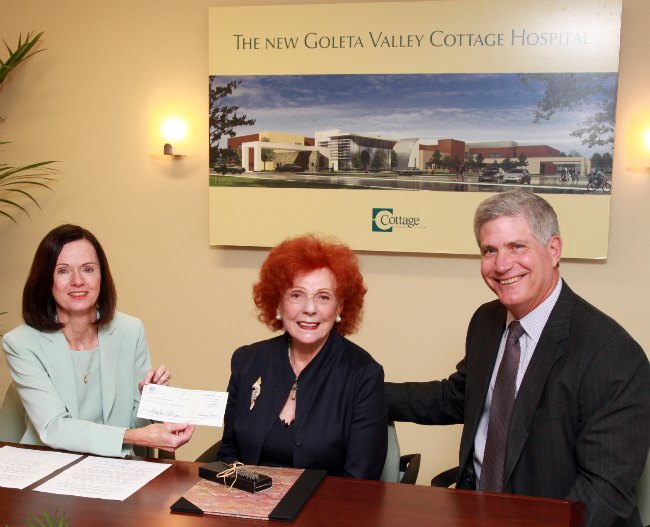 High patient satisfaction, exceptional healing rates and outstanding clinical outcomes sustained over a period of 24 consecutive months earned the Center for Wound Management at GVCH a 2010 Robert A. Warriner, M.D. Center of Excellence Award. It was one of only 13 facilities in the nation to receive this award.
"I feel privileged to be able to support the Center for Wound Management. The work of the team there is incredibly important, especially for people suffering from conditions like diabetes where first you can lose your toe, then you can lose your leg, then you can lose your life," said Lady Ridley-Tree. "I'm so pleased that this gift may help others receive care when they are facing such serious medical conditions."
"I believe those of us who work in health care are driven by a deep desire to alleviate suffering and to be of service to others. This magnificent gift from Lady Ridley-Tree is such an affirmation of that spirit," said Diane Wisby, vice president of Goleta Valley Cottage Hospital. "Her donation will not only help us enlarge and improve our Center for Wound Management, it will also promote awareness of this unique service, assuring more people can receive this specialized care here in the Central Coast region. We are so very grateful for her compassion and generosity."
Eight million people in the United States suffer from chronic wounds. With an aging population, increase in diabetes, and an obesity epidemic, more people are incurring hard-to-heal wounds and are at risk for amputations.
A critical component of the healing process is hyperbaric oxygen (HBO) therapy, which accelerates the process of healing by enabling patients to breathe 100 percent oxygen in pressurized chambers. There are currently two hyperbaric oxygen treatment rooms at the GVCH Center for Wound Management.
The new Ridley-Tree Center for Wound Management at Goleta Valley Cottage Hospital will be significantly larger than the current space, and it will consolidate all the treatment rooms into one location inside the new hospital.
There will be a total of four HBO chambers and seven treatment rooms, as well as a large waiting area. The location inside the hospital will make it easier for patients who also require radiology scans and laboratory work.
Goleta Valley Cottage Hospital is in the process of being rebuilt to meet California's requirements to withstand a major earthquake and to provide a larger facility designed to accommodate the medical technologies that have evolved during the past decades. The rebuild will also position the hospital and Cottage Health System to respond to the growing health care needs of the region.
It will take approximately two years to complete the new, two-story hospital which will have a total of 152,000 square feet. State-of-the-art improvements will include more than doubling the size of the Emergency Department and also expanding the Surgical Services Department. The new facility will improve patient privacy by providing all private rooms.
Although the state is requiring the work, it is providing no funding to help hospitals reach this deadline goal originally set for 2013. There is also no funding coming from any local or national agency.
The new Goleta Valley Cottage Hospital has an estimated total cost of $113 million. Funds
to pay for the rebuild will come from hospital operations, tax-exempt bonds and community donations.
Community leaders Donald Anderson and William Peeples are co-chairs of the focused fund raising effort entitled "Building Well. Being Well. The Campaign for the New Goleta Valley Cottage Hospital."
The not-for-profit Cottage Health System — the parent organization of Santa Barbara Cottage Hospital and its associated Cottage Children's Hospital and Cottage Rehabilitation Hospital, Santa Ynez Valley Cottage Hospital, and Goleta Valley Cottage Hospital — is guided by a volunteer board of directors from the greater-Santa Barbara community.
Last year, the Cottage hospitals provided inpatient care for 21,000 people, treated 66,000 patients through their 24-hour emergency departments and helped deliver 2,600 newborns.