Living
HydroPaws
Doggie Physical Therapy
With a wiggle and a smile, Jake trotted across the floor to say hello, dragging his feet only slightly. Considering the severity of his injury — a fall that left him paralyzed from the waist down — the fact that he was walking at all seemed a miracle.
Jake's accident happened last October, when the then-five-year-old Chihuahua/Jack Russell mix tried to clear a baby gate but instead endured serious consequences when he fell backward, slipped two discs, and severely damaged his spinal cord. With surgery being too expensive, his owner, Madeline, decided to try another route: physical therapy.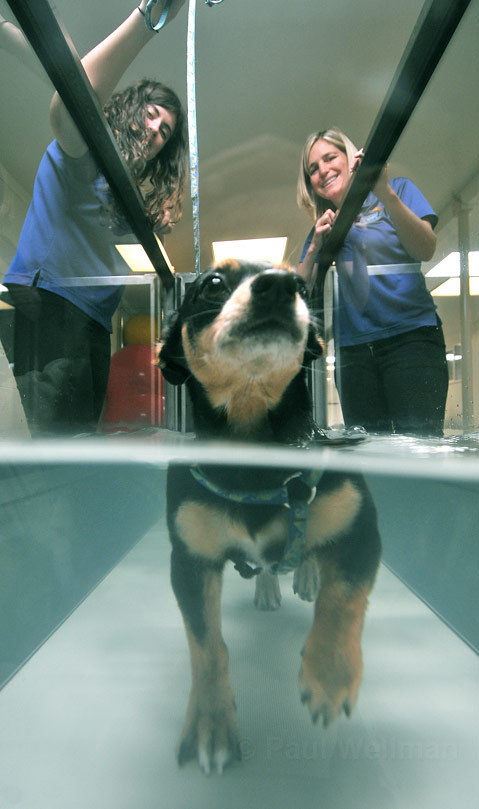 So Madeline brought Jake to HydroPaws, Santa Barbara's only animal physical rehab center. By the time Jake got there, he couldn't walk, wag his tail, or go to the bathroom properly; his muscles were atrophying, and he was suffering from anxiety. But when therapist Karen Atlas examined the pup, she knew HydroPaws could help.
HydroPaws was the brainchild of Dr. Dave Dawson, veterinarian and owner of San Roque Pet Hospital. After a chance meeting with Atlas, the two decided to work together, opening HydroPaws in early 2009. Atlas's desire to help heal lame dogs came about several years previously, when she adopted an injured pooch whose recovery was aided by physical therapy. In addition to earning a master's degree in human physical therapy from UC San Francisco in 1996, Atlas received certification in canine rehabilitation (CCR) from the Canine Rehabilitation Institute in Florida. "Canine physical therapy is very similar to human physical therapy in its execution," Atlas said. "It is structured like human physical therapy and can bring down pain." Complementing her 14 years of practical human experience, the CCR course focused on animal specifics such as the anatomy and biomechanics of dogs and diagnosis and treatment procedures.
In order to undergo regular therapy, Jake was initially boarded at San Roque because Madeline lived in Santa Maria, and he was then fostered by Bruna Trip, whose dog Nick had been a patient at HydroPaws. After one week of daily hour-long sessions, Jake could wag his tail. His condition continued to improve thanks to a physical therapy cocktail of ultrasound, electrical stimulation, laser therapy, massage, range-of-motion stretching, and balance exercises. By the end of November, Jake was beginning to stand on his own and was ready to begin hydrotherapy, which involves walking on an underwater treadmill.
Not all dogs that come to HydroPaws are as extreme a case as Jake. There are a variety of conditions amenable to physical therapy, such as arthritis, joint dysplasia, muscle strains or tears, and bursitis, to name a few. And, like humans, canines can benefit greatly from post-operative rehab. For example, Henry, a cattle dog/pit bull mix, came for therapy after being hit by a car and undergoing surgery that involved removing the head of his femur and letting the fibrous scar tissue form to create a "false joint." After several weeks of treatment, Henry is putting weight on his leg again and learning to walk on all fours.
As for Jake, it's been nearly a year, and he has made a remarkable recovery. The once paraplegic dog that was being fitted for a wheeled cart can now run with his doggie buddies. He still has a bit of nerve damage, but it doesn't seem to slow him down.
4•1•1
HydroPaws is located at San Roque Pet Hospital. For more information about its services, call 687-4131 or visit hydropaws.com.