Dance
Jennifer Muller Sets Work on UCSB Dancers
New York Choreographer Teaches "Speeds"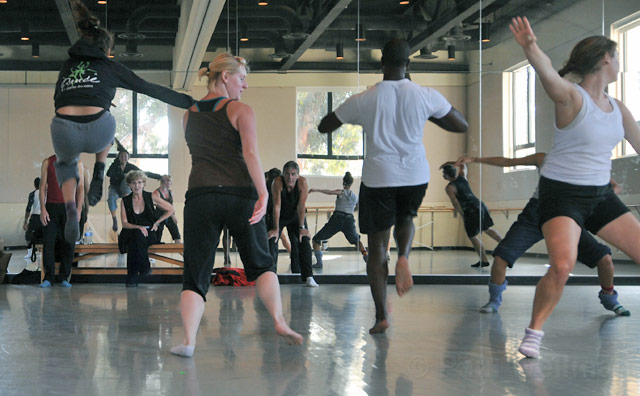 "And go! And go! And down, up, go: good! Badabadabadabada round about—yes! Now, pull her and switch and turn and run-a-run-a-run!"
In the modern dance studio at UCSB, 10 dancers lounge against the ballet barre at the edge of the room, watching while two others rehearse. The duet is a swift one, full of tricky footwork and sudden changes of direction. They're breathing hard, and there's no music to mask it—only the constant patter of sportscast-style commentary: "Go-go-go! Where are the smiles? Where's the fun? Turn and reach and slice and off!"
At the front of the room with her back to the mirrors stands acclaimed modern dance choreographer Jennifer Muller. She watches the dancers intently, swaying and gesturing, speaking constantly as if the flow of her words were what kept their bodies in perpetual motion. Her tightly curled red hair is cut in a chic geometric bob, and it bounces with every flourish of her arms. It's hard to believe she's been making dances for twice as long as these college students have been alive.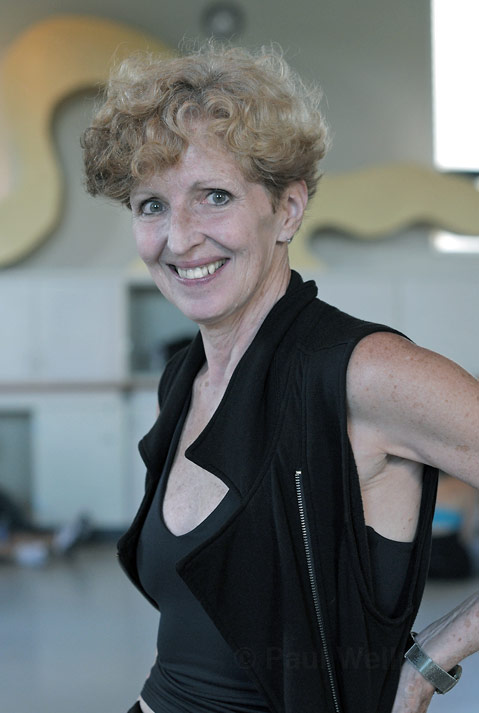 Standing behind her and looking on with equal intensity are her associate artistic director John Brooks and UCSB dance department faculty member Christopher Pilafian, a founding member of Muller's company and longtime dancer with her in New York. Thanks to an NEA grant, Pilafian has been able to bring Muller to UCSB to set her work on students for the first time in his 20-year tenure here. During 10 days in September, she began teaching 12 members of the student company excerpts from her landmark work "Speeds," a study of velocity choreographed in 1974. She will return briefly in February and again in April for the performance and an academic conference centered on her contributions to American dance.
Muller launched her company in 1974, when the first wave of experimental performance art in New York was beginning to recede. She was influenced by the postmodern experiments of Judson Dance Theater, but she was also deeply rooted in classical dance technique. Trained at Juilliard, she had studied extensively with Antony Tudor, among others. The joy and the pleasure of dancing coursed through her.
Speaking with me after rehearsal, Muller said of that era, "Nobody was making dances with this level of virtuosic dancing combined with completely pedestrian moments." In the beginning, she said, New Yorkers didn't get her work; they thought dance was supposed to be serious. "There are moments of real humor in 'Speeds'—there's celebration, romance, a lot of little jokes," Muller said.
It's clear during rehearsal that these students appreciate the comic relief. In one section of "Speeds," Muller has them slink across stage in a single file line, moving in slow motion. "Nice quality," Muller interrupts them, giggling, "but you have to accelerate, remember?" "Oops," says the pacesetter. "I was so busy trying to seduce the wall that I forgot." The studio erupts with laughter.
During Muller's residencies, company members rehearse "Speeds" five hours a day, and that's on top of a full college course load. Caitlin Gott, a senior dance major and company member, noted, "She's funny, which makes this very intense process have a lightness to it. She's not big on being too hard on yourself." Muller calls these dancers "very smart," adding, "I think they're surprised at how hard I'm working them. I do believe in a lot of demand, and also a lot of bolstering of confidence."
That approach is apparent in rehearsal, where Muller is fully engaged at every moment, and often on the verge of laughter. When they get something right, she claps her hands and beams. When they flounder, she chimes cheerfully, "Alright, we didn't quite get it!" At every opportunity, she pushes them to bring more enthusiasm to their performance. "You start to feel a joy coming up," she cries as the whole company launches into a particularly effervescent section. "You really can't stop it now."
4•1•1
The UCSB Dance Company will perform Muller's "Speeds" as part of their 2011 touring repertoire, including the Spring Dances concert at UCSB April 8-10. An academic conference centered on Muller and her work coincides with the concert dates. For more information, visit theaterdance.ucsb.edu.