HEALTH FOOD/NUTRITION STORE; SALAD BAR
Lazy Acres Market
302 Meigs Rd., 564-4410
Manager Rudy Chavez is ecstatic that the store won. "It's great. I think we have won every year since we opened, and that was 15 years ago. If there's a secret, it's just that we give our customers what they want, healthy products at competitive prices." He says that the appearance of Whole Foods caused a slight drop in business at first, but it's roaring back to pre-Whole Foods numbers now. "Probably the economy made a bigger impact," he said. "But people come here because they love our staff, and that's our best secret."
FINALISTS: Health Food/Nutrition Store: Whole Foods Market; Salad Bar: Chuck's of Hawaii
FRESH FISH MARKET
Santa Barbara Fish Market
117 Harbor Wy., Ste. A, 965-9564
It's not a bad gimmick having the best fish store in town about 100 yards from where the seafood hits the pier. It was a big part of why Brian Colgate decided to open his store here, too. "It's really a great expression of the community, being able to buy fish right in the harbor." The feel of the place is important also, as fish are filleted in front of the customer and the wares are out for everybody to see. Actually, the local catch is not really the largest percentage of what Colgate sells, but that's kind of not the point. "Anything local anybody wants that's available, we have it here." At writing time that included black cod, rockfish, halibut, sea bass, yellowtail, rock crabs, and spot prawns—a big haul from a little store with the beautiful breakwater as its guiding ambience.
FINALIST: Kanaloa Seafood
PRODUCE/GREENGROCER
Tri-County Produce
335 S. Milpas St., 965-4558
There's something unchanging about the Tri-County store, even though, obviously, the produce is rotated constantly for freshness and season. The big open warehouse across the street from the softball fields and East Beach is essentially the same place our parents shopped for the last almost half-century. The smell of oranges being squeezed dominates the front of the store and the cold cases are in the back, promising a treat after a day in the sun. In between is the stuff that salads are made of, of course, crisp and priced so you don't need a small inheritance to eat healthy and delicious in this town.
FINALIST: Santa Barbara Certified Farmers Market
ICE CREAM SHOP
McConnell's Fine Ice Creams
201 W. Mission St., 569-2323
7034 Marketplace Dr., Goleta, 845 2672
955 Embarcadero Del Mar, 845-4680
Sure it's gourmet, and of course it's a city tradition since 1950 when bobbysoxers went to the old State Street store and bopped to the Big Bopper. But besides memories and tasty desires, McConnell's offers three things a lot of other ice cream stores don't, according to manager Brooke Terry. "We have big servings, amazing flavors, and great prices. I think those are very good reasons that they voted for us," she said.
FINALIST: Cold Stone Creamery
FROZEN YOGURT SHOP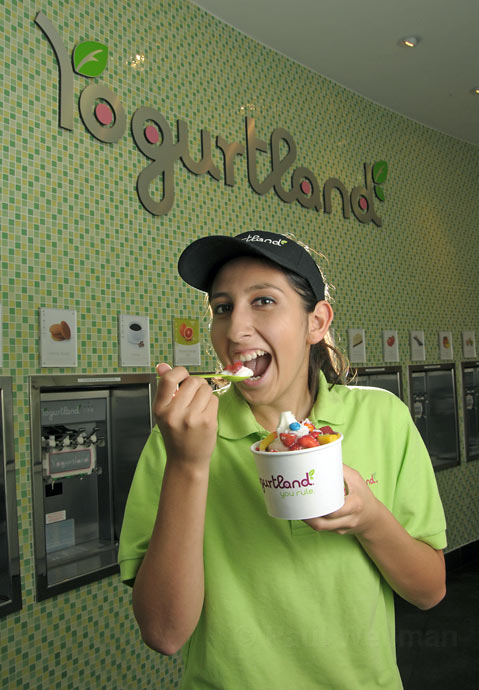 Yogurtland
621 State St., 564-8680
Yogurtland's singularly ingenious refinement of the pink pomo froyo shop was to add self-serve to the mix. You pour the requisite amount of icy 'ghurt, add toppings ranging from crushed candy bars to fresh kiwi fruit, get the whole thing weighed, and then pay the piper. It's cheaper, easier to control, and still at the fairly low-end of treacherous activities indulged in the name of snacking. Number one with an organic maraschino cherry.
FINALIST: Pinkberry
BAKERY
Jeannine's Restaurant
4 locations
Scones could become a form of currency in this café society town. There are French restaurant scones, organic market scones, and little shops near Paseo Nuevo scones. And then there is Jeannine's, where the bakers churn out a thousand-plus each day—from blueberry to pumpkin pecan. The fine bakers offer more besides, like the humble muffin, which Jeannine's features in dazzling array. (Sixteen currently.) Jeannine's make pastries, coffeecakes, and cookies, too. Now in its 25th year, the Hardey family is, as their Web site rightly claims, "part of the fabric of Santa Barbara." Let's go get sconed.
FINALIST: Anna's Bakery
DOUGHNUT SHOP
Spudnuts
220 W. Carrillo St., 899-2779
3629 State St., 569-3719
We never got a Krispy Kreme franchise, not even Dunkin' Donuts made inroads into this croissant-haunted beach town. But Spudnuts, which sounds like a 1950s teenager put-down, has flourished here since way back in distant times. Surprisingly light for fried food primarily constituted from potatoes, these snacks won't challenge our cuisinal assumptions the way the pizza did when it emerged all gourmet 10 years ago, but they're quite paradoxically elegant and filling at the same time. Beside, the Spudnut comes in all sinker varieties, from glazed to decadently jelly-filled. Maybe city council could mention Spudnuts in its upcoming negotiations with police unions.
FINALIST: Eller's Doughnut House
BAGEL SHOP
Jack's Bistro & Famous Bagels
5050 Carpinteria Ave., Carpinteria, 566-1558
53 S. Milpas St., 564-4331
3891 State St., #109, 563-2524
Aristotelians worship the Golden Mean. It's not averageness, but a combination that bring extremes into cosmic balance. Now, some bagels are thin with a nice crust, yet lack the substantiality a morning stomach requires. Other bagels are all dough and indistinguishable from cakes, with a sponge-y presentation that weighs heavily on the gut and then the soul. But Jack's Bagels, currently at three locations, is poised between extremes, with all the flavors from plain to bialy and all the shmears—Jack's brings the middle way of balance back to the Nosh.
FINALIST: Bagel Café
JUICE/SMOOTHIE BAR
Blenders in the Grass
8 locations
Business writers searching for great business incubation places ought to consider Isla Vista. From there comes Kinko's, Rusty's Pizza, Freebird's, and this biz begun 15 years ago on Trigo. Blenders can now be found in multiple locations from Santa Maria to Camarillo. Besides the prosperity, though, Blenders in the Grass gets readers' votes annually for that lovely combination of fast, cheap, and excellently healthy fuel that only a smoothie can supply.
FINALIST: Backyard Bowls
CHEESE SELECTION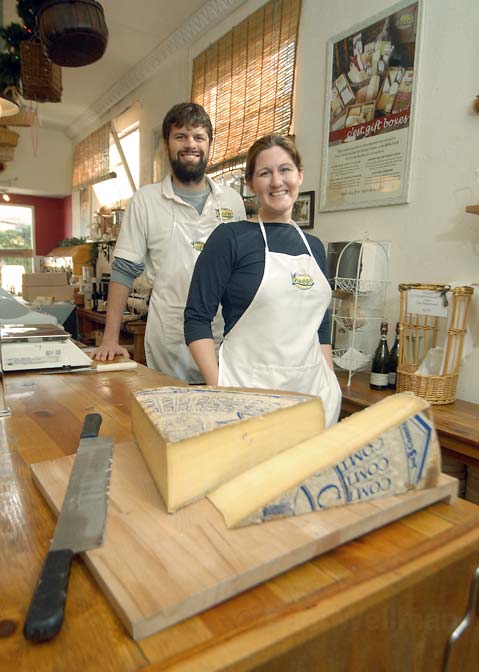 C'est Cheese
825 Santa Barbara St., 965-0318
If there are nicer store owners, we don't know them yet. "I am so thrilled that we won," said Kathryn Graham, who with spouse, Michael, has brought fine cheesy comestibles to the public for seven years already in the gourmet neighborhood next door to Our Daily Bread. "We try to bring the best cheese, and fine foods, but also to offer good personal service. We definitely want to offer a great experience to people who come into the store." Besides the cheese in the cheese shop, they're now offering lunches. "We serve a damn good grilled cheese sandwich," said Graham. We bet they do.
FINALIST: Lazy Acres Market
GOLETA RESTAURANT
Beachside Bar-Café
5905 Sandspit Rd., 964-7881
For a seaside city, we offer little in the eat-with-a-view genre restaurants that aren't either touristy or pricey. Beachside is neither. But it does have acres of ambience. It has a moderately priced bill of fare with great deals year-round and delicious plates of fresh, fried, and/or grilled fish all the time. Lunches are particularly affordable but dinner isn't too spendy either. A $20 charbroiled piece of salmon in a room where the moon lays a stripe across the ocean and you can hear the waves break 50 yards away? Not much to pay for what clearly counts as a sure bet romantic trap expertly set.
FINALIST: Hollister Brewing Company
CARPINTERIA RESTAURANT
The Palms
701 Linden Ave., #1, Carpinteria, 684-3811
For more than 50 years now, it has stood as the quintessential Carp dining experience—informal, great friendly bar, cook-your-own steak—where locals and tourists can feel like they're barbecuing without buying food, lighting the grill, and doing dishes afterward. The appeal is obvious, and the prices are attractive. Perhaps a better indicator of The Palms' unassailable stature, however, is the sudden burst of great eateries on Carpinteria's two main streets, from great gourmet to fine ethnic places, it's harder to make up your mind cruising Linden nowadays. But the readers have no doubts; they'll stick with the old favorite, even if they have to do half the work to eat there.
FINALIST: Sly's
ISLA VISTA RESTAURANT
Freebirds World Burrito
879 Embarcadero del Norte, Isla Vista, 968-0123
We get the appeal of Freebirds. If you took the ease of Taco Bell and crossed it with the authentic flavors of a café-style Mexican restaurant like Pepe Delgado's, you'd have the idea behind the I.V.-bred hybrid. (It's a formula that Chipotle's, the fastest-growing fast-food franchise of our tough economic times, currently exploits.) But to top off its automatic appeal, Freebirds is unbelievably accessible. It's always open, so late night studiers, munchie-beset partiers, and other Isla Vistans can drop in anytime and fuel up. They also serve nachos and tacos. But our favorite Freebirds recipe comes from a Chinese-born friend who orders carnitas with cilantro, jalapenos, and rice, and then dreams of being home.
FINALIST: Silvergreens
MONTECITO RESTAURANT
Montecito Café
1295 Coast Village Rd., 969-3392
Something unpretentious in this neighborhood always seems to work. That famous steakhouse nearby is, after all, just a steakhouse that celebs attend and the bar and grill farther toward town is unfrilled and has been there forever. Montecito Café serves richly sauced food with tons of flavor—steaks, chicken, and fish. Nothing much more exotic than pasilla peppers invades your palate and yet every year the readers crown this humbly terrific dining room for being the best in a very nice neighborhood. Don't miss the coconut cake, either.
FINALIST: Lucky's
SANTA YNEZ VALLEY RESTAURANT
Trattoria Grappolo
3687 Sagunto St., # C, Santa Ynez, 688-6899
It's not unusual to find David Crosby tucked in at the end of the bar holding court before dining in this tiny, delicious Tuscan-style restaurant. Classic in its sauces, salads, and pizzas, Grappolo offers surprisingly graceful little notes like the carpaccio salad and crostini with mozzarella, butter, and sage sauce. Again, the pasta dishes seem rock-ribbed traditional while i secondi feature surprises like Italian sausage served in white beans, an Italian twist on a French classic. It's a great restaurant town, Santa Ynez, and this was what the readers found to be il migliore.
FINALIST: Root 246
APPETIZERS/TAPAS
Milk & Honey Tapas
30 W. Anapamu St., 275-4232
It's hard to beat the concept in a town self-consciously Spanish to find the kind of place you might stumble upon in the early hours of drinks, clubs, and more drinks in, say, Barcelona. But this is a very upscale California revision of the experience, and besides great pork, paella, and chorizo dishes, you could find vegetarian fare and even a tofu brioche to loan some virtue to your pub-crawling ways.
FINALIST: Alcazar Tapas Bar
BREAKFAST
Cajun Kitchen Café
5 locations
Pure restaurant success must taste like this. Ever since the first Cajun Kitchen opened—where it still is—on De la Vina three decades ago, there have been full houses, busy lunches, and often lines now at lots of locations between Ventura and Lompoc. All cafés attend and as the Web site reads, the restaurant is good for a bit of Louisiana cooking—gumbos, po' boys, and red beans and rice among the entrées. But the rest of the menu is pure Breakfast in America with lots of lunch stuff, too. It's friendly without being fussy—eventually they'll get to know your name—and it's crowded but worth it.
FINALIST: Jeannine's Restaurant
SUNDAY BRUNCH; HOTEL/MOTEL
Four Seasons Resort—The Biltmore Santa Barbara
1260 Channel Dr., 969-2261
Since 1927, this big hotel has woven a spell over the city. "We're very happy that we win these polls," said Gena Downey, director of public relations. "And we realize that there's a certain reliability about the brunch; it's become an important tradition in town. There's great food and a beautiful location; it's easy to see why people love it. But we're particularly excited to win the best hotel because this year we've worked very hard to re-connect to the community, with the botanical tours and Starry Nights events. A hotel can be a lot more than a hotel in a community and that's what we've tried to do."
FINALISTS: Sunday Brunch: Tupelo Junction Café; Hotel/Motel: Canary Hotel
LATE NIGHT EATS
Roy
7 W. Carrillo St., 966-5636
He's happy to win but tired from his month-long celebration, an anniversary price rollback to $10 main courses, which he plans to make semi-permanent on the new menu he's evolved from the old. Real old-timers who once partied late remember well the days of `94, the earliest incarnation of Roy Gandy's hipster eatery that stayed open late (almost inconceivable back then) when soup, salad, and main course came for the lovely half-a-sawbuck price. His format's changed and he considered changing venues from the Carrillo Street caverns where the help includes former Tan rockers Brad Nack and Spencer Barnitz. "I've had to be flexible," said Gandy, "there's always some new place coming along and nipping at your heels," he laughed. But he's very grateful to the faithful clientele, who mainly like to eat there, no matter how late he stays up.
FINALIST: Freebirds World Burrito
SIDEWALK CAFÉ; VEGGIE BURGER
Natural Café
3 Locations
Healthy food restaurants have evolved nicely since the 1960s when the signature dish was usually steamed crispy veggies on a bed of brown rice with a splash of tamari sauce. The Natural Café fills an interesting niche offering very great veggie, rice, and tamari as starting points, but also a cornucopia of healthy eats that include chicken, fish tacos, and robust salads with sophisticated dressings. Not to mention the veggie burger, which, when served on a sidewalk, makes the cuisine of the 1960s seem absolutely medieval.
FINALISTS: Sidewalk Café: Fresco; Veggie Burger: The Habit
CHINESE RESTAURANT
China Pavilion
1202 Chapala St., 560-6028
"Wow. Great. Thank you," said the usually unflappable Peter Chen, whose daring exceeds the kitchen where he provides the readers' choice for great Chinese food. Chen's extensive Chinese menu in English helps to take eaters beyond kung pao and General Tao. Not that there's anything wrong with those fine meals, but even greater is Chen's very successful introduction of dim sum on the weekends. "I just added 10 more items to the dim sum menu," said Chen proudly. "Half of them are traditional and the other half invented." Besides dessert dim sum and more vegetables, Chen's experiments include BBQ pork in baked buns, crabmeat dishes, and scallion pies. After that, and selling the Montecito restaurant, Chen hopes to slow down a bit. "I'm getting older, but I still enjoy it," he laughed.
FINALIST: Madame Lu
INDIAN RESTAURANT
Flavor of India
3026 State St., 682-6561
Raj Jossan says that Flavor of India has garnered awards—either first or second place—every year for the last decade, but he's not taking it for granted: "Oh my gosh, of course we are very happy to win." Jossan, whose father started the restaurant in 1991, thinks consistency is their best feature; anyone can make great food once, but they try to do it every day. And the customers are equally important. "We have people come in three times a week," he said. "They're like family. They'll say. 'I'm going to try something different this time,' but then they get here and say, 'Nah! I want what I always get.'"
FINALIST: Taj Café
ITALIAN RESTAURANT
Ca' Dario
37 E. Victoria St., 884-9419
In a way, Dario Furlati is envious of his own food. "If I'm working, I watch the dishes go out, I wish I was eating each one of them. But, of course, if I did, I'd be two sizes bigger," he said. Furlati has been holding down the little corner of Victoria and Santa Barbara streets since 1997. Since opening night (they served 80) the place was instantly popular, using a great combination of steady menu with seasonal favorites being served as specials—zucchini flowers were still going great at writing time. "I'm very lucky," said Furlati. "I've been doing this so long I have great connections for food. I get great deals on black truffles and even saffron. Even our customers who just came back from Italy stop in here right away. We feel much honored."
FINALIST: Pascucci
MEXICAN RESTAURANT; SALSA
Los Arroyos Mexican Restaurant
14 W. Figueroa St., 962-5541
1280 Coast Village Rd., Montecito, 969-9059
It doesn't seem like much: one of those places where you order in front and the dishes are brought back to rooms that are a wee bit packed in. But when you pull away from the standard Mexican café dishes and try the al pastor or the alambres, you realize the depth of the seasoning, and the care with which the sauces have been made. Add some of the salsas and your joy will be complete. They've swept these categories since they showed up in a town that takes great Mexican food very seriously.
FINALIST: Los Agaves
SEAFOOD RESTAURANT; CLAM CHOWDER; BLOODY MARY
Brophy Bros.
119 Harbor Wy., 966-4418
This harborside institution seemed destined for greatness since it first opened, replacing another beloved, creaky institution of a seafood place known as John Dory's back in the 1980s. With one of the most dazzling sea views in any town, the big clam, oyster, and bar bar thrives with life and happy customers day and night. The chowder is unguent, nicely garlicked, and chock full o' clams. The Bloody Mary has pepper on the rim and a horse-radishy burn, and the seafood has been beckoning us down to the breakwater since back when we were tourists.
FINALISTS: Seafood Restaurant: Enterprise Fish Co.; Clam Chowder: Enterprise Fish Co.; Bloody Mary: Tupelo Junction Café
SUSHI RESTAURANT
Arigato Sushi
1225 State St., 965-6074
It's great sushi in a town of great sushi. Arigato has a high volume of business that almost belies the individual attention one gets when finally inside. And there's something for everybody, from the traditionalist to the postmodern fusion-headed diners, from your basic yellowtail nigiri to oysters with quail eggs. The service is brisk and friendly, and the place has been winning our readers' raw approval since the beginning.
FINALIST: Sakana
THAI RESTAURANT
Your Place Restaurant
22-A N. Milpas St., 966-5151
Without doubt and by dint of the widest consensus, this dark, cozy place on lower Milpas Street is the gold standard for Thai fare in this town. While the atmosphere may explain some of the appeal, the food is very good all the time, and the readers have never backed down in the last years from making Your Place their place.
FINALIST: Zen Yai Thai Cusine
VIETNAMESE RESTAURANT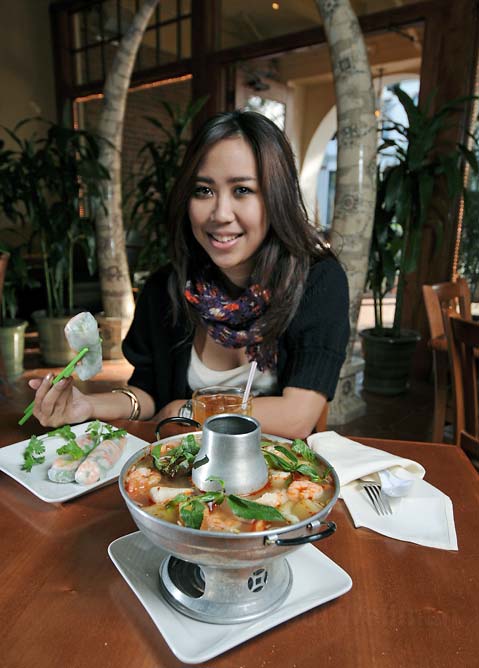 Saigon Vietnamese Restaurant
4 locations
He started learning to cook, said William Lam, from his mother in Saigon. Lam left Vietnam in 1981. "I did all kinds of work," he said. And then he found his undeniable penchant for restauranting and moved here six years ago. The rest is a chain of history, now with four hopping sites for the pho-style cafés. The pho, the national soup meal of Vietnam, is delicately perfumed with fennel, onion, basil, and the essences of beef and fish. And the rest of the food reflects Lam's lifetime of learning.
FINALIST: Noodle City
STEAK HOUSE
Holdren's Steaks & Seafood
512 State St., 965-3363
6920 Marketplace Dr., Goleta, 685-8900
This must've been a hard fought battle. After all, there are at least three great high-end steak houses in town and one very reasonable community hangout. Holdren's comes in at the middle of the range with a great honest steak and delicious sauces, too. A longtime S.B. family, with places in Goleta (a grill) and Newbury Park, but the steak house downtown is in the former site of Joe's, and the steaks here are served with a dash of old town nostalgia, too.
FINALIST: Ruth's Chris Steak House
SANDWICH
South Coast Deli
1436 Chapala St., 560-9800
185 S. Patterson Ave., Goleta, 967-8226
"We're really excited to win," said Josh Escalante, the deli's downtown store manager. "I think it's the quality of our ingredients that really makes the sandwiches popular," he added, then thought a second. "You know what? I think it's the mayonnaise. We make our own mayos, basil and chipotle. That's one really good thing we do that helps us to stand out."
FINALIST: Panino
BARBECUE
Woody's BBQ
5112 Hollister Ave., Goleta, 967-3775
"I think it has a lot to do with our sauce," said Woody's manager Nathan Lee. "I mean, it's real oak-smoked meats, which you can't get anywhere else here, too. But we like to buy good meats locally at Shalhoob's, and we slow cook it." They must be doing something right because it's everybody's favorite since it first opened in 1982, four years before Lee was born. "We're definitely happy to win," he said.
FINALIST: S.B. Chicken Ranch
BURGER
The Habit
4 locations
The meat is grilled and always served piping hot and fresh, on a somewhat thin bun accompanied by grilled onions, tomatoes, and an unobtrusive pickle-to-mayo ratio. It's hard to say exactly what makes the burger so satisfying, and maybe the gimmick-free approach is what works best. All other things being equal, which of course they are not, it's clearly the nice heft, flavor, and complementing condiments that keep this meal-in-a-bun number one.
FINALIST: In-N-Out Burger
BURRITO
Super Cuca's Taqueria
626 W. Micheltorena St., 962-4028
2030 Cliff Dr., 966-3863
6547 Trigo Rd., Isla Vista, 961-0020
From Isla Vista to Milpas Street, the kids know where the powerful belly bomb lurks. It's Super Cuca's, where about five dollars buys enough filling-up and nutrition to last two meals if eked out and one minor feast if consumed, as it usually is, in a series of tremendous, big bites. It's fairly simple stuff; the beans are either whole pinto or slightly mushy black, with rice of the fluffier persuasion. The meats (where applicable) are cleanly flavored, too, with the carnitas coming at first place for rangy intensity. The rest is also annually unforgettable for our voters.
FINALIST: Freebirds World Burrito
PIZZA
Rusty's Pizza Parlor
8 locations
This is another Isla Vista-spawned biz that moved swiftly from the student ghetto and into the 'burbs. With eight Santa Barbara locations, and reasonable prices (from about $8 to $20), it's no wonder Indy readers never abandon their homegrown mini-chain. Large and fully loaded—and swiftly delivery—these classically balanced American-style pies are economical party meals. Plus, the parlors have those amazing free backrooms where you can hold business meetings or plot the overthrow of Middle Earth while eating the too-spicy Diavolo with extra chorizo and anchovies.
FINALIST: Giovanni's
RESTAURANT FOR DESSERT
Sojourner Café
134 E. Canon Perdido St., 965-7922
If you think about it, this is an odd award. The place that long ago once defined healthy-alternative-hippyish dining has now won the best dessert prize for years. Truth is, the hippyish among us are Spartan and vegan and all that when it comes to main courses, but a sweet tooth clearly accompanies that life style and its stimulant choices, too. Not that people who eat here are all countercultural gourmands. What's not to like about the place? The Soj has a trifle for only $3.50! (Does anyone else in town even serve this apotheosis of strawberries and cream?) But they also have an espresso pudding pie to yang the yin, with a lot of other very reasonably priced sweetmeats in between. Far out!
FINALIST: Fresco Café
RESTAURANT WITH A VIEW
Boathouse at Hendry's Beach
2981 Cliff Dr., 898-2628
Early last summer, on an evening when the Mesa fog actually lifted, the Boathouse suddenly filled with très fashionable diners, who seemed drawn from the heart of Hope Ranch, commingling with surfer dudes and chicks, as well as a number of couples apparently enthralled in their own views. It didn't matter so much where one sat, we were all surrounded by Hendry's Beach, the white cliffs, the burbling creek, and an ocean roaring up nearby. Inside, the commanding view of the tides and the currents is through glass, making the windy winds irrelevant. Boathouse is much prettier now than it was a decade ago, and the clientele almost seems prettier, too. And the food and drinks seem to sparkle as well.
FINALIST: Brophy Bros.
STELLAR SERVICE
The Palace
8 E. Cota St., 963-5000
It's always a fine line between hovering and attentiveness. The Palace long ago solved that problem by instituting a group waitering arrangement so that whichever server passes by your table will make observations and fill the unfilled wish almost before the diner can articulate the need. Nobody tells you their astrological sign (unless you ask) or acts like your dinner is anything but of most importance. Famous for strong drink and spicy food, The Palace has come in first place in this category every year since memories began, making it a triple-threat dining experience.
FINALIST: Bouchon