Arts & Entertainment
Dresden Staatskapelle at the Granada
CAMA Presents the Dresden Staatskapelle with Pianist Rudolf Buchbinder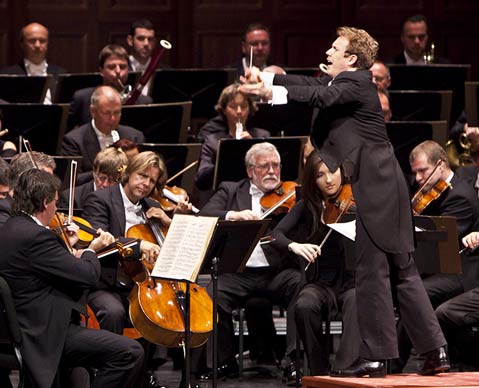 The opportunity afforded by the CAMA International Series at the Granada—to hear the world's greatest symphony orchestras in an acoustically magnificent hall without leaving Santa Barbara—gives us all a chance to make the kinds of comparisons and observations that used to be reserved for big-city dwellers and musical jet-setters exclusively. This season the series is particularly rich in orchestras representing the musical traditions of countries that were, until 1989, screened by politics from full exchange with the West. The first of these post-Cold War, former Eastern-bloc orchestras, the Dresden Staatskapelle, arrived this past Tuesday, and their performance was nothing short of a revelation.
In a preconcert phone interview, guest pianist Rudolf Buchbinder had alluded to "certain advantages" of the relative isolation experienced by the older members of this almost incredibly august (460-year-old) organization, saying, "Although, obviously, there were many drawbacks to the political system of the former East Germany, from a musical point of view, there were some unique strengths there as well, particularly as regards the passing down of performance practice traditions in the manner of the guilds." Interesting, but what does that mean in terms of sound?
The answer to this question was a thrilling one, as the Dresden Staatskapelle played an outstanding and most memorable concert. Beginning with the Overture, Op. 115, "Manfred" of Robert Schumann, the orchestra swept the audience into a breathtaking sonic universe of subtlety, balance, and fine-grained precision. Maestro Daniel Harding is a compact presence on the podium, but with his expansive repertoire of full-bodied gestures, he gets an amazing tone out of these highly disciplined players. Rudolf Buchbinder joined the orchestra for the second piece, Schumann's Piano Concerto No. 1 in A Minor, Op. 54. His circumspect approach and exceptional clarity complemented the Staatskapelle's breathy graininess exceedingly well, allowing the composer's intention to manifest fully in the performance.
After the intermission, the audience was treated to another outstanding rendition, this one of Beethoven's Symphony No. 7. The orchestra's many years of continuous operation were seemingly all brought to bear on the score, which was realized within the scope of an enormous dynamic range. Openings were delivered in a hushed manner that brought out their every nuance, and the string section achieved a dazzling sense of time in the complex counterpoint of the faster movements. It will be interesting to see how the upcoming concerts by Russian orchestras compare to this most impressive display.