News
Santa Barbara Votes 2010
Frequently Updated Results, Reaction, and Reports from Election Night Parties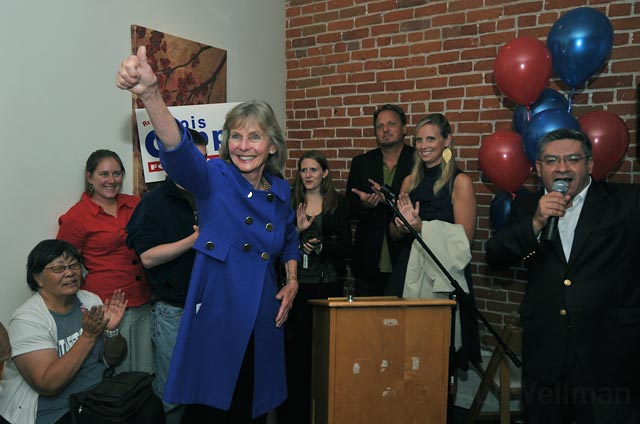 It's Election Day 2010 in Santa Barbara and beyond, and as has become a bi-annual Independent.com tradition, we'll be using this page to deliver results, reactions, and reports from the various Election Night parties happening throughout the South Coast.
Our experienced team of reporters — including Nick Welsh, Chris Meagher, Ethan Stewart, Matt Kettmann, Brandon Fastman, and photographer Paul Wellman — will be out and about to get the scoop while news editor Tyler Hayden holds down the fort at Indy headquarters and writes these updates, which typically run into the wee hours.
If you're wondering who's winning, who's losing, what they're saying, and what they're drinking, this is the page to stay on all night long. Feel free to send feedback and your own reactions to news@independent.com.
State and Federal Offices
23rd Congressional District
Lois Capps: 85,555 (57.2 percent)
Tom Watson: 57,500 (38.4 percent))
24th Congressional District
Elton Gallegly: 115,448 (60.1percent)
Tim Allison: 76,722 (39.9 percent)
35th State Assembly District
Das Williams: 57,173 (53.8 percent)
Mike Stoker: 49,194 (46.2 percent)
Governor
Jerry Brown: 3,923,352 (53.8 percent)
Meg Whitman: 2,999,130 (41.2 percent)
U.S. Senate
Barbara Boxer: 3,768,760 (52.2 percent)
Carly Fiorina: 3,061,887 (42.4 percent)
Lieutenant Governor
Gavin Newsom: 3,554,390 (50.2 percent)
Abel Maldonado: 2,784,870 (39.4 percent))
Attorney General
Kamala Harris: 3,222,987 (46.1 percent)
Steve Cooley: 3,182,605 (45.5 percent))
State Controller
John Chiang: 3,857,709 (55.1 percent))
Tony Strickland: 2,539,989 (36.3 percent)
Santa Barbara Community College Board of Trustees
District 1
Peter O. Haslund: 24,411 (54.29 percent)
Sally D. Green: 20,399 (45.37 percent)
District 2
Marty Blum: 25,126 (33.29 percent)
Desmond O'Neill: 17,038 (22.57 percent)
Joe W. Dobbs: 16,893 (22.38 percent)
Marsha Croninger: 16,218 (21.49 percent)
District 3
Lisa Macker: 22,583 (51.62 percent)
Kathryn "Kay" Alexander: 21,052 (48.12 percent)
Santa Barbara School Districts, Board of Education
Monique Limón: 19,008 (30.85 percent)
Kate Parker: 17,825 (28.93 percent)
Dean Nevins: 12,980 (21.06 percent)
Loren Mason: 11,665 (18.93 percent)
Local Offices
Goleta City Council
Roger Aceves: 4,692 (28.93 percent)
Michael Bennet: 4,351 (26.83 percent)
Paula Perotte: 3,746 (23.10 percent)
Reyne Staplemann: 3,375 (20.81 percent)
Carpinteria City Council
Gregg Carty: 2,066 (24.15 percent)
Brad Stein: 1,900 (22.21 percent)
Al Clark: 1,806 (21.11 percent)
Carpinteria Valley Water Board
Lynne Ducharme: 2,163 (22.30 percent)
Matt Roberts: 1,898 (19.56 percent)
Alonzo Orozco: 1,683 (17.35 percent)
State Propositions
Prop 19 – Legalize Marijuana
No: 3,871,243 (53.8 percent)
Yes: 3,332,622 (46.2 percent)
Prop 20 – Empower Citizen's Committee to Redraw Political Districts
Yes: 4,156,416 (61.2 percent)
No: 2,645,878 (38.8 percent)
Prop 21 – Pay for State Parks with Vehicle Registration
No: 4,107,509 (58.0 percent)
Yes: 2,983,790 (42.0 percent)
Prop 22 – Keep State Hands Off Local Government Money
Yes: 4,176,833 (60.9 percent)
No: 2,685,652 (39.1 percent)
Prop 23 – Stall Implementation of State's Anti-Global Warming Law
No: 4,308,604 (61.3 percent)
Yes: 2,720,642 (38.7 percent)
Prop 24 – Stop $1.3 Billion in Business Tax Breaks
No: 3,990,623 (58.4 percent)
Yes: 2,845,778 (41.6 percent)
Prop 25 – Reduce Majority Required to Pass State Budget from 2/3 to Simple
Yes: 3,798,147 (55.0 percent)
No: 3,119,213 (45.0 percent)
Prop 26 – Extend 2/3 Majority to All "Fees"
Yes: 3,585,330 (52.7 percent)
No: 3,227,338 (47.3 percent)
Prop 27 – Kill Citizen Committee on Redistricting
No: 3,968,883 (59.4 percent)
Yes: 2,713,795 (40.6 percent)
Local Measures
Measure Q – Bond for High School and Junior High School Buildings
Yes: 33,401 (68.98 percent)
No: 15,023 (31.02 percent)
Measure R – Bond for Elementary School Buildings
Yes: 14,805 (70.85 percent)
No: 6,090 (29.15 percent)
Measure S – Half-Cent Sales Tax to Pay for New County Jail
No: 58,242 (60.83 percent)
Yes: 37,508 (39.17 percent)
Measure T – Ban on Medical Marijuana Dispensaries in Santa Barbara
No: 13,504 (60.64 percent)
Yes: 8,766 (39.36 percent)
[Update, 9:14 p.m.]
Reporter Matt Kettmann said that over at Hollister Brewing Company, mixed amongst the sliders, pizza, and hot wings, are over 30 people celebrating (if numbers hold) the reelection of Goleta city councilmember Roger Aceves as well as the passage of school bond measures Q and R. "We killed it," said Aceves's campaign manager, Nels Henderson. The reason for the dual shindig, explained Henderson, is that he and others worked on both Aceves's and the school bonds' campaigns.
With TVs blaring election results and sports games, the Brewing Company's crowd swelled to include county supervisors Janet Wolf and Dorreen Farr as well as Santa Barbara city councilmember Bendy White and mayor Helene Schneider.
Rubbing elbows with them were trash czar Mario Borgatello (owner and operator of Marborg Industries) and Goleta city manager Dan Singer. Brian Sarvis and Eric Smith from the Santa Barbara school district joined in on the fun as well which, like a few other election parties, seemed to include at least one TV showing tonight's Dancing With the Stars episode.
At Paula Perotte's party across the parking lot at Holdren's, the candidate, who was holding a marginal lead for third place over Reyne Staplemann, said she was more nervous than expected. Due to that, she baked this afternoon: lemon bars and peanut butter cookies to be exact, both quite excellent. Though anxious, Perotte said she felt great to be surrounded by the positive energy of family and friends. Among others in the crowd were former supervisor Susan Rose and city councilmenbers Margaret Connell and Ed Easton.
[Update, 9:57 p.m.]
Spirits were high and the vibe festive at State and A Bar and Grill, reported Ethan Stewart, with a heavily democratic crowd filling the downtown space. Supervisor Salud Carbajal, County Democratic Party Chair Daraka Larimore-Hall, environmental attorney Marc Chytilo, Fund for Santa Barbara Director Geoff Green, and District Attorney Joyce Dudley were all there, said Stewart. They group reportedly just heard a speech delivered by jubilant Monique Limón who looks to have secured a spot on the Santa Barbara School District Board of Education.
Introduced by Carbajal as an "extremely poised and extraordinary woman," Limón addressed the large crowd: "The first round of numbers is looking good, but I take nothing for granted," she said. Limón, who hit precincts all day today from 5:30 a.m. to 8 p.m., said she and her supporters just might make Santa Barbara history tonight, remarking that — if elected — it would be the first time two Latinos serve on the Santa Barbara School Board at the same time, the other being boardmember Annette Cordero.
Cordero herself, said Stewart, broke away from the crowd and got up to hug Limón. The two then posed for pictures with beaming smiles.
[Update, 10:26 p.m.]
At this year's democratic election headquarters – nestled in Victoria Hall where Chef Karim's Restaurant used to be – state assembly hopeful Das Williams arrived not long ago, reported Chris Meagher. Despite trailing rival Mike Stoker, Williams appeared upbeat. "I'm feeling great," he said, before admitting, "it's always nerve-wracking waiting this long for returns to be counted."
Williams, who spent the day campaigning in Isla Vista, was joined by city councilmember Bendy White and EDC chief counsel Linda Kropp in the small restaurant. "We'll probably be able to pull it out," predicted Williams as Dancing With the Stars played in the background.
Earlier in the evening at the Brewhouse, reported Brandon Fastman, Stoker was feeling equally good about his chances. "I'm doing better than a lot of people in Sacramento [thought I would]," he said. Stoker explained, because it's so close, he thinks his election will come down to absentee ballots, meaning final results won't be tallied and announced until tomorrow.
Greg Gandrud, county Republican Party leader, basked in what he said has been a "very good night for [him] so far," hinting at the the GOP's success in elections nationwide. He said these early results are encouraging for Stoker, as the county is heavily democratic yet already leaning away from Williams.
[Update, 10:41 p.m.]
Back over at Hollister Brewing Company, Roger Aceves – who looks to have clinched his seat on the Goleta city council – thanked his constituents for their continued faith in him and his leadership, reported Matt Kettmann. "I'm extremely gratified that they have responded so amazingly," said Aceves. Four years ago when I ran, I came in third out of six. I really tried hard in the past four years to prove that I had their best interests in mind."
Those considerations, he elaborated, include maintaining a strong police force and keeping a close eye on the environment. He also stated he's looking forward to cleaning up Ellwood oil facilities and, as a former police officer, taking a leadership role in negotiating another public safety contract with the Sheriff's Department.
Paula Perotte, who holds an ever-so-slight lead over Reyne Staplemann for a seat on the council, said she's nervous but feeling good thanks to all the positive energy provided by her family and supporters. "It's wonderful," she said.
Joining them was Santa Barbara School Board hopeful Kate Parker – right now leading the pack, just ahead of Monique Limon – who said things are still a bit too close to call. Nevertheless, she went on, she wants to keep "moving forward with the district and keep serving the students of Santa Barbara."
There are a lot of problems facing the county's school system, said Parker, and no matter what "it's going to be a very exciting four years" what with a dwindling budget, federal changes to No Child Left Behind, new curriculum, and different teacher training. Why does she want to tackle this host of issues? Because she has "the experience to keep the momentum going," she said. "I just love it. Whether you're in front of the public or in private meetings, you really do make a difference when serving on the School Board."
[Update, 11:06 p.m.]
With Stoker trailing Williams by only a few hundred votes earlier in the evening, Brandon Fastman reported, Santa Barbara city councilmember Dale Francisco had harsh words for the Williams camp as he milled about the Brewhouse: "Das ran a nasty [primary] campaign and I think that alienated a lot of Democrats."
Speaking about the failed attempt to pass Measure T, which would have banned medical marijuana dispensaries throughout the city, Francisco said it's a shame it didn't go through as the initiative would have cut back on a lot of the problems that state cannabis laws have generated. "Prop 215 has done nothing but spawn lawsuits. It's about recreational drug use," he said. "If it was about medicine, it would be a totally different approach. As a city council member, I'm not concerned about the person smoking pot in his backyard — I'm concerned about criminal activity and the dispensaries attract criminal enterprises."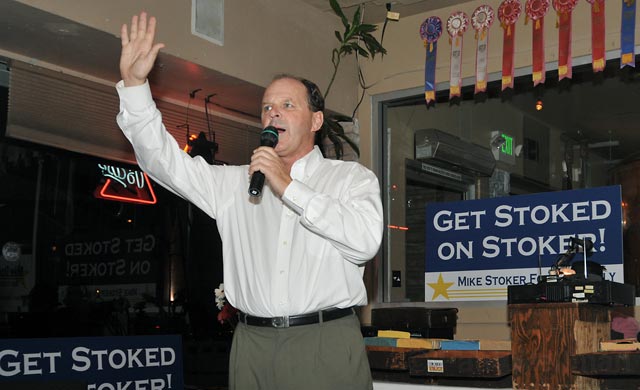 Not long after, Stoker addressed his room of supporters, thanking them for their commitment. "No candidate could have better support than me," he said. Not wanting the concede the race just yet, Stoker said there's a lot of ballots yet to be counted, especially absentees. "We've got a good shot we'll be taking that trip to Sacramento on Thursday or Friday," he said. In the middle of his speech, his phone rang. "That's probably not Das," he exclaimed, which got a good laugh from the crowd.
In attendance were Stoker's parents: His mom proceeded to decorate the Brewhouse with stars and stripes balloons, while his dad said he'd just be glad when it's all over. "It will be a blessing to wake up in the morning and have no commercials," he said.
Stoker claimed he's had no regrets with the way he's run his campaign and that he's stuck to his guns throughout. "I started this campaign on the issues California voters care about," he said. "I ended it on the issues California voters care about." Promising that victory, at the moment, was only slightly out of reach but not out of sight, Stoker continued to rally his troops. "I'm going to go to Sacramento and be a role model of what a bipartisan assembly member should be," he said. "I got to this point because of the bipartisan support I've earned."
[Update, 11:48 p.m.]
The last we heard from Ethan Stewart, he was still at State and A with the four challengers to SBCC's Board of Trustees. While hesitant to officially declare victory, Peter Haslund, Marty Blum, and Lisa Macker are hopeful that their numbers keep steady and that they inch out a victory. Marsha Croninger, though, appears well behind in her district, making a clean sweep for the challengers unlikely.
Macker said things are looking bright for her, Blum, and Haslund, and hopes Croninger's numbers will climb by the morning count. Blum — a veteran of Santa Barbara elections — noted the race was one of the closest she's been involved in. The slate of incumbents, said Stewart, did not make a public appearance, choosing instead to stay sequestered at an undisclosed private home while the results rolled in.
Stewart also noted that Monique Limon remained at the downtown restaurant well into the evening, taking pride in knowing that she was the top vote-getter in the Santa Barbara School Board Race. She's currently over 1,000 votes ahead of incumbent Kate Parker, who was favored to top the list of candidates. As everyone began filing out, Limon took time to thank supporters one-by-one, explaining she owed much of her election success to their efforts. It was a heartfelt speech, noted Stewart, with the gathering very much a loving family affair.
[Update, 12:08 a.m.]
Representative Lois Capps, reported Nick Welsh, arrived at democrat central in Victoria Court and was characteristically humble in light of what is shaping up to be an easy win over her next closest challenger, Republican Tom Watson. "The real story is how great California is," she said. At the rally, Capps praised her staff and had them all get up on stage to be acknowledged and applauded.
In a prior conversation, Capps expressed guarded hope that members of the other side, now that they hold the House of Representatives majority, will come to the table with some real ideas and programs. "The same people who were unemployed before the election are going to be unemployed after the election," she said. "No matter what side you're on, we've got to deal with that."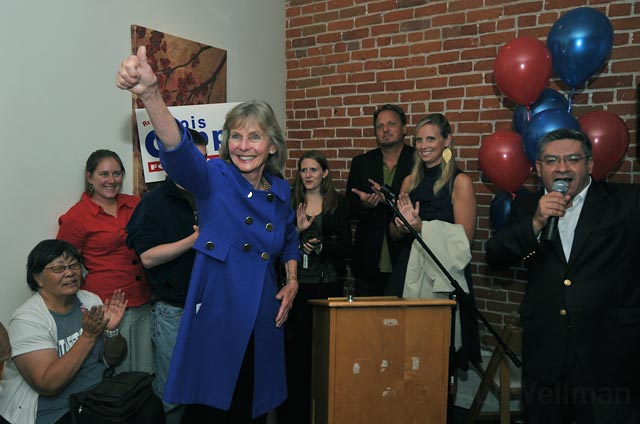 Capps said she understands the anger that's out there, reported Welsh, but is willing to put aside political differences if it means developing tangible solutions. "I'm willing to work with [Republicans], to reach across the aisle," she said. "Obama's still got two more years and he's got the veto pen, so if they want to get anything done, they'll need to work with us too." Capps has had four years working with a majority party, two years working with Obama, and eight years as a minority status.
Later on at the rally the congresswoman addressed the crowd: "We can be proud to be in California. This state was hit with high unemployment, yet we turned out in numbers to keep to the path of progress we know.
"You told me to fix health care, and we did it. You told me it was important to get Wall Street reigned in, and we did. We did all those things. You know what, the special interests we stood up to weren't real happy about it."
[Update, 12:45 a.m.]
Sheriff Bill Brown — who pushed heavily for the passage of Measure S — was downtrodden at hearing the news that his half-cent sales tax initiative was all but hopeless, reported Nick Welsh from the Brewhouse. "It's very disappointing," he said. "The people have spoken. This is not the way they want to resolve this issue, but the problem will get worse before it gets better."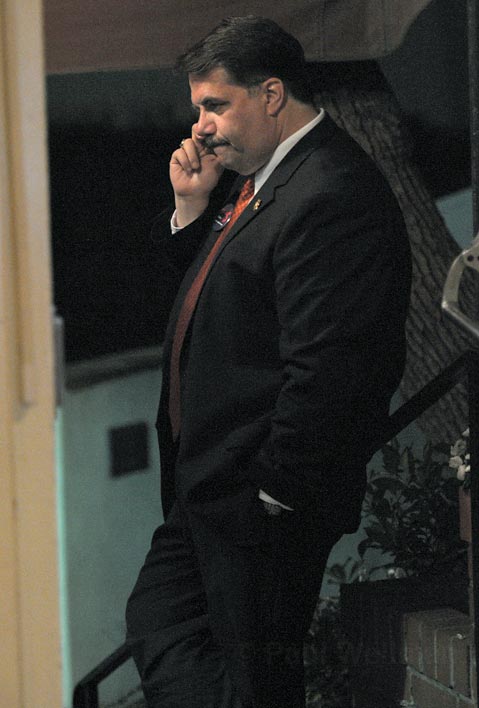 As for the $56 million of state money that the county stood to earn, he said it will be on the table until 2017, but that it will take four years to get the jail built. That means he'd have to get the matching funds by 2013 by creating another ballot measure within that time frame.
Brown said the county's economic situation would not be turning around anytime soon, and that there wouldn't be the money to build a new jail with existing revenue streams. As to drafting another tax measure? "I wouldn't rule it out in some different economic environment," he said. He doesn't think anything he could have done would have made a difference, Welsh reported Brown saying, and even if COLAB and Republicans had been on his side, he still wouldn't have gotten there.
Mike Stoker, said Welsh, echoed Brown's sentiment and hinted at concession: "We ran the best campaign we could have run," said Stoker "There's nothing else I could have done." The lively group of Republicans — which swelled to 100-plus at the peak of the night's festivities — seemed pleased just to have made Williams sweat when the first numbers that came out showed him slightly behind. Still, Stoker is counting on those absentee ballots to make all the difference. They just need to be counted. "This could be a long night," he said. "This could be a long month."