Film & TV
Due Date
Robert Downey, Jr., Zach Galafianakis, and Michelle Monaghan star in a film written by Allan R. Cohan and Allen Freedman and directed by Todd Phillips.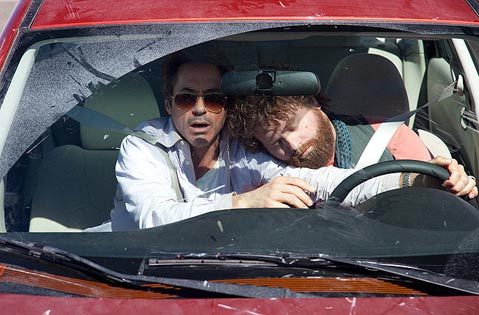 Enough, already! At this point, America's obsession with the bromance seems officially pathological. Due Date's auteur, Todd Phillips, practically invented the newer version of the genre from the nearby Montecito Picture Company (Old School and Road Trip), then went on to create the best-structured man-bonding road movie ever, The Hangover. That film ingeniously featured a lovely hole in its middle, requiring us to use our imagination to fill in all the naughty bits. If only Phillips had done something similar in this boy-on-boy combo plate of smirky gross-outs and over-sentimentalized tripe.
Our story, which is so simple it seems smart, follows a yup about to pup (Robert Downey Jr.) who runs into aspiring actor Ethan Tremblay, played by the sickeningly ubiquitous Zach Galifianakis. Thrown off a jet, they're forced to share a car from Atlanta to Hollywood, with typically zany stops along the way. Remind you of something? I never liked John Candy that much, but Galifianakis still doesn't live up.
Here, even the zaniness—a scene with a drug-dealing couple and their TV-addicted kids, a stupid fight with a wheelchair-bound vet in a Western Union office, and the obligatory cross into Mexico—gets eclipsed by the snarky homoeroticism, which of course involves casual public masturbation. Certainly, there's an I-love-you-man moment, and, as you always knew, when the curtain of prejudices parts, the need for musky male love on the road represents the sense of loneliness in American lives. If only we smoked more doob and listened to Pink Floyd together while driving!
Yes, Due Date is riddled with existential crap and daddy's ashes to boot. You wonder if all this bonding is in some way meant to compensate for 80 years of stoical male stars like Gary Cooper and Bruce Willis. But doesn't that mold seem broken already? Without a doubt, Downey is the single most magnetic male presence in American movies, and somehow he seems almost profoundly funny here. If the rest of the cast seems clichéd, it's simply because they're only human, and this script is only dumb.