Cover Story
Goodwill Ambassadors
Two S.B. Doctors Lend Helping Hands in Afghanistan
For this year's Peace on Earth issue, The Indy decided to profile two Santa Barbarans who have devoted their time and skills to helping the Afghan people — Dr. James Rolfe and Dr. Alan Brown.
Rolfe, who runs a busy Canon Perdido Street dentistry, has turned a 40-foot Matson shipping container into a fully functional dental facility, where his team has treated — free of charge — more than 40,000 people who can barely afford a toothbrush.
Brown, a partner in the Santa Barbara Cardiovascular Medical Group, missed his chance to serve as a medical officer during the Vietnam War, but pursued his dream to do charitable work in the Navy during the War in Afghanistan. Working out of tents, Brown ran medical clinics where he helped bring relief to Afghan natives suffering from Malaria and parasite infections — all while training medical corps to aide wounded Marines.
Whether working as civilians or as a part of our armed forces, these two individuals have brought promise to a country by reaching out to a people who lack the basic necessities many often take for granted.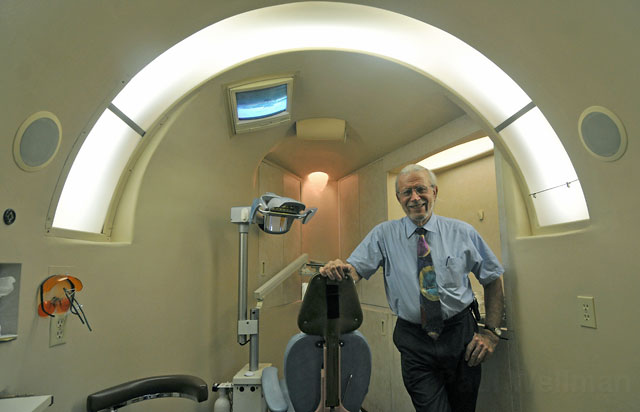 Do-Good Dental Surgeon
"Some projects you see the sun come through the clouds and the angels just start singing," said Dr. James Rolfe of his battle to get a dental facility set up in Kabul, Afghanistan. "This project has never been like that. It's always been an uphill battle."
Rolfe — who founded the Afghanistan Dental Relief Project (ADRP), an organization that provides free dental treatment and instruction in preventative dental care — first visited Afghanistan in 2003, traveling through the Wardak province with what dental equipment he could carry on his back. The folks he met were in dire need of dentistry services; Rolfe treated many and decided he would return to set up a permanent dental facility.
Rolfe returned to the U.S., bought a 40-foot Matson shipping container, and spent the next 18 months transforming the space into a mobile dental clinic. Working with an Afghani minister, Rolfe secured a patch of land on which to erect the clinic, and, in 2006, he was ready to return to Afghanistan with the container. After arriving in Kabul, however, he discovered that the land given to him by a cabinet minister didn't exist.
Rolfe spent the next six weeks trying to find a plot of land for his dental clinic, with no success. Rolfe forged documents given to him by the cabinet minister to ship the container back to Santa Barbara. "Talk about a dysfunctional country," Rolfe said.
Ten months later, in the States, Rolfe met Habib Mohammadi through the Raqim Foundation, a nonprofit organization that works to alleviate poverty in Afghanistan. Mohammadi's wife, Camila, who was diagnosed with kidney cancer, owned a seven-bedroom home on an acre of land in Kabul and wanted to leave a lasting impression on the people of Afghanistan before her death (she passed away in March of 2008). "We didn't want to rent it, didn't want to sell it; we wanted it to go to a good cause," Mohammadi said. "That was her dream: to do something good for the people of Afghanistan."
In August 2007, Rolfe reshipped the container, along with another 40,000 pounds of dental equipment, to Kurachi. After three months and about $20,000 in trucking fees, his container finally arrived in Kabul, where he spent the winter months assembling the clinic. Living in a home without water or electricity, Rolfe survived on granola bars and a few blankets and suffered from frostbite.
Concerned that he would disappoint himself and those who helped him along the way, Rolfe continued in the cold. "My greatest fear was that I wouldn't survive to complete the project," said the 71-year-old dental surgeon. "All the people who have helped me along the way … That money would have been wasted."
Since the clinic's creation, Rolfe and other specialists who have joined him from around the world have served an estimated 40,000 people in Kabul. And he's teaching the trade to residents; kids as young as 8 years old assist him with even the most difficult extractions and dental procedures. Rolfe created a school of dentistry and has graduated 35 people in five dental assistant classes, including dental technicians and the first dental hygienist in Afghanistan. "I saw that these people have such a craving for knowledge," Rolfe said. "I find joy in knowing that I've been able to help empower these people."
Currently, Rolfe said, Afghanistan has 134 dentists for 32 million people — which breaks down to one dentist for every 250,000. Most people don't own a toothbrush, and they go to barber shops to get extractions, taking the risk of being infected with life-threatening diseases because the tools aren't sterilized. "I figure that if they can't afford a toothbrush, they shouldn't have to pay for dental care," Rolfe explained.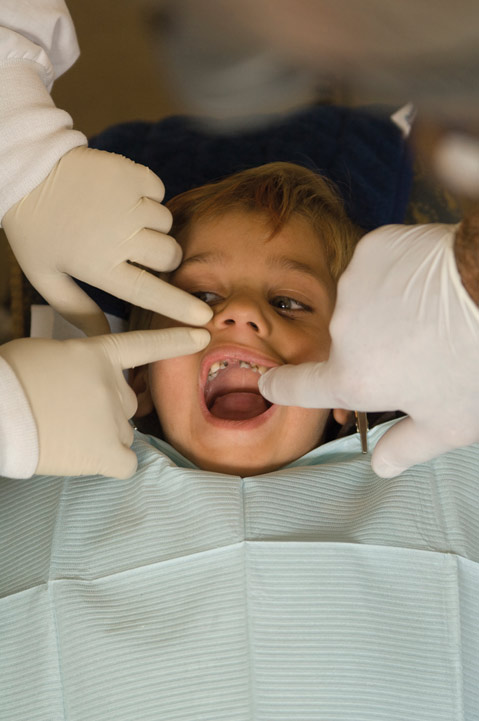 His peers describe Rolfe as a man who puts everyone else before himself. He pays himself a small stipend from his Santa Barbara dental practice and lives frugally. As such, he's able to contribute $100,000 toward ADRP per year. "He lives to help the Afghan people," said office assistant Hope Chapman. "He puts the project before his business."
When Rolfe makes his next visit in March, he will teach employees of his clinic how to operate a casting machine that forges metal framework for removable partial dentures.
In recent months, Rolfe's efforts have been recognized internationally. In October, Rolfe was sent to Washington, D.C., where he was one of seven Citizen Diplomats chosen by the U.S. Center for Citizen Diplomacy. Earlier this month, Rolfe was given the Shining World Compassion Award along with a $30,000 check toward his cause.
As for free time, the father of four and grandfather of 11 says he has none. "I'm so involved with this that there's no such thing as taking it easy," Rolfe said. "That's the price of obsession. I'm getting physically hurt, financially beaten up, but I wouldn't have it any other way."
Doctor with Heart
When a young person is looking for a sense of direction, he or she often looks to a parent for guidance. But when cardiologist Dr. Alan Brown learned that his son, Daniel, had decided to become a Marine pilot immediately after his college graduation in 2003, it was he who decided to follow in his son's footsteps. "[Daniel] was really surprised," Brown said of his son's reaction to him joining the Navy Reserve at the age of 53, "surprised, but proud." Daniel currently serves as a Top Gun, call sign "Trigger," while his father brings his medical expertise to the field.
This wasn't Brown's first call to join the ranks. On December 1, 1969, Brown was drafted in the lottery system for induction into the Army for the Vietnam War. However, because he was a college student, Brown was exempt from serving in the military, figuring he'd join the ranks in the Medical Corps after graduation. But the draft ended in '73 — a year after he received his diploma. "Back in that day, if you were drafted, you didn't choose where you wanted to go, or what you wanted to do," Brown said. "That was good motivation for me to stay and get my degree."
Brown, who was deployed to Afghanistan in October of 2009, has since brought relief to thousands of Afghan people, who commonly suffer from malnutrition, parasite infections, malaria, and pneumonia. He has also trained up-and-coming medical officers in the States who are faced with the challenge of reviving wounded Marines.
While on tour, Brown has steered the instruction of corps members who have successfully medevaced 80 Afghan villagers with infectious diseases, and treated more than 100 Marines suffering from illnesses and 28 Marines suffering from combat-related injuries. "As much as I've enjoyed working with Afghans, my main satisfaction was bringing Marines home safely," Brown said. (According to Brown, there is a shortage of medical officers in the Navy Reserve, with only three-fourths of these positions filled.)
In the Khan Neshin district of the Southern Helmand province, Brown led as a battalion surgeon and operated a village outreach program, which was run from tents set up within the ruins of a 300-year-old mud castle. Brown oversaw the operation that served up to 600 patients per week. When area government was able to open the three-room Khan Neshin Clinic, Brown advised doctors on what equipment would best serve the scattered population of about 3,000.
With the help of 25 other Medical Corps members, some of whom were ranchers in the U.S., Brown's staff also stretched their aide to the sheep and goats of the region, teaching residents to properly care for and raise their animals. In an effort to discourage opium production, Brown joined alongside local government to help distribute seeds for grain. "We're teaching these people how to fish," Brown said. "We want to empower these people to run a self-sustaining program."
Brown said that his wife, Sally, and his daughter, Lauren, who were proud but uneasy about Allen and Daniel's decision to join the military, have been a huge support system along the way. Instead of sitting and waiting for "her boys" to come home, Sally wanted to show her support for the troops overseas. Since 2004, she has headed up the Santa Barbara Angels, a group of more than 40 community members who ship care packages year-round to troops from Santa Barbara fighting in the wars in Afghanistan and Iraq. "Even though we may not know whom we're sending these packages to, they need to know that someone on the home front is supporting them," said Sally, who, in 2006, was selected as one of The Independent's Local Heroes.
Although Brown is back home, he is still a member of the Navy Reserve, and he attends Camp Pendleton on a monthly basis to train young medical officers in rescue techniques and desert survival tactics. When he's not in uniform, he works as one of five partners at S.B. Cardiovascular Medical Group. Daniel is expected to return to civilian life this summer.
As for the family, Sally said that the father/son military tandem has given them a different appreciation for life and has brought them closer. "We no longer sweat the small stuff," she said.