Living
Healthy Resolutions
Three Ways to Get Fit in the New Year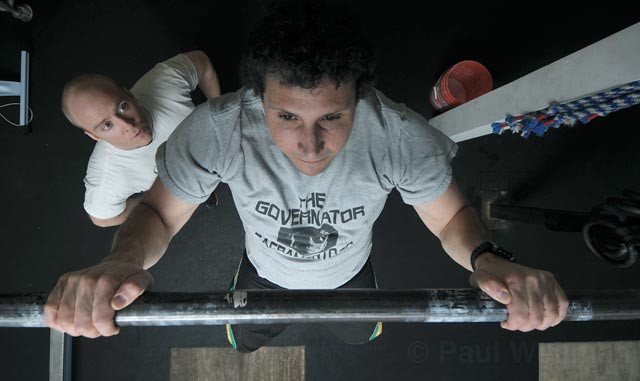 Pedaling from the Perch: Spinning at Santa Barbara Athletic Club
When my dad started teaching spinning classes a few years ago, he quickly became the butt of countless family jokes, as the stationary cycling workout has never been considered the most masculine of endeavors. But after barely enduring one "Endurance Spin" class at Santa Barbara Athletic Club last month—and I pretty much opted out of the harder standing and jumping parts—I've got a newfound respect for anyone who does the spin, and a pair of still-sore legs to prove it.
Spinning, which is actually a trademarked name, was invented in 1987 by a South African cyclist named Johnny G, who had to train but couldn't stray too far from his pregnant wife. So he developed a heart-pumping routine that was similar to real rides, with hills to climb, flats to sprint, and cadences to keep. By 1994, an actual course for "indoor group cycling" was developed, and today, it's estimated that nearly one million Americans take a spinning class each day.
Thanks to the standard guidelines, my experience mirrored classes everywhere, with our instructor Donna shouting out when to increase the tension, when to relax my shoulders, and when to stand or jump, in between the more restive times in the saddle. That was all set to a soundtrack of blues, rock, and pop numbers, whose rhythms helped the pedaling pace and eased the tension; because both those variables are entirely adjustable for each rider, the class proved perfect for both limit-pushers and easy-goers.
Unlike most spinning situations elsewhere, the S.B. Athletic Club sets their class outside on the top floor beneath a tin roof. With refreshing breezes, views of the Riviera, and red lanterns that illuminate the scene when the day fades to night, there's probably not a more lovely place to take on such a taxing activity. —MK
Santa Barbara Athletic Club offers a range of spinning classes. See sbac.wcaclubs.com.
Watch Me Puke: Crossfit Pacific Coast
In my 33 years of life, I've never once been "in shape." I didn't do the high school sports thing, am not much of a runner or dedicated cyclist, and never bought into indoor gym workouts.
So it's with great trepidation that I announce my next self-assigned endeavor, one that's already feeling a lot more stupid than some of my more dangerous warzone-related undertakings of years past: I'm becoming a guinea pig experiment for the dudes down at Crossfit Pacific Coast on Anacapa Street, where a bright orange barf bucket sits center stage. If my introductory visit is any indication—after less than seven minutes of rowing, squatting, sitting up, pushing up, and pulling up, I felt lightheaded, had to walk around the block for fresh air, and then puked all over the street—then the next three months will be filled with plenty of pain for me and laughs for you.
Come along for the ride by logging onto independent.com/crossfit to see my travails and learn more about the fitness sport that's taking the world over, one vomit at a time. For more on the program, see crossfitpacificcoast.com. —MK
Lose Weight Fast: Personal Trainer Bill Poett
What would it be like to drop that last 20 or so pounds that, no matter how much you exercise, you never seem to lose? Sign on with personal trainer Bill Poett for a series of high-intensity early-morning workouts at the Montecito Athletic Club, and you will know. Poett grounds his approach in interval training and diet balancing. Although he has decades of experience as a close-order combat instructor (focus area: knife fighting!), and a national practice in corporate consulting, Poett meets his clients on the common ground of a shared goal and stays with them through thick and thin, with the emphasis on the latter.
Poett is simply the most effective weight-loss coach I've ever seen. My brother lost 55 pounds in a little more than six months of working with him, and I lost 20 pounds in just three months. Two or three one-hour sessions a week revolutionized my workouts. The high-intensity intervals with Poett allowed me to improve my running and triathlon performance, as well.
The only tools you will need—beyond Poett's hyper-calibrated personal attention and goal-setting guidance—are a heart-rate monitor and a phone app to count calories. But the results Poett can help you achieve will make even more of a difference in the context of his new book, ABCs of Peak Performance, and the life-coaching seminars he leads under the title "The Key." The next one is on January 15 at the Canary Hotel. For more information, visit billpoett.com. —CD