Visual Arts
Interview with Thomas Kelsey
Santa Barbara Native Comes Home with a Pulitzer
Thomas Kelsey is a Santa Barbara-based, Pulitzer Prize-winning photographer whose book The Spirit of the West was just published. It features Kelsey's photographs of Western states' nature and wildlife. Particularly arresting are his images of the aspen tree, which, he notes, has experienced a 20 percent die-off since 2002. Kelsey studied with the celebrated nature photographer
Ansel Adams at the last of Adams's week-long workshops in Yosemite.
Elizabeth Rogers: Hi, how are you?
Thomas Kelsey: Oh, just dandy. I'm getting ready for a show I'm hanging tomorrow for my book, actually.
ER: The one at Pierre Lafond?
TK: Yeah, I'm hanging that tomorrow morning.
ER: I see you studied at an Ansel Adams workshop. Did you know from a fairly young age that you wanted to shoot wildlife and the outdoors?
TK: Yeah. Going to the workshop was a real inspiration. I actually spent some time at Yosemite when I was younger because my dad was a ranger there in the summers, and I went to some one-day workshops. But then finally I got to go to Ansel's workshop, which is the big one, where you go for an entire week, and I was in his last one ever.
ER: So, you're a Santa Barbara native, correct?
TK: Yeah, I went to high school and junior college here.
ER: What sort of changes or evolution have you seen in Santa Barbara since you studied in college here, in terms of the environment, and housing developments, and urban sprawl?
TK: Besides that? Well, that's a good question. You know, I was actually gone for 30 years, and I came back two years ago. I've lived all over the place, and it was really refreshing coming back here. There's a lot of diversity here. The first thing I noticed was that the trees all got big. The trees on State Street—I remember, as a kid, those were smaller [laughs]. Maybe I grew up, I don't know. But it actually hasn't changed that much physically. There was always a real cap on growth, and it was always kind of small, but I didn't realize what a neat place this was until I left and then came back
ER: Your book is called Spirit of the West. What animal or plant do you see as encompassing the spirit of the West?
TK: I really picked the picture on the cover.
ER: The bear?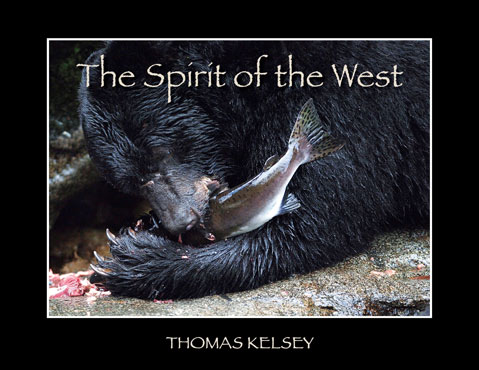 TK: Yes, because it really showed nature in the raw. I put that in my forward, I wrote about that. I said that I tried to capture it the way it is in the wild. To me all the pieces in the book work together to form a whole, what I consider the spirit of the West. There are themes in the book that I carry all the way through—from the little page numbers, which are teeny-weeny moose, to the aspen leaf. To me, the spirit of the West is the aspen tree. In the very beginning, on the title page, I have a small aspen leaf, and on the very last page of the book, I talk about the problems with the aspen trees right now.
ER: The book was just published recently, so the aspen tree die-off you mentioned is still happening?
TK: Yeah, it is. It is. It's very sad. Which is what it's called. SAD: sudden aspen decline. It's particularly hit some of my favorite places. I lived in Colorado for five years, and the aspen is a truly unique, important feature of Colorado, and of all the Rocky Mountain states. Twenty percent of the trees in Colorado alone have died off since 2002 when they started doing this study. They attribute it to climate change. Global warming has allowed pests, like the parasite they think is killing the aspen, to go into the upper elevations. These pests never would be able to survive before, but it's warmer there now, so they are able to go into these places where they were never at before.
The problem is, it's a trickle-down effect. If the trees die, that means there's less food for the wildlife, like the elk, and the far-ranging things that will happen from this no one knows yet.
To answer your original question, there are a number of things—to me, the spirit of the West—there's a little picture—I don't know if you read the text about the California condor. You know, they used to live near here, down in Piru, down near Ojai.
ER: I saw. The original 14 were from Santa Barbara County.
TK: And now they've been reintroduced to a place where they basically have free rein, in the Grand Canyon, and they're thriving because there's no contact, pretty much, with the human side of things. And that is really great. It's allowed the birds to flourish in a short period of time, and I was lucky to see them soaring when I went there like two springs ago. To me the condor—all the animals—there's the true spirit. The condor, the bald eagle, the bears, the whales—I love the whales.
ER: You said you shot in Alaska twice. Once in 2006, and . . . ?
TK: In 1991, 15 years before that.
ER: Do you see any changes, in terms of glaciers melting, between the years you visited?
TK: Well, definitely, the ice has changed immensely. It's amazing how much the ice has melted. I make reference to one picture in the book, of a place called Reed's Glacier. I actually went to a cabin that was at the base of the glacier, where this couple lived way before it was a National Park. They lived there from 1890 to 1920, and parts of their cabin are still there. At that point, 1920, the glacier was right there. They have pictures in the park of the glacier right next to where that cabin was, and we had to go up the river two miles to get to the glacier now. It's amazing. In 80 years, it's receded two miles.
ER: So you said in your book that you've been working on it for over 30 years. Was this always an idea you had at the back of your mind, that you wanted to do this book, about this idea of the West?
TK: Correct. It goes back to when I had the workshop with Ansel Adams. I really said, "I want to do this. I want to do what he does." Up until then, I'd been kind of a jock. I ran track and cross country at City College and at Dos Pueblos. That's where I started photography—at City College. I was able to spend consecutive summers in Yosemite, and then Yellowstone. Even then, I tried to market a picture that's actually in the book, that I took way back then at Yellowstone. It's always been in my mind to do the book, but I always had a job, I'm always working 40 to 50 hours a week, and just life goes on, and then I didn't really have any opportunity to have a break in life, so to speak, until I got laid off from the Outdoor Channel in 2007.
I started going through all my old slides, all my digital files, everything, and started writing the forward to the book. I started doing all kinds of research on what it would take to publish my book. I went to a number of publishers. Unfortunately, right around then, the economy was going down the drain, and it was extremely difficult to find a publisher. A lot of publishers liked my book idea, and they liked my photography, but they just didn't have the resources because of the economy.
So I decided fine, I'll do it. I self-published. Two weeks ago I sent my book to the manager of Barnes & Noble in Santa Barbara and she loved the book right off the bat, and she sent it to the Pacific region buyer for Barnes & Noble, who called me, and we talked, and Barnes & Noble is picking it up.
ER: Returning to Santa Barbara. So you live here now. Do you have any favorite spots of Santa Barbara you like to photograph, or secret spots? I know you do a lot of backwoods photography.
TK: Well, to me, the hidden jewel, and the irony is that it's so hidden that its in front of everybody's eyes every single day, is the islands. I want to spend way more time there. I've been to the islands twice. You see them every day and you take them for granted, but my goal is to spend time there. I had a couple trips planned, but I was so busy working last summer on the book I didn't really have much time to pursue it.
That's kind of been my obsession the last year. I've really been working on the book full time almost, plus my other job. I have a great editor. She lives in town, and she's been very helpful. I should probably mention her name. Her name is Terri Wright. She was just really helpful in helping me design the book. I had a lot of thoughts and ideas, and I pretty much did the layout, but she kind of made it happen. She knew the logistics of how to actually make it happen on the page.
ER: Thank you so much for your time!
TK: The one thing I would like to mention, people can go to my website, or the book is at Chaucer's. Oh, and there's one other thing coming up. The galleries downtown have something called 1st Thursday—an open house at all the galleries, and they made me the featured artist next month at Santa Barbara Arts. On the first Thursday of February. They have wine and cheese and my work there. It's a chance to meet the artist.