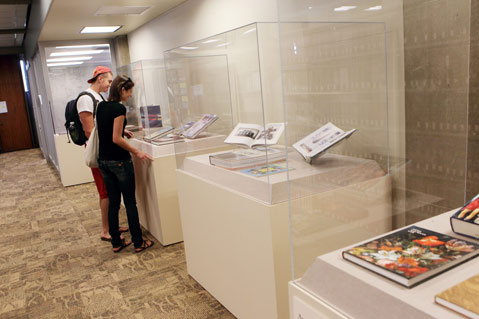 Lady Leslie Ridley-Tree, a well-known Santa Barbara businesswoman, art connoisseur and philanthropist, has donated her extensive art library to Westmont, which totals more than 750 books. Several of the volumes, mostly covering 19th and 20th century art, are being shown in Voskuyl Library. "An Art Connoisseur's Library: Gifts from Lady Leslie Ridley-Tree" is on display through May 7. The total value of the donated books is unknown, though 469 of the books were appraised at $62,690 according to Mary Logue, Westmont assistant librarian.
Ridley-Tree says that art and education are her passions. "Philanthropy is a very important and joyful part of my life," Ridley-Tree says. "If we don't share, then we don't deserve to have. We're blessed. If there's a need there, we'll try to do it."
"The Ridley-Tree collection is particularly strong in Barbizon and Impressionist paintings," says Judy Larson, Askew professor of art history. "It reflects her collecting interests with in-depth holdings of artists like Eugene Boudin, Gustave Caillebotte, Paul Cezanne, Jean-Baptiste Camille Corot, Gustave Courbet, Charles-Francois Daubigny, Edgar Degas, Claude Monet, Alfred Sisley, and Camille Pissarro."
The art library includes many significant artist's monographs as well as catalogue raisonnés, which are comprehensive listings of a single artist's complete works. The gift includes many rare or out-of-print exhibition and gallery catalogues from museums around the world. "Lady Ridley-Tree has a broad-based knowledge of the art world as expressed in books as far ranging as Dale Chihuly to Andy Warhol to the video artist Nam June Paik," Larson says.
Last April, Ridley-Tree donated $5 million to Bright Hope for Tomorrow, Westmont's ongoing capital campaign for updated facilities. She has given generous gifts to the Santa Barbara Cottage Hospital Foundation, the Santa Barbara Museum of Art, the Music Academy of the West, the Santa Barbara Zoo and the Santa Barbara Symphony.