Announcement
Senior Student Chosen to Display Pottery in Ink & Clay 37
Austin Danson, a senior at Laguna Blanca School, was recently accepted into the highly-regarded Ink & Clay 37 Exhibition at Cal Poly Pomona. Danson's piece, a Saggar fired jar and lid, was one of only 81 pieces chosen from 600 applicants for the exhibit.
Danson was thrilled to hear the news about being selected for the exhibit. "I was doubtful about being accepted since it's such a professional competition," Danson recalls. When asked about his piece, he enthusiastically explains that the lines on the surface are the result of a thick slip technique he's been working on, and the finish on the piece comes from what is called a saggar firing. Saggar firing works by throwing a very large clay container, filling it with different materials that will burn, and putting it into the kiln. As the temperature rises, all the materials inside the saggar burn, but because the smoke can't fully escape the container, the piece absorbs the smoke and is basically painted by the fire inside the kiln. Danson chose to fire his piece with sawdust, rock salt, staples, and wrapped a copper wire around it. "The beauty of the technique is that you have almost no idea how the piece will turn out in the end," he says.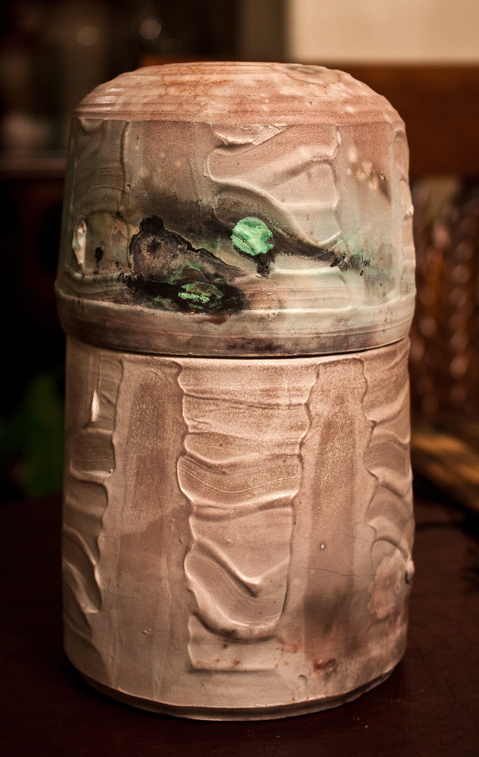 Austin's first experience throwing pottery was in the eighth grade, but it wasn't until he took a class in tenth grade that it became a passion. "I've been doing it every day since," he adds.
Established in 1971, Ink & Clay is an annual competition of prints, drawings, ceramic ware, and clay sculpture. Austin's piece will be exhibited in The Kellogg Art Gallery at Cal Poly Pomona from March 17 to April 29, 2011. There will be $5,000 for 10 cash awards.