Cover Story
Recognizing Santa Barbara's Black History
How African-Americans Helped Shape Modern Life on the American Riviera
African-American activism doesn't necessarily spring to mind when you think of Santa Barbara, but this town just wouldn't be the same if it weren't for the legacy of our African-American citizens during the past century. From the feed-the-needy efforts of Herman and Valencia Nelson, who founded the Foodbank of Santa Barbara by delivering surplus government food to hungry Eastsiders, to civil rights proponents like Willie Rowan, who fought for racial equality with the National Association for the Advancement of Colored People (NAACP), to the six predominantly African-American churches scattered throughout the city that contribute to our unique architectural and spiritual blend, there's a rich tapestry of African-American culture interwoven into the history of the American Riviera. And with Black History Month upon us, there's no better time to reflect on that.
Few living Santa Barbarans can reflect on how far the city has come in the past 50 years — and how much further there is to go — better than Bill and Christine Simms, who live on lower Santa Barbara Street, the same block where they both grew up. (The Simms are photographed on the cover of this week's issue.) Following a typical journey for many African American families of the World War II era, Bill Simms's father, Bodie, left the South (specifically, Oklahoma) and came to town to work for the military (specifically, the Naval Base at Port Hueneme). After settling into the house at 329 Santa Barbara Street, they founded the Lewis Chapel Christian (back then "Colored") Methodist Episcopal Church in 1945 and built the bright white church on the same site a few years later. As a 10-year-old, Simms remembers plenty of businesses that wouldn't serve African Americans, and even saw "with my own eyes" Ku Klux Klan cross burnings at the corner of Voluntario and Gutierrez streets, a sign that African Americans should stay on the Eastside. "You didn't see any blacks on State Street," he recalled.
Christine's family came in the 1960s from Atlanta, Georgia — the Deep and deeply segregated South — and, when no one else would rent to them because of the color of their skin, wound up renting the 327 Santa Barbara Street house from the Simms family, where Christine now lives again. "There was always — and probably always will be in my time — discrimination," she explained. "In Atlanta, discrimination was the law of the land, but here, the discrimination was much more subtle. It was quite an eye-opener."
After getting a degree in music from UCSB, Bill wanted to teach, but he was told "it was too early for a black person to be teaching school." He got another degree in physical education and moved to Los Angeles to help build a Boys Club that still stands in Watts. Christine, meanwhile, became the first African American ever hired by the Edison Company and had to endure a number of insulting situations, including allegations that she wasn't wearing nylons (because the boss couldn't differentiate her skin tone from the hosiery) and queries about what she "should be called," as the colloquial was shifting from colored to Negro. "How about Christine?" she would reply. "That works pretty well."
In the early 1970s, Bill — whose mother was the first African American hired by the Santa Barbara Police Department and whose sister Julia was the first African-American banker in town — was named the human relations director for the City of Santa Barbara, making him the city's first-ever African-American department head. Because he pushed so hard for affirmative action in employment and housing, his appointment — which also included work to get the Franklin Neighborhood Center built — didn't last long, as the forces that be ended funding for the job.
Throughout the years, Simms also worked with the Jaycees to get the Public Defenders Office started, served as president of the area NAACP chapter, got storm drains installed on the Eastside, helped create the Legal Aid Foundation, and ran Afro-American Community Services out of the Franklin Center, which was a player in a court case that went all the way to the California Supreme Court to end the pay-to-play policy for extracurricular school activities.
"Santa Barbara has come a long way, and it's primarily because of the young people who have grown up in town," said Simms, who grew up in an era where the older generation advocated just keeping quiet and accepting life as it was. "Most of the time, they had to defy their own parents to live up to what America is supposed to be about."
But the fight against "institutional racism" continues, said Christine, who believes that she never got the top spot during her nearly 20-plus-year career in UCSB's chemistry department solely because she is African-American. Added Bill, "There's only one black employee in the whole City Hall! How affirmative are they?"
Perhaps more worrisome, though, is the dwindling number of African Americans who call Santa Barbara home, largely due to the same economic pressures felt by all races. "The black community now probably has less of a presence than it did 50 years ago," lamented Christine, who fears that such a situation will make it harder for the younger generations of Santa Barbarans to learn about the role African Americans had in both civic and national history. "It's important to tell our stories to everybody," she said, appreciative of Black History Month but wary of the message it sends. "Maybe we will get to a point when the accomplishments of blacks will be recognized throughout the year."
More Names to Know
Jerry Forney: Regarded as Santa Barbara's first black resident when he was brought here as a slave in 1881, Forney refused to return to North Carolina with his master and instead drew up a plan to bring 500 slaves from that state to his new town. He eventually settled down into a house at Mason and Anacapa streets.
Anita Mackey: A nationally known social worker for the Veteran's Administration who has a scholarship fund named after her at the University of Chicago, Mackey taught the wildly popular class Afro-American Culture at Santa Barbara City College and has served on too many cultural, educational, women's, and health-care boards to name.
Shirley Kennedy: Integral to the establishment of the Black Studies Department at UCSB, where she was the outreach coordinator for years, Kennedy was an activist extraordinaire for both racial and gender issues in Santa Barbara during the past three decades. Honored with an Independent Local Hero Award in 1991, Kennedy's life inspired both the 2009 documentary It Was All of Us and an annual memorial lecture at UCSB.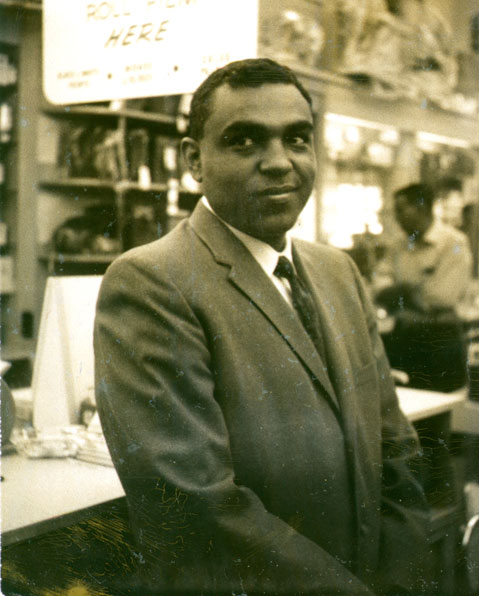 Horace McMillan: This physician — who was the first black pharmacist-mate in the Coast Guard, came to Santa Barbara in 1952. He was one of the four founding members of the Family Medical Center on Arrellaga Street, helped start the Franklin Neighborhood Center, and fought for equality in housing. As a physician on staff at both Cottage and St. Francis Hospitals, he managed to stop St. Francis's practice of segregating black patients. Along with several other general practitioners, McMillan was one of the founding members of Goleta Valley Community Hospital (now owned by Cottage).
Grover Barnes: Perhaps the nicest man on the planet during his 103 years, Eastside resident Barnes was a bellman at the Miramar Hotel for more than 40 years and also raised money for books as part of the George Washington Carver Scholarship Club, served for the NAACP, and contributed to the Eastside Study Group. He might be best remembered, however, for his prolific letter writing to newspapers and politicians.
Sojourner Kincaid Rolle: The contemporary cultural matron of Santa Barbara's African and African-American connections, Rolle is a poet, playwright, and activist who is continually contributing to the civic spirit of the region.
California Ethnic and Multicultural Archives
Much of the information and imagery for this article is taken from the Roots of Community exhibit, which was organized by the folks at UCSB's California Ethnic and Multicultural Archives (CEMA), a division of the Davidson Library's special collections department. Founded in 1988 with the intent to "advance scholarship in ethnic studies through its varied collections of primary research materials," CEMA provides a wealth of information for communities near and far, boasting 130 discrete collections of materials related to the African-American, Latino/Chicano, Asian-American/Pacific Islander, and Native American people of the Golden State.
"We are here because of the need to preserve and make accessible the collective memory of our ethnic communities in California," said Salvador Güereña, who's been with CEMA since the beginning and has since digitized much of the information. "Consequently, it generates a great deal of interest for those who are researching on the Web, and they then come here to finish their research."
When it comes to being a multicultural archive housed in a university library, CEMA is "pretty much the only one," said Güereña. To learn more, visit library.ucsb.edu.
• King of Clubs, Hogs, and Trash: Remembering Otto Hopkins, the Most Important Santa Barbaran You've Never Heard Of