Living
Animal News and Events
Classes and Info for Pet Owners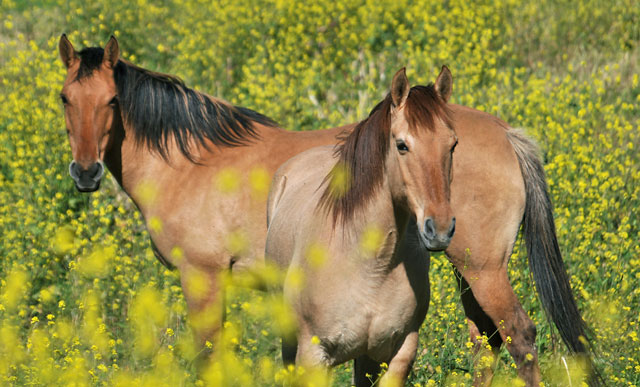 Santa Barbarans tend to be largely animal-loving folk. The following is a wee list of upcoming events and classes all to do with furry critters.
Return to Freedom American Wild Horse Sanctuary: These days, it's nearly impossible to view mustangs in their free-roaming state; thousands have been rounded up and separated from their herds and are living in confinement. One can, however, see mustangs in their natural state at Return to Freedom, the wild horse sanctuary on Jalama Beach Road near Lompoc. The ranch opens to the public May 1 and offers tours and events to see and learn about the wild mustangs.
• Wild Horse Walks: Wander close to the herds the first Sat. of each month. May-Sept., 2:30-6pm.
• Living History Tours: First and last Sat. of each month. May- Oct., 10am-12:30pm.
• Kid's Day at the Ranch: July 9, 10am-3pm.
• Photography workshops: June 5-10, Oct. 11-16.
• Photo Safaris: Last Sat. of each month. May-Aug., 4-7pm.
• Reiki Energy Healing Clinics: Apr. 16-17, July 16-17, Oct. 8-9.
Other events include the Mustang and Merlot series, Full Moon herd observation evenings; wild horse workshops; and the annual Spirit of the Horse fundraiser. Reservations are required for all events. For more info, call 737-9246 or visit returntofreedom.org.
Pit Bull Classes and Education: CARE4Paws' Project ResponsiBull offers pit bull education, free obedience training, and a free spay/neuter. The class includes:
• Pit-Ed: Discover the dos and don'ts of owning a pit bull, and help dispel some of the myths and misconceptions about this breed.
• Train a Pit: Obedience classes show you how to be the pack leader and build a stronger relationship with your dog.
Next class is Sat., Apr. 16, 11:30am-2pm. Location TBD. Call 968-CARE (2273) or email info@care4paws.org.
Santa Ynez Valley Equestrian Association Stock Horse Series: Starts Apr. 23 and includes three shows that highlight the best horsemen and -women in the valley.
Santa Ynez Valley Equestrian Center, Refugio Rd., Santa Ynez. Free. For more info, as well as entry forms, visit syvea.org.
Dog Licensing: Licenses are required by law for all dogs older than four months. The county enforces a zero-tolerance policy for unlicensed dogs, the penalty being $250. You can purchase a county license at any of the three county animal shelters, online at sbcphd.org/as, and at some veterinarian offices.
Spayathon for Cats: With the goal of fixing 100 cats Apr. 10-May 31, CARE4Paws has organized several "Spay Days" for cat owners in financial need at veterinary clinics from Carpinteria to Santa Ynez. Kickoff is Sun., Apr. 10, with a spay day at Vet's Here, a new mobile veterinary clinic in Santa Ynez. On Apr. 22, recently reopened CARE Hospital in Santa Barbara has committed to altering almost half of the targeted 100 cats. Also part of the spayathon are Santa Barbara's Adobe Pet Hospital, St. Francis Pet Clinic and Cat & Bird Clinic, Animal Medical Clinic in Carpinteria, and Buellton Veterinary Clinic (prior appointments only through CARE4Paws).
Call CARE4Paws at 968-CARE (2273) or email info@care4paws.org.