Living
Kids Shoe Store Opens Downtown
Junior Offshoot of Santa Barbara Running Donates 1 Percent of Profits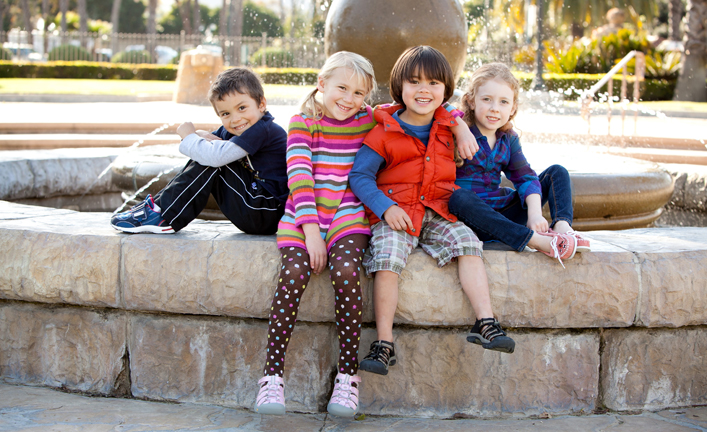 Located on Anacapa Street just off of lower State Street is the newly opened Kids Corner shoe store, the brainchild of founder Monica DeVreese. The self-proclaimed only family-owned kids specialty shoe store in Santa Barbara, Kids Corner opened its doors on April 1 and is the younger version of Santa Barbara Running, owned by DeVreese and her husband, Joe.
"I just had my first child 20 months ago and I've run Santa Barbara Running with my husband for over eight years now, and I realized there wasn't really an outlet in terms of local retailers for just children's shoes," said DeVreese.
The store, which carries shoes for crawling babies all the way up to active 12 year olds, is unique for not only being the only store to cater to children's shoe needs, but also for giving back to the community. One percent of all purchases made by customers are donated to the nonprofit organization Local Sole and customers will be able to elect one of three Santa Barbara organizations they want their donation to go to: CALM, FoodBank, or Storyteller. Each nonprofit specializes in serving a different aspect of children's issues from child abuse prevention, healthy food distribution, and greater childhood education.
"There's over 100,000 children in Santa Barbara," said DeVreese. "We wanted to make sure we were giving back to the community and I chose these nonprofits through research. I've always appreciated what they've done for our children throughout the years."
Catering to all aspects of a child's shoe needs, the store carries everything in footwear from the fashionable to the functional with brands like Nike and Adidas sneakers, UGG Australia boots, and stylish Minnetonka Moccasins, as well as sandals in a slew of styles and prices ranging generally from $30-$65.
With so many stores closing on State Street, DeVreese is tackling her business with a different strategy, relying on a loyal local following and giving back to her neighborhood instead of seeking to turn the greatest profit.
Santa Barbara Running currently has two locations: one downtown, which houses Kids Corner, and one in Goleta. If all goes successfully for DeVreese with the new kid's addition, she and her husband hope to open up a sister store at the Goleta location in the future. With DeVreese overseeing the buying of the shoes, there are sure to be shoes to please everyone in the family.
"The shoes are pretty stylish; it's not product that you can find everywhere. I also make sure there's a lot of cushion and support and that they're properly fitted and sized as well, so it will physically benefit the child's foot," said DeVreese.