Living
Fighter, Healer, Crossfit Coach
Crossfit Pacific Coast Co-owner Traver Boehm on MMA, Chinese Medicine, and Attitude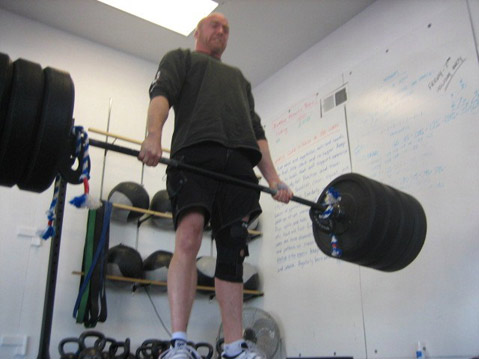 When I came to my first class at CrossFit Pacific Coast back in January, Traver Boehm was exactly the type of person I didn't want to see. Muscularly ripped, loudly intense, and totally drunk on the CrossFit Kool Aid, Traver (pronounced "Tray-ver") seemed at first glance to be a type of workout junkie on steroids and represented the exact reason why I'd never gone to gyms in the first place.
But as soon as I found myself in one of the noon classes he was teaching, I realized my impression was dead wrong: Traver is a kind and wise coach who cares genuinely about his athletes, both in the gym and outside of it. He takes the time to make sure everyone is using the proper technique, so as not to get themselves injured, and gives encouragement at just the right times.
Little did I know how intellectually deep this former mixed martial arts fighter and current Chinese medicine practitioner/surfer could go, which the 35-year-old, Wilton, Connecticut native — who's also the president of the Santa Barbara chapter of the public speaking club Toastmasters — reveals in his answers to my recent questions below.
How'd you learn about CrossFit?
Oddly enough, I was in Thailand at the time, training in Muay Thai and became friends with two other American guys there, one of whom was my size and weight but was considerably stronger and faster than I was. I asked him what he did for his conditioning and he told me about CrossFit. About five years later, I randomly ran into him at the CrossFit games in Aromas after we'd opened up CrossFit Pacific Coast. Small world.
What made you want to bring it to Santa Barbara?
Well, I knew that once I was finished with grad school that I wanted to move out of Los Angeles, but really wasn't sure where in the world to go. A good portion of my life leading up to school had been spent bouncing from place to place, but I'd never found somewhere that really fit. My family is all on the East Coast or in L.A., but neither of those options was very appealing. I asked myself where I would want to spend the next 15 to 20 years to lay down some roots, and settled on Santa Barbara, Hawaii, or the Caribbean. Hawaii had a ton of successful CrossFit gyms already and the Caribbean is a little bit far for comfort (for now), so that left Santa Barbara. Eric Malzone (the other co-owner) and I knew of a small gym up here already, but we felt that there was definitely room for us both. I don't think that I've made many smarter decisions.
What's your favorite thing about living in Santa Barbara?
Wow, that's a tough one. Am I skirting the question if I say, "Absolutely everything except for the temperature of the water and the inconsistency of the surf"?
Where's your favorite place to eat healthy food?
Definitely Metropulos Café on Yanonali Street. I think I eat there three or four times a week.
Favorite place to eat not-so-healthy food?
The Habit. No questions asked. After moving apartments a few months ago, I think that I ate nine out of 10 meals there in one week. It was glorious.
Tell us about your mixed martial arts [MMA] career. Are you still competing?
My MMA career, huh? Well, it was pretty short-lived due to the increasing demands of the Chinese Medicine program: It was frowned upon for me to keep showing up to see patients with black eyes and stitches in my face, and trying to pass tests when I'd either been knocked unconscious or choked unconscious a few hours earlier started to get old. The training regime to stay active in a sport like that was also like having a full-time job as well, and considering that I already had two full-time jobs as well as school and a girlfriend, it proved to be too much. Something had to give and unfortunately MMA lost out.
A month after I graduated, I moved up to S.B., broke ground on the gym, and started my acupuncture practice, so things have been a little bit hectic since. I haven't competed in MMA for a number of years but think about it on a daily basis.
How'd you get into acupuncture?
It's a very long story, to be honest with you, but the abbreviated version is that I got introduced to traditional Chinese medicine after a number of years chasing answers to the questions of my own history of poor health. Traditional Chinese medicine alleviated so many of my symptoms and simply made more sense to me. I loved how much of the focus of the medicine was on the patient and their life situation as a whole, not just the alleviation of one singular symptom.
I was also introduced to it at a huge transition period in my own life. I was doing personal security with Gavin de Becker at the time, and one of his clients decided to leave the country for a number of months and took me with him. The trip took me away from all forms of media and other social influences for almost six straight months. By the end of it, I'd filled two separate journals, broken up with fiancé at the time (thank god), and decided that what I'd done with my life up until that point had had relatively little impact upon anyone else but myself. What I was after from that point on was to have the ability to impact people at a very profound level, and to do so I knew that, among other things, I needed a world-class education in health.
Being both in acupuncture and MMA seems like a contradiction, as one is about pain and the other is about relieving it. Where's the crossover? How do they fit together?
Great question. I'd love to tell you that somehow the energy underlying both of them is the same or give you some New Age philosophical explanation behind the two being intimately linked, but I don't think that there was one in my case.
For me personally, the crossover happened in two places. First off, I believe heavily in self-expression in whatever form it comes in. I have two very different sides of my personality, one that needed the intensity, excitement, focus, terror, and adrenaline rush that comes from walking into a cage to face someone who has spent the last eight weeks preparing to kick the crap out of me in front of a lot of my friends and family.
The other side needed to be expressed by helping people who are either in incredible pain themselves or were facing immense health challenges. This is where empathy, understanding, and nurture win out over strength and speed. The combination of both let me express who I was as a person fully.
In some weird way, being a fighter allowed me to undertake such a gentle, feminine profession as a healing art, and being a healer gave me permission to undertake such a brutal activity such as MMA. To be successful in either one you have to have zero misgivings about why you are there and what you are there to do.
Secondly, the first time that I saw live MMA was when it was still illegal and being run in underground clubs in downtown L.A. or Tijuana. I remember looking up at the cage and was terrified even as a spectator, thinking, "There's no possible way that I could ever do something like this." Then I got really upset with myself because I knew that if I was going to practice medicine the way that I wanted to, then I was going to inevitably be asking people to do things that scared the hell out of themselves. I didn't feel like I had the right to ask that of people unless I was willing to face my own fears first.
You run the CrossFit Pacific Coast blog. [Read it here.] Where do you get your motivation for the daily posts? What posts get the most reaction?
The blog serves a lot of great purposes as far as we're concerned. First and foremost, we want it to be entertaining. So many of the messages that we as Americans get with regard to strength, health, and wellness are negative: lifting weights makes women bulky (total BS by the way), don't eat this or you'll get fat, X drug has been pulled off of the market because it's been killing people for years and the price of litigation is finally outpacing profits, etc.
My goal with the blog is to provide education regarding fitness, health, and/or wellness, to highlight something that I think needs to get out to our members, to provide motivation and/or inspiration, and finally to give people the occasional dose of something absolutely ridiculous.
The posts that seem to get the most reaction are the ones that are personal, honest, and usually not written by me. When I've asked our gym members to share their own stories, of things that they've overcome, of their experiences stepping outside of their comfort zones, those have been the most impactful in my opinion. Well, that and the time that I asked people to make haikus!
So I hear you eat eight cups of broccoli a day?
Ha! Not quite eight cups, although I'm definitely a recovering carb addict. I spent a number of my early years living in Japan and developed a healthy love of white rice. I might have even been quoted in my past as saying that I'd happily step over a naked woman to get to a plate of some!
Fortunately for my own health, longevity, and relationships, I have developed a healthy respect for the hearty consumption of all things leafy and green.
As a coach, what do you look for in a new CrossFitter?
Simple: their attitude. We tell everyone here before they even join that they'll be judged on two factors only: how hard they work and how much they give back to our community. It takes a special person to be successful in CrossFit, someone who is willing to be pushed beyond his or her comfort zone every single time that they work out. Most people want to do as little as possible and get the same results that we do. CrossFitters, on the other hand, actually get excited to the point of not being able to sleep the night before a really hard workout. That kind of mentality or at least the potential for it is what I look for.
Some say CrossFit takes workouts to an extreme, perhaps too far. What do you say to that?
For a lot of people, walking around the block or barely breaking a sweat while reading a magazine, watching TV, and unsuccessfully hitting on the woman on the treadmill next to them in the gym is considered exercise and anything over that is considered extreme. If the vast majority of the population considers a coloring book to be educational, then a college-level chemistry class will naturally be considered extreme.
CrossFit is a PhD-level fitness program. Our goal is not to someday work our way back to being roughly in the shape that we were when we were 20. Our goal is to be in the best shape of our lives, every single day. At 35, I'm in better shape than when I was 25 and training four hours a day, six days a week. This doesn't happen by doing moderately hard workouts every once in a while. It comes from doing very challenging workouts on a near daily basis.
Take a look at "some" of the statistics in this country: 68 percent of adults are either obese or overweight while we lose almost 50,000 Americans a month (yes, that's over 2,000 people a day) to diabetes and heart disease, two diseases that are primarily the result of sitting on our collective asses all day while eating crap and calling it food. Let's be honest about this: Those numbers are the result of the collective decisions and actions that we as a country have adopted regarding health and fitness. So to be honest with you, I think that it's more extreme not to be doing CrossFit, as I'd rather face torn hands, sore muscles, and the occasional bumps and bruises than have to live like the rest of the country does.
If everyone did CrossFit, why would the world be a better place?
If everyone did CrossFit, the world would be a better place because, first and foremost, people would be radically healthier, and healthy people are happy people. CrossFitters are, in my opinion, the healthiest, fittest group of human beings in this country. Never before have I met a group of people that was more focused on their own personal health, fitness, and wellness in addition to understanding and displaying the aspects of fair competition and community that so many other people espouse, but don't really live by themselves.
On a daily basis we get to experience something that most people don't: We have an opportunity to test ourselves physically, mentally, and emotionally every time that we show up to the gym, and we get to walk away from that same opportunity with a victory of some kind. Be it a faster time, more weight than we've ever lifted before, or completely blowing the doors off of our own limiting beliefs about what we thought that we are capable of. Most folks don't get those kinds of opportunities or, for some reason, they get watered down.
CrossFit doesn't care how much money you make, where you live, how old you are, what color your skin is, who you lie down next to at night, what your job title is, etc. — your success here is completely merit-based. At some point in this sport you're going to be on top after a workout, and I guarantee you that at some point you'll be dead last, too.
A world full of people who willingly accept that kind of challenge and an even playing field approach would be a better place in my humble opinion.
So do you have time to do anything else amidst this hectic schedule?
I'm actually the president of the Santa Barbara chapter of Toastmasters [a public speaking club] and, after winning the three preliminary competitions this past month, I'm moving on to represent them at the end of the month in their International Speech Contest in Las Vegas.
Read other coach profiles and follow Matt Kettmann's foray into CrossFit Pacific Coast at independent.com/crossfit. For more on the program, see crossfitpacificcoast.com.