Visual Arts
Up Close with Aris Demetrios, Sculptor
Montecito Resident Has Created Major Monuments
If you live in California, chances are you've seen the work of sculptor Aris Demetrios. Raised on the East Coast by artist parents, Demetrios moved to San Francisco in the 1950s and began making art and forging creative partnerships with some of the state's most influential landscape architects (e.g., Lawrence Halprin) and designers (most notably, Charles Eames). In his long and distinguished career, Demetrios has created a startlingly wide range of objects, from bronzes for private collectors to some of the world's most impressive public monuments. His 92-foot-tall "Wind Harp"in South City San Francisco rears up from the landscape like a signpost, pointing to other worlds. It's one of the country's greatest monumental sculptures, and it's the work of an artist who now lives full-time in Montecito.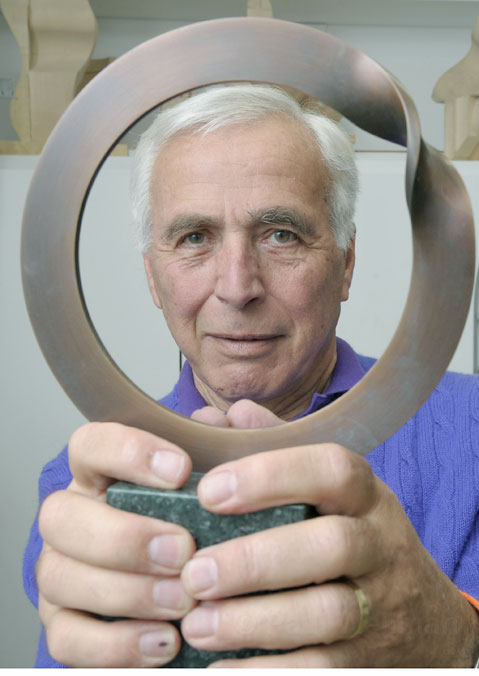 Demetrios got his first big break in public sculpture when he won a 1963 competition to create a memorial fountain on the campus of Stanford University. The piece, officially titled "The White Memorial Fountain," is more commonly referred to as "Mem Claw," and has become an integral part of the life of the school. The Stanford work led to commissions at other universities and colleges, such as USC, SBCC, and UC Merced. The 18-foot fountain "Mentors," which Demetrios created for SBCC, forms the focal point of the school's west campus landscape. It won a Santa Barbara Beautiful Award in 2002 and was sponsored by Eli Luria and Michael Towbes, both of whom also acquired sculptures by the artist for their private collections.
Visiting with Demetrios at his home studio in Birnam Wood, one encounters a fertile imagination and an extraordinary work ethic. At an age when many would rest, Demetrios remains a cascading fountain of concepts and forms. He uses a band saw and wood blocks to "draw" in three dimensions every day, and his restless sensitivity to the nuances of location and the vocabulary of space and line are visible everywhere in his home.
Artists aren't always the best spokespeople for their own enterprises, but Demetrios is a happy exception. His years of dedication have left him with a remarkable fund of wisdom in relation to the creative process. "To me, that's the good life: to live with the dignity of the creative process and to grow that space in the middle where all the important spheres—those of the client, the artist, and the surround—overlap," he says. "If you stumble upon a way of working that allows you to do that, then you have a chance to grow old and enjoy the kind of continuity that you see in the really great artists."