Outdoors
Teepee Time
Under the Stars and Riding the Zip Line at Ventura Ranch KOA
After pulling into a creek-side oak grove between Ojai and Santa Paula that's home to a handful of spacious teepees perched upon wooden decks, it wasn't immediately apparent which was mine. So I called the front desk of the recently revamped Ventura Ranch KOA, and the response was blunt: "You should be able to tell. It's all glamorized."
He was right, for inside our teepee—the outer walls of which featured two Native American women, one riding a horse, one walking beneath the crescent moon and bluebirds—were a cow-skin rug, two beds topped with soft blankets, wicker chairs covered with bright white animal furs, and, of course, two dream catchers, a large one for the queen bed, the other above the twin. Looking up at the open top of the teepee, we could see the blue summer sky, and out the flap-door were our picnic table, fire ring, and a trail that went both down to the watering hole and up to the activity area, where a bouncing pillow, rock wall, pirate ship, and zip line awaited the next day's fun.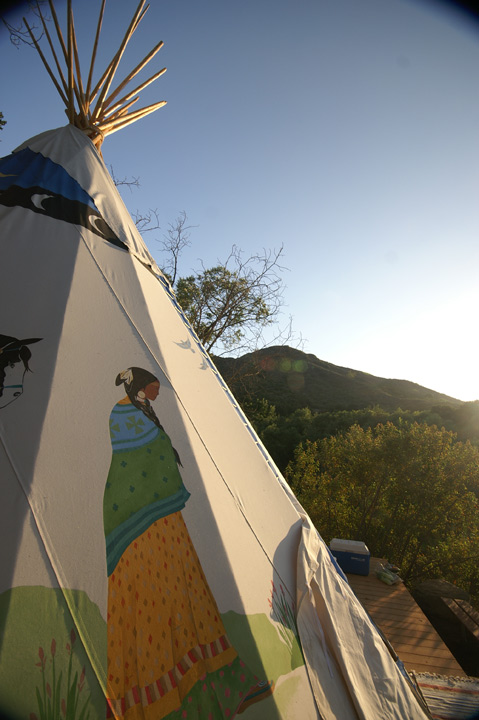 Yes, we were officially "glamping," but the teepee option is a decidedly more middle-class version of the glamour-camping trend: It's closer to nature than full-service cabins and certainly more affordable, clocking in at $89 a night rather than the hotel-like prices reserved for more luxurious glamping digs. And for new parents like us, it was the perfect introduction to overnight outdoor enjoyment for our 18-month-old—he played in the dirt with other kids, got entertained by the costumed woman who told us about the evening "search for Bigfoot"/nature walk, and was asleep in his own bed by 8 p.m., giving us enough time to enjoy our oak-grilled chicken, asparagus, sausage, and scallions over glasses of chardonnay and syrah.
The next day, we were greeted by roaming peacocks before breakfast and spent the morning playing in the creek, flowing at toddler-safe speed. Then came the jumping pillow and, for daddy, a quick but exhilarating ride on the zip line, easily the campground's most popular offering these days at the bargain price of $10 per ride. We had to hit the road by noon, but my wife certainly echoed my constantly entertained son's thoughts when she said, "One night is definitely not enough."
4•1•1
Book your own teepee, cabin, RV slot, or tent camp at Ventura Ranch KOA by visiting venturaranchkoa.com or calling (800) 562-1899.