Courts & Crime
Razor's Edge
Alleged Skinhead Kenneth Barber Faces Life Sentence in Attempted Murder Case
The criminal case of Kenneth Barber has all of the elements you could ask for in a courtroom drama, and then some.
Two alleged attempted murders in Santa Barbara County Jail witnessed only by the victims, allegations of intimidation and threats, and connection to the Aryan Brotherhood prison gang, all revolving around Barber, representing himself in a case that could put him behind bars for life.
Barber is accused of stabbing two other inmates in the northwest D-Mod of the County Jail in August 2008. At the time, the area was reserved for hardcore general population inmates, typically those with prior prison terms or affiliations with street or prison gangs.
Barber comes with quite a history. In 1999 he was convicted of mayhem for biting a man's ear off. He's named in a book called Dangerous Attraction, a true life crime novel about the brutal murder of a Ventura woman at the hands of a skinhead. The book claims that Barber himself was a skinhead, and that he helped gather information used to threaten and intimidate witnesses testifying against the man eventually convicted for the murder. Most recently, in 2008, Barber was sentenced to 10 years in state prison after being convicted of several drug charges. He was in Calipatria State Prison on those drug convictions when he was brought back to Santa Barbara to face the attempted murder charges.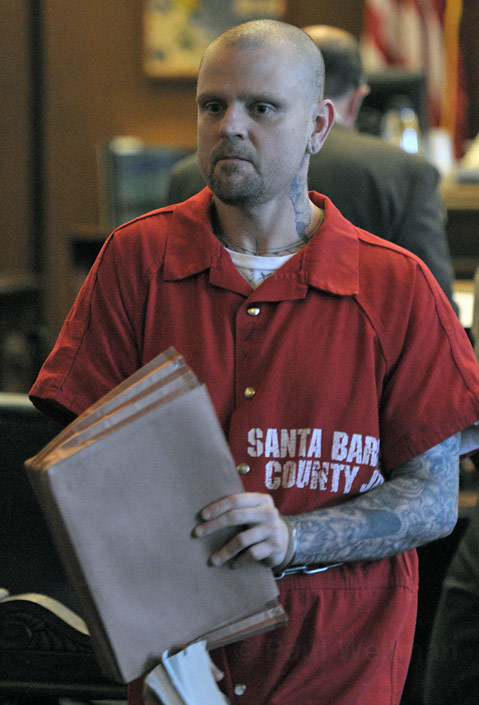 Barber, who once ran a tattoo shop, represents himself, filing motion after motion in carefully scripted handwriting on yellow sheets of legal pad, and was appointed an investigator to help him dig around, gathering and conducting interviews. His most recent investigator, however, Ron Rose of Orcutt, asked Judge Frank Ochoa Monday afternoon to be replaced after the judge told him he was skating on very thin ice.
The judge told Rose and Barber – who, while in court, shuffles through paperwork with his hands cuffed together – that some of the tactics Rose used in interviewing one of the victims more or less amounted to intimidation. Rose told the judge he was just reading questions provided to him by Barber. "The last thing I want to do is anything wrong," Rose told Ochoa, who told the investigator he was making a wise choice by dropping out.
Rose and Barber were joined in court Monday by prosecutor Kimberly Smith, Deputy County Counsel Kelly Scott, and an attorney representing the Department of Corrections, all set to address a number of requests for information from Barber, who had sent several subpoenas to several agencies, including the Sheriff's Department and Department of Corrections. Much of their concern, Smith said, was that he was using subpoena power as an attempt to "ascertain all kinds of information not related to trial."
Given Barber's history of alleged intimidation tactics, safety of witnesses was their prime concern as they moved to quash many of his requests. Ochoa agreed. "The things you're asking for are largely unrelated to your defense at trial," Ochoa said.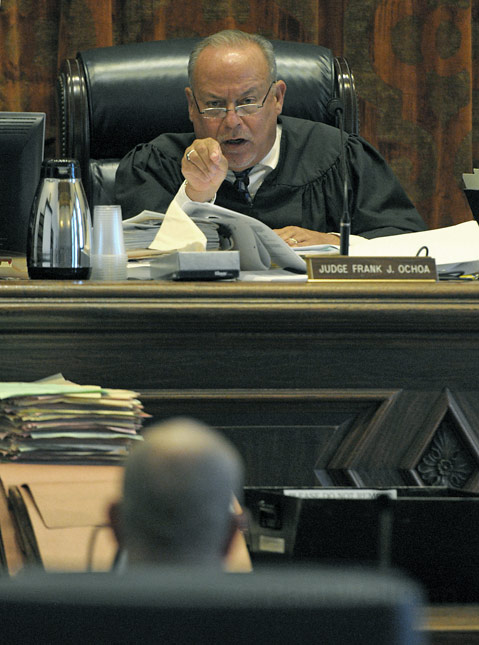 Over and over, however, Barber asked Ochoa for a private in-camera hearing with the judge, explaining that he needed the information as part of his defense strategy, which he didn't want to disclose in front of the prosecution. He often raised his voice over that of the normally soft-spoken Ochoa, which prompted the judge at one point to admonish the defendant – "When I'm speaking, that's a time for you to listen."
Certainly an intriguing element to the case is the amount of evidence involved. At Barber's preliminary hearing in February, the first victim in the jail assault case testified that he'd been working out with Barber in a cell when Barber became upset with what he apparently perceived to be a slight and left the room.
A few minutes passed, and Barber returned, the victim said, arms extended like he wanted to give the man a hug. Instead, the victim claims, he made a swiping movement, slicing the left side of his neck, saying, "You're goin' work out when I tell you to work out."
A responding custody deputy found Barber in a different area of the jail "in what appeared to be an embrace" with a second victim. As Barber is quick to point out, the deputy could not tell if the embrace was part of a fight or one of the men rendering first aid. Indeed, when the two finally separated at the command of the deputy, the alleged victim slipped on a pool of blood, and Barber helped him up. It was discovered, however, that the second victim had one of his arms slashed, resulting in more than dozen stitches. Blood found on Barber, who had no injuries, tested positive for the second alleged victim.
Apparently no weapon was found, though the prosecution suggested a razor could easily have been flushed down one of the toilets in the area. Barber argued that the first alleged victim has made contradictory statements and had "possible animosity" toward him.
The pressure and threats against the first alleged victim began almost immediately, the prosecution has suggested, and Barber purportedly told the victim he was a leader and shot-caller in jail. The second alleged victim more or less disappeared. But in testimony from the prelim, a detective said the second alleged victim, through a series of head nods and non-verbal actions, suggested Barber was behind his injuries.
Barber, meanwhile, has asked for advisory legal counsel to aide him in preparation for trial, though he still plans to represent himself. Barber is scheduled to be back in front of Ochoa Monday morning, when a motion to dismiss the case will be heard.