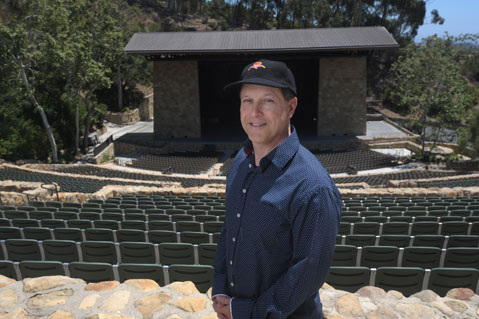 In a wildly unsettled time for the music industry, few vital signs are as viable as who's playing the big outdoor venues during the summer concert season. After two down years, the concert industry as a whole has rebounded this summer, and the Santa Barbara Bowl, which already has a reputation for punching above its weight when it comes to booking big stars, is on track to set attendance records in 2011.
Many factors have to come together for the Bowl to draw musicians as prominent as Stevie Wonder, as hot as Katy Perry, and as sought-after as Radiohead, yet arguably none are as crucial as the ongoing involvement of music-industry veteran Moss Jacobs. As vice president of talent at Nederlander Concerts, Jacobs makes deals with the best-known artists in the world. If there's one person in the music world who can "get him to the Greek" (as in Los Angeles' famed Greek Theatre), it's Jacobs—not Jonah Hill. But, despite his international reputation and serious clout in Los Angeles, Jacobs remains a Santa Barbara loyalist. He began his career promoting concerts here, and he takes special pride in the extraordinary track record he and his staff have amassed at the Bowl.
As a team, Nederlander, Jacobs, and the Santa Barbara Bowl are hardly underdogs, yet due to the recent consolidation of several even bigger players in the concert and ticketing industries, that's exactly what they've become. Since January of 2010, when the U.S. Department of Justice approved a merger between Ticketmaster (the largest ticketing platform in the country) and Live Nation (the largest concert promoter in the country), rival organizations like Nederlander have been facing unprecedented roadblocks—a situation that stems from the fact that the Ticketmaster behemoth also includes Irving Azoff's Front Line Management, the world's largest talent management company. Azoff, widely considered the most powerful (and ruthless) person in the music biz, now holds two top positions—CEO of Ticketmaster and Executive Chairman of Live Nation Entertainment—while still handling his management clients, who include the Eagles, Journey, Steely Dan, Christina Aguilera, and many more.
Jacobs, who has negotiated successfully with the wily and mercurial Azoff for decades, nevertheless sees the merger as a cause for concern. "The fact that Front Line, a management company, is also part of this giant entity means that things have been complicated for other bookers by the merger," he explains. In the future, he expects that promoters outside the Ticketmaster/Live Nation monolith will seek other solutions, in particular, to the contentious area of ticketing. Ever the diplomat, Jacobs told me that he knows that other major players in the concert business "are looking carefully at the terms of their agreements with Ticketmaster right now, and certainly some are looking forward to the ends of those terms."
When asked to explain how the Bowl manages, year in and year out, to score so many superstars and rising hit makers, Jacobs offered his three-part answer: "One part is the building, which has the best roof of any outdoor venue in the country, hands down. The whole technical aspect of the Bowl is now state-of-the-art. Another is the staff, all of whom are overachievers. They are highly motivated to perform the magic act of making this look easy, which it is most definitely not." And what's most important of all? "The public! They are my main allies, because the public feeds the bands the love that makes the whole thing go around. You should have seen Eddie Vedder when he came offstage a couple of weeks ago. Let's just say that he was in a very good mood. And when an artist leaves feeling that great about a show, you know he or she is coming back."