Living
St. Vincent's History
An English-Speaking School Is Established in Santa Barbara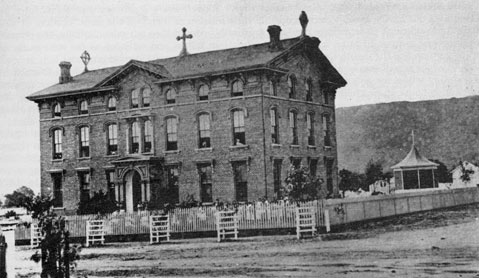 When Mexico lost its hold on California in the late 1840s, East Coast Bishop Thaddeus Amat felt Santa Barbara was in need of an English-speaking school and orphanage. So he sent two nuns from Maryland to the new state to establish such a school. Historian Walker A. Tompkins describes the sisters' arrival in his tome The Yankee Barbareños:
Early in January 1858, beachcombers must have been puzzled to see the arrival, by surfboat from a passing ship, of two young nuns wearing the white gull-wing coronets and blue peasant gowns of the Holy Order of the Daughters of Charity founded by St. Vincent de Paul. … a pair of burly sailors carried the sisters ashore and set them down on a beach near the mouth of Mission Creek.
… They were Sister Andrea Gibbs and Sister Mary Mullane, ages 21 and 25 respectively. Upon their arrival in Santa Barbara, the sisters were escorted to the Aguirre adobe, on the northwest corner of Anacapa and Carrillo. Judge Francis J. Maguire assisted the newcomers, helping them to start their first school there and then to locate an acreage of public land west of the town—12.5 acres on Rancho Cieneguitas. They purchased the property in 1858 from the United States government of one dollar per acre. Today … the Daughters of Charity at St. Vincent's operate their mission of mercy in the same location, at 4200 Calle Real, although their acreage has been drastically reduced through sales. Initially, the property included the campus of today's La Colina Junior High School and extended as far west as the old county dump and Health Care Services complex ….
From the 1930s onward, the school's services were directed toward students with mild-to-moderate developmental disabilities.