Living
Logan's Legacy
One-Year-Old with Heart Defect Brought the Gift of His Mom's Activism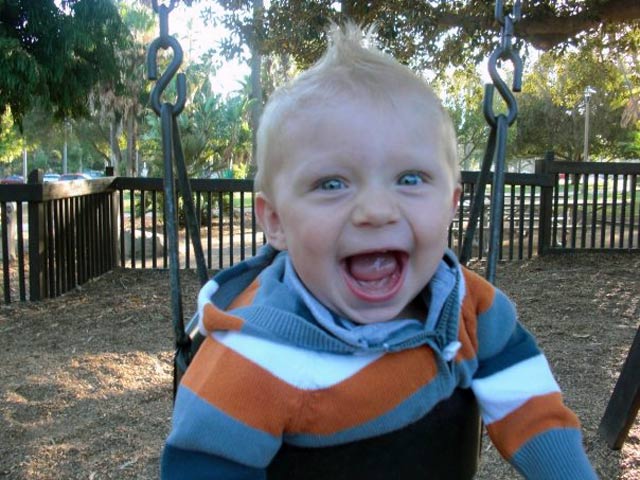 What should have been easy was hard and what should have been hard was easy. At only eight weeks old, Logan Elliott had to undergo extensive open-heart surgery after doctors recognized that what they thought was colic was in fact the rare and complex congenital heart defect Taussig-Bing. The surgery, which should have taken three hours but ended up taking eight, left baby Logan on life support and with an open chest that was too swollen to be closed.
Brett and Rayme Elliott desperately wanted a boy. The Santa Barbara couple already had two daughters, Kaelee and Emma, but with a boy, they felt, the family would be complete. When Rayme finally got pregnant with a boy, she and her husband could not wait to share him with family and friends. On August 5, 2008, Logan was born. And he turned out to be a true fighter.
When they learned about the heart defect, Brett and Rayme went into survival mode. They quickly understood the gravity of the situation, but they were "determined to get Logan off the ECMO machine," tells Rayme (an ECMO is a machine like a heart-lung pump). "We put up posters even though we weren't allowed to. We played music when we weren't supposed to. We tried to keep things normal, we wanted to keep a positive feel." Logan had been flown down to the Mattel Children's Hospital at UCLA for his big surgery, and right by his side was Rayme, who stayed with family in Sherman Oaks and drove to the hospital every day for two months.
On December 2, mother and son—Boobers, as Rayme likes to call him—returned to Santa Barbara with a pacemaker and nine different medications. But they were just happy they got to spend Logan's first Christmas at home with the rest of the family. Twice a day, Brett and Rayme had to give their son shots. "We practiced on teddy bears before we left the hospital," says Rayme, "but we had a great Christmas despite the circumstances."
Almost a year went by and the family got to be a family. Logan was a happy little boy with big bright eyes who spread joy wherever he went. He loved going to the beach and the park and playing with his sisters. "We were lucky. We got everything with Logan. A birthday, a Mother's Day, Thanksgiving, Christmas," Rayme says.
The following October, Logan started changing. He wouldn't really eat. "Looking back, I know I should've been more aware," says Rayme. On December 13, "things really started to go wrong and the next morning we went to the hospital."
Doctors confirmed that Logan was very dehydrated but "that was understandable since he hadn't been eating." Rayme stayed by her Boobers' side just as she did during his hospitalization in Los Angeles. "I tried giving him his pacifier but he spit it out. Suddenly the corner of his mouth dropped," says Rayme.
Rayme was asked to leave the room immediately. Logan was having a heart attack. "Three doctors were coming toward me. They told me that things weren't looking good. I called my husband and just said, 'Get down here.'"
Logan had suffered brain damage during his heart attack, but he was, after all, still alive. "When I heard about the brain damage, I just told the doctors, 'That's okay. Just save my son,'" Rayme remembers. In the meantime, Brett and their pediatrician, Jerold Black, who had been with the family from the very beginning, had made it to the hospital.
A tiny heartbeat gave the doctors hope while they were trying to flush out a blood infection. For two hours they worked on Logan's little body just to realize that the reason for the heartbeat was the pacemaker. Logan had been gone for the past hour and 45 minutes. Boobers passed away exactly a year to the date when the little boy had his chest closed — October 14.
Even though it took a couple of years for Rayme to stop blaming people, a "Casablanca moment" helped her in the right direction. "I was at work at Saks when I ran into the business director for the American Heart Association, Lisa Thomas. She wanted to know if Saks wanted to be a part of the Heart Walk in October. I said, 'I don't know if Saks does, but I do,'" recalls Rayme.
Two years have passed and since her encounter with Thomas, Elliott has become a champion of Moms with Heart, the first organization of its kind on the West Coast. Moms with Heart collaborates with the American Heart Association, but the funds raised by Moms with Heart are earmarked specifically for children's heart disease research and education. Moms with Heart raises awareness and funds through such events as the annual Heart Walk.
Elliott's team, and that of her friend Patricia Geyling, alone raised almost $20,000 at last year's Heart Walk—more than any other team. (Nationwide, $75,435 was raised at the Heart Walks in the fall of 2010 and spring 2011.) Moms with Heart is a personal fight for the team captains because they all have a child with a heart condition, or have lost a child because of a heart defect.
"What makes Moms with Heart different from other organizations is that we raise money only to support pediatric cardiac research studies and education," Rayme explains. "One out of every hundred children in the United States is born with an inherited cardiac defect.
"Awareness is important. Parents don't necessarily know what to look for. Had I known what to look for, I would have been able to ask the right questions."
One thing led to another, and earlier this year, Rayme Elliott took on the position of chair of the American Heart Association Santa Barbara. Today, the proud mother of Kaelee and Emma has come to terms with her son's death.
"Logan was this amazing kid we were given, and he keeps giving even though he's gone. A perfect life was ripped away from me, but Logan somehow gave me that perfect life back," Rayme says. "We never got to see him get married. But that's okay. He's doing what he's supposed to be doing."
You can make a donation and help Rayme Elliott reach her goal of fundraising $5,000 by visiting Santa Barbara Heart Walk's Web site. You can even sign up to be a part of Elliott's team at this year's Heart Walk, which takes place Saturday, October 8, at Fess Parker's DoubleTree Resort, 633 East Cabrillo Boulevard. Registration begins at 9 am. For questions, contact Lisa Thomas at (805) 963-8862 or at lisa.m.thomas@heart.org.